Press Releases
FarmStart Program Approves 275th Investment to Support Beginning Farmers
September 17, 2018
Farm Credit's FarmStart is a unique program that invests working capital of up to $75,000 in northeast agricultural, fishing and forest products ventures showing promise of success. Since the first investment approved in August 2006, FarmStart has invested more than $12.7 million with over 275 agricultural and fishing entrepreneurs throughout the Northeast.
"The future of Northeast agriculture, commercial fishing and forest products industries is dependent on new entrants," said Bill Lipinski, Farm Credit East CEO. "That is why we initiated this innovative program more than a decade ago to meet the demands for capital and financial management skills that entrepreneurs need to get started."
One of those recent investments was with J&S Brothers Farms LLC, in Mullica, NJ. J&S Brothers is owned by Jose and Salvador Constantino. The brothers have worked on farms for years, so when the opportunity to go from workers to farmers presented itself last year, they both decided to make the transition. They currently farm 200 acres of vegetables, including peppers, pickles, cucumbers, green and yellow squash, butternut squash, asparagus, and turnips.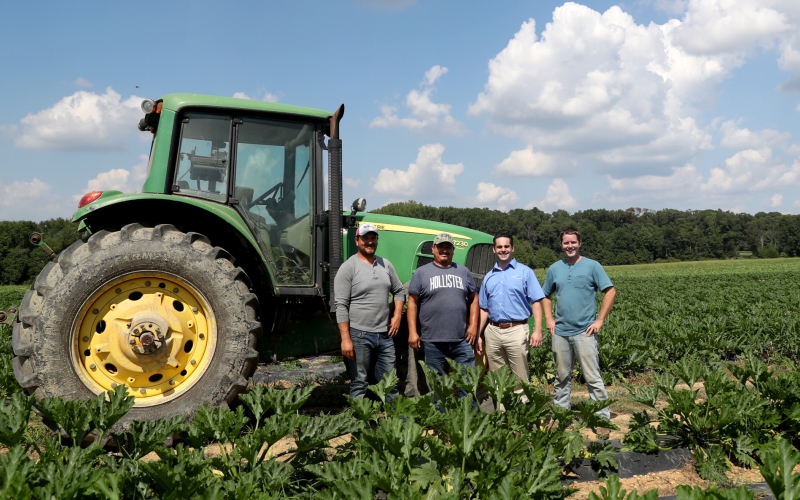 Photo (from left to right): Pictured at J&S Brothers Farms LLC, in Mullica, NJ, are farm owners Salvador and Jose Constantino with their FarmStart advisor James Hoffman and farm manager Bobby O'Sullivan.
The brothers turned to FarmStart after being denied other financing due to lack of experience running a business and production history. "The season was starting and we needed to get plants in the ground," explained Jose. "We had already invested our own capital, so we just needed that additional bit to get everything in the ground and growing. The FarmStart investment provided that capital at the right time, and it was an incredibly simple process."
"We're here today thanks to the FarmStart investment," continued Jose. "The capital was available when we needed it the most. Farm Credit East is really there to help farmers get started."
"It's rewarding to work with beginning farm operators like Jose and Salva," commented their FarmStart advisor, James Hoffman. "Producers like them are the next generation and FarmStart gives them an opportunity to get started."
"Additionally, I work closely with FarmStart customers to provide advice and guidance," James continued. "I help startup producers transition from just planting vegetables to really looking at farming as a business – making sure the i's are dotted and t's are crossed."
"The FarmStart program is unique in its focus working with beginning entrepreneurs to establish successful businesses," said Scott Andersen, Farm Credit East senior vice president based in the Bridgeton, N.J. office. "Working capital, along with the valuable insight provided by FarmStart advisors like James, improves startup businesses' odds for long term success."
FarmStart, LLP is a joint initiative of Farm Credit East, Yankee Farm Credit and CoBank to fulfill Farm Credit's long-term commitment to support a vibrant, entrepreneurial northeast agricultural community. The program invests working capital of up to $75,000 to help beginning northeast farm, forest products and commercial fishing businesses and cooperatives become operational.
Each FarmStart participant completes a business plan and monthly cash flow budget to serve as a roadmap for their startup business. A FarmStart advisor works with each participant to help the new business stay on track toward achieving their business objectives. Additionally, Farm Credit East's Knowledge Exchange program offers resources for these startup producers via hot-topic webinars and industry reports and analysis.
For more information on FarmStart, click here.
###
For more information:
Contact: Kristie Matuszewski
Telephone: 800.562.2235
Email: Kristie.Matuszewski@FarmCreditEast.com