Board of Directors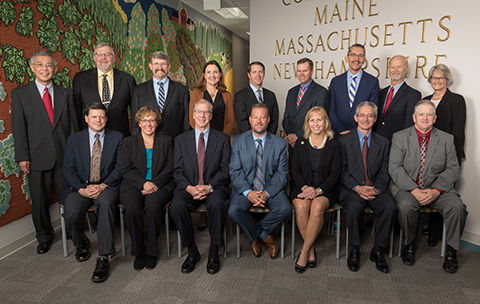 The Farm Credit East Board consists of both member-elected directors and board-appointed directors. The Board also appoints customer directors from time to time to address unique Board requirements. As elected officials, directors represent the best interests of the organization and its borrowers.
Each year, there is an election process to select members for Farm Credit East's Board of Directors. The Farm Credit East election process includes a regional nominating committee to ensure sound representation throughout our 20-office area. Each spring, Farm Credit East stockholders vote for all open board positions.
Click here to view the Charter for the Farm Credit East Board of Directors.
In memory of Keith Stolzenburg
The Farm Credit East family is saddened to share the news of the passing of Keith M. Stolzenburg, an outside appointed director and Chair of the Audit Committee who passed away September 4, 2020. Keith was appointed to the board in 2019, but had a long-term relationship with Farm Credit East and the Farm Credit System during his professional career in public accounting at PwC.
We thank him for his contributions to our cooperative, as a trusted advisor and highly respected board member – his perspective, sound judgement and above all good humor and company will be greatly missed. As it was aptly summed up in his obituary, "CPA, MBA and all-around good guy."
The entire Farm Credit East family extends our deepest sympathies to Rosanne, Anna and Eric, and all his family and friends.
---