Increase in H-2A Usage Strains Program Capacity
Farmers across the United States continue to face challenges in ensuring an adequate labor supply. After the November elections, we may once again see Congressional interest in immigration-related legislation, such as adjustment to legal status for the current workforce and the establishment of an improved or new guest farm worker programfor agriculture.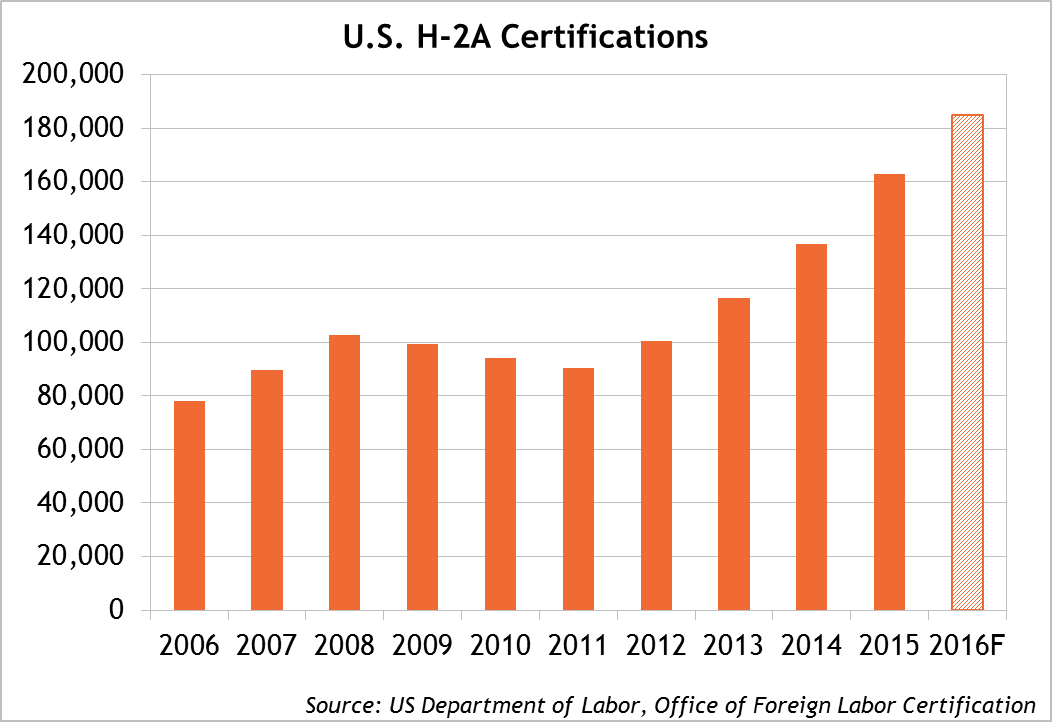 With local labor increasingly hard to find, many growers have shifted to utilizing foreign-born workers. But even then, workers with legal status are difficult to find, and increasing immigration enforcement is an on-going concern. As a result, many producers are looking toward the H-2A temporary visa program as a way to recruit reliable, legal workers.
Since 2006, the number of H-2A worker certifications nationally has nearly tripled. However, the system has failed to keep up with the increase in applications and does not provide a timely, reliable option for farmers attempting to comply with immigration law. Interestingly, while we have seen a significant increase in national H-2A utilization, the number of H-2A workers in the Northeast has been relatively flat.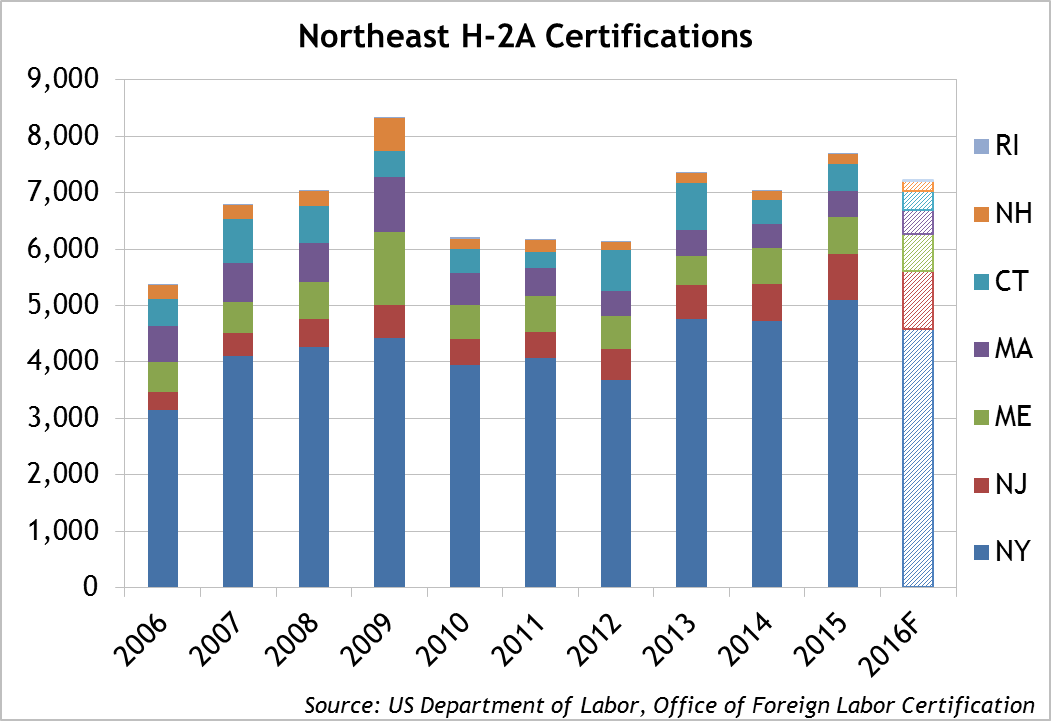 The H-2 program was instituted to meet a need for seasonal and temporary labor in the US. This was done by granting foreign nationals legal permission to come to the US and work in specified jobs for a limited period of time, after which they would return to their home countries. This is the sole legal option for seasonal employers who are unable to find workers within the US. As stated, the program is limited to "seasonal" or "temporary" work, putting it off-limits to year-round employers, such as dairy farms, which have no legal visa programs available to them. The program is divided into H-2A for agriculture and H-2B for other occupations.1 The H-2B program is limited to 66,000 employees per year, a cap that is typically reached within the first half of the federal fiscal year. The H-2A program has no cap.
The programs are managed by three federal agencies within the Department of Homeland Security (DHS): the Department of Labor (DOL) issues the H-2 labor certifications and oversees compliance with labor laws; US Citizenship and Immigration Services (USCIS) adjudicates the H-2 petitions; and the Department of State (DOS) issues visas to workers at consulates overseas.2 Additionally, state departments of labor are tasked with making on-farm inspections. With so many departments and agencies involved, it is no surprise that H-2A employers are among the most heavily scrutinized and monitored employers in the country. Additionally, the opportunities for miscommunication and delays are significant.
H-2A employers must comply with all federal and state labor regulations, and workers are covered by most US labor laws, including the Wage and Hour Act, Worker's Compensation and the Affordable Care Act. Employers must first recruit employees within the US and preferentially hire US citizens. H-2A workers must be paid the higher of federal or state minimum wage, the applicable prevailing hourly wage rate, or the applicable adverse effect wage rate (AEWR) for their state. For New York, the 2016 average AEWR wage rate ranged from $10-14 per hour depending on job description. Any local hires doing the same job as H-2A workers must be paid at least that rate as well. On top of the AEWR, employers must pay for transportation to and from the worker's home country and provide housing free of charge (which must meet specific minimum standards).
With all these expenses, the H-2A program is clearly not a cheap way out of one's labor problems. However, many H-2A employers swear by the program, stating that the increased costs and headaches are worth it to get a reliable, high quality workforce. The fact that participation in the program has grown so much at the national level, despite significant regulatory hurdles and high costs, is a testament to the tremendous challenges farmers face in finding legal and reliable workers.
While the H-2A program has never been easy to utilize, many agricultural employers have managed to navigate the complexities of the system for a number of years and have successfully used it to find workers for their farms. However in recent years, the program has become increasingly unworkable. For the last two years, H-2A employers have reported significant and unexpected delays in the processing of labor certifications, visa petitions and interviews for final border crossing, leading to the delayed arrival of workers on farms. These delays have gotten the attention of members of Congress. In June, 102 members of the House of Representatives sent a letter to Secretary of Labor Perez and Director of Citizenship and Immigration Services Rodriguez, asking that they take action to speed the processing of H-2A applications. A similar letter is being circulated in the Senate.
DOL is required by statute to respond to completed applications no later than 30 days prior to the farmer's date of need, a rule which is clearly not being met in many cases. This can be devastating to growers who count on these workers to perform time-specific tasks such as planting, pruning, harvesting and other critical activities that cannot wait for a paperwork delay.
Given the increasing focus on border security, employer compliance with immigration laws and curbing illegal immigration, agricultural employers have fewer and fewer options to find workers. The H-2A program, with its significant regulatory burdens and increased costs, is already a cumbersome program. Yet, the program is proving increasingly unworkable to many American farmers. It is imperative that the H-2A program is reformed or replaced if we are to maintain American agriculture as an ongoing source for abundant, affordable, safe and domestically produced farm products.
---
1 Some agricultural enterprises use the H-2B program as well for workers in "non-ag" positions, such as processing and shipping.
2 US Department of Homeland Security, "H-2A Temporary Agricultural Worker Program."

---
"What lies behind us and what lies before us are tiny matters compared to what lies within us." ~ Ralph Waldo Emerson
Editor: Chris Laughton
Contributors: Bob Smith, Tom Cosgrove
View previous editions of the KEP
Farm Credit East Disclaimer: The information provided in this communication/newsletter is not intended to be investment, tax, or legal advice and should not be relied upon by recipients for such purposes. Farm Credit East does not make any representation or warranty regarding the content, and disclaims any responsibility for the information, materials, third-party opinions, and data included in this report. In no event will Farm Credit East be liable for any decision made or actions taken by any person or persons relying on the information contained in this report.