The US-Mexico-Canada Agreement and its Effects on US Agriculture
The United States and Canada reached a deal on September 30 to update and replace the North American Free Trade Agreement (NAFTA) with both sides making some key concessions. They will join Mexico in updating the 1994 deal, which will now be called the United States-Mexico-Canada Agreement (USMCA).
If approved by legislative bodies in each of the three nations, the new accord could improve access to Mexican and Canadian markets for U.S. agricultural products, though the timing and extent of the benefits are unclear.
Over the last 20 years, agricultural supply chains have become very integrated between the three countries. Since NAFTA was enacted in 1994, U.S. agricultural exports to both Mexico and Canada have roughly tripled in volume. Scrapping the agreement would be highly disruptive, so a smooth transition to USMCA will be critical.
Dairy Provisions
Dairy was one of the most contentious issues negotiated as part of the USMCA. Canada, which has been very protective of its dairy industry, was excluded from the NAFTA agreement. In the USMCA, both Canada and the U.S. agreed to allow greater access to their respective dairy markets.
As the U.S. has a much larger dairy industry and typically runs a significant trade surplus with Canada in this category, it appears the U.S. has the most to gain in this area. Although Canadian dairy exports to the U.S. may increase as well.
Under the agreement, Canada maintains its steep tariffs (200% +) on most dairy products, but raised the allowable quotas before these tariffs take effect. If the U.S. is able to fulfill these quotas, it will expand U.S. exports from one percent of the Canadian market to roughly 3.5 percent of the market, increasing exports by more than 600 million lbs (milk equivalent), by year six of the agreement.
Another key concession made by the Canadians is the elimination of their "Class 6 and 7" milk pricing, which undercut U.S. ultra-filtered milk and milk proteins. This pricing affected not only U.S. exports to Canada, but also allowed Canadian exports to undercut U.S. product on world markets.
The bottom line? The USMCA will likely allow the U.S. to increase dairy exports into Canada, although the increases may not be as great as what was hoped for – and will be phased in over time. The effect this may have on U.S. milk prices is uncertain at this time.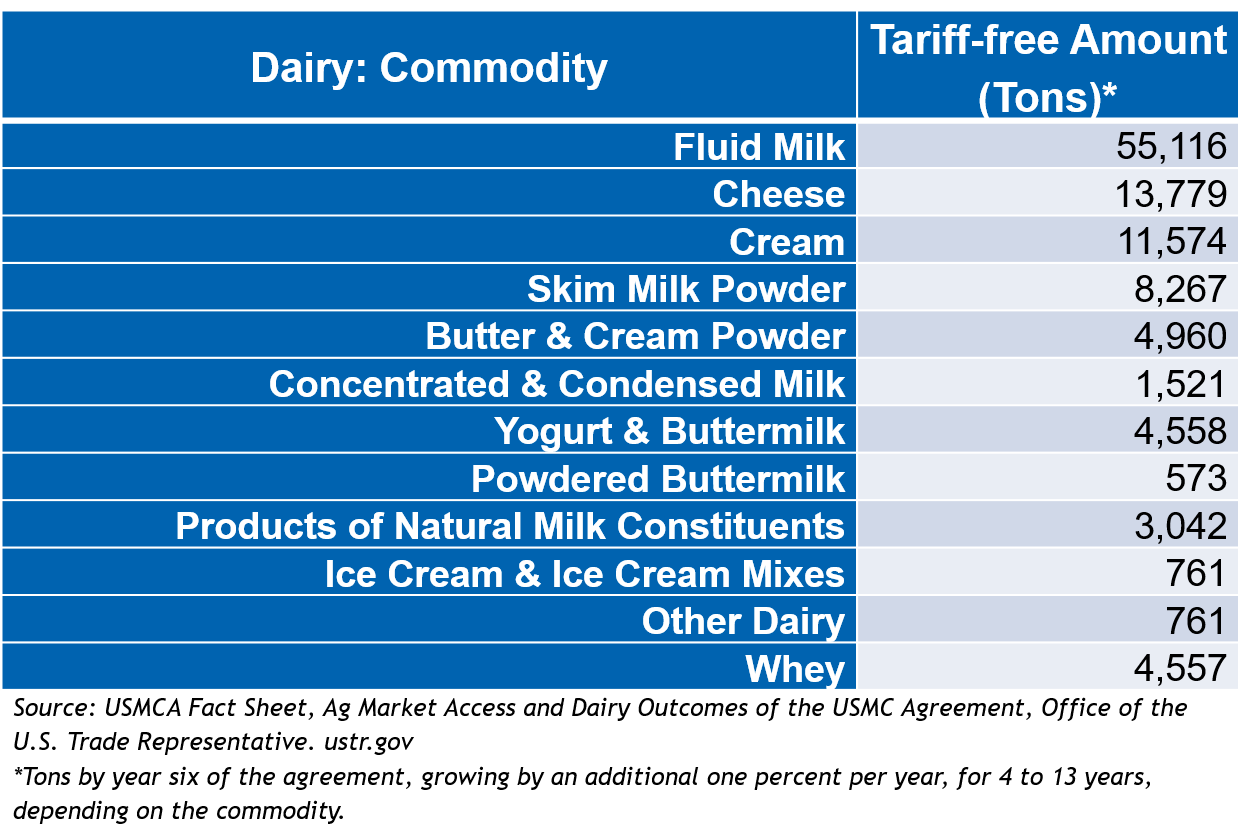 Other Provisions
Agricultural products that were at zero tariff rates under NAFTA will remain so.
Some other aspects of the USMCA that may affect U.S. agriculture include greater market access for U.S. wine and modest gains in market access for U.S. poultry and eggs.
In a win for Canada, the USMCA also preserves a key trade dispute mechanism from NAFTA that helps protect their lumber industry. Chapter 10 of the agreement maintains "a binational panel review mechanism for reviewing anti-dumping and countervailing duty determinations by either the U.S. or Canada." This mechanism will be important for resolving trade disputes between the two countries and will block either nation from unilaterally imposing punitive tariffs on the other – as the U.S. did last spring with regard to Canadian softwood lumber, which Canada called "unfair and unwarranted."
Notably, the USMCA does not resolve or eliminate U.S. tariffs on steel and aluminum from Mexico or Canada. Mexico imposed counter-tariffs on U.S. dairy products, which remain in place and have reduced exports to our southern neighbor by a greater extent than any gains achieved through the USMCA.
Conclusion
Agriculture is a key export industry for the U.S., and access to foreign markets is crucial for the industry. Mexico and Canada are two important markets for U.S. producers and the USMCA helps ensure that much of the framework that has existed under NAFTA will remain in place. For many (though not all) producers, that is a positive development. There are also some potential market access gains under USMCA, however, there are many steps before it becomes a reality and the long-term impacts are unclear at this time.