Business Consulting
Some farm businesses have struggled with market headwinds, while others have enjoyed record profits. The difference between the two lies in the ability to proactively adapt to the "new normal." An effective manager's primary tool is their ability to continually adjust their business. A Farm Credit East consultant can help you get the best return on your business.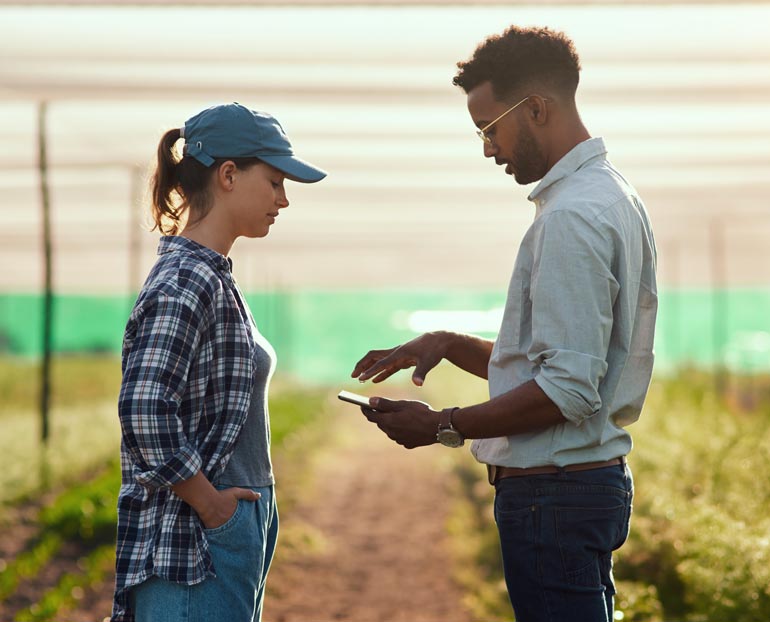 Whatever your business needs, count on our consultants to help you through.
Ag-specific expertise
It pays to do business with a service provider that understands your business. Look to us for the expertise you need to make managing your operation easy.
Consulting based on how you work
Our consultants develop unique working relationships with each client based on your business objectives and how you like to work on any specific aspect of business management.
Improving profitability
A Farm Credit East business consultant will help improve your profitability by working closely with you to analyze your business from many angles and pinpoint methods for improving your bottom line.
Consulting Services We Offer
Project basis
Very often, our consultants work on individual projects, such as developing an estate plan with a client.
Ongoing consulting
Many clients prefer a continuing relationship with their consultant. In most cases, your consultant visits your operation every quarter to discuss your financial picture, with telephone contacts in between. Other clients choose monthly or year-end visits.
Group consulting
A Farm Credit East consultant can conduct training right at your place of business. They can customize a program for your family, employees or customers on virtually any topic, such as business management, labor relations, communication skills or problem-solving.
How Farm Credit East can help
Business planning
Are you evaluating the feasibility of an expansion, diversification or other addition to your current operation? Perhaps you are starting a new business and would like a business consultant to walk you through a business plan or evaluate what you have already projected. Your consultant will look at your farm's financials over a four- or five-year period so that together you can assess the business's trends and use that information to build a usable plan. Your consultant will help you put a monitoring system in place so you have practical advice to help make decisions about the direction of the business.
Estate and retirement planning
Our consultants help you navigate issues related to family gifting and retirement planning through a consensus-building process with your family. Timely estate planning can also help you improve your tax liability dramatically. Developing a plan now will ensure that your business and personal assets remain within the family. Learn more about Estate Planning.
Family business transition consulting
When transferring the family farm from one generation to the next, family members must deal with a maze of business matters, tax implications and emotional issues. Farm Credit East has provided consulting services for many generations of farm business transfers.
Business continuity consulting
Business continuity is critically important when you transfer your farm business to another generation. There are various ways to organize your business, from a sole proprietorship to a corporation, our consultants know how to clarify these options for farmers and their attorneys.
Profit analyzer
Your Farm Credit East consultant will work with you to monitor the progress of your actual business results against budgeted, planned business metrics and also help you define ways to enhance your business profitability.
Next Step
Contact your local office to discuss how Farm Credit East can help with your accounting and consulting needs.