𝘼𝙜𝙧𝙞𝙘𝙪𝙡𝙩𝙪𝙧𝙖𝙡 𝙑𝙞𝙚𝙬𝙨 Photo Calendar Contest
Show Your Pride
Help us fill Farm Credit East's Agricultural Views 2025 calendar with lots of fresh imagery that illustrates the best of Northeast farming, horticulture, forestry and commercial fishing. We also look for creative photos that celebrate country life in New England, New York or New Jersey. Your photo entry may appear in Farm Credit East's Agricultural Views 2025 calendar and also earn you a $100 cash prize!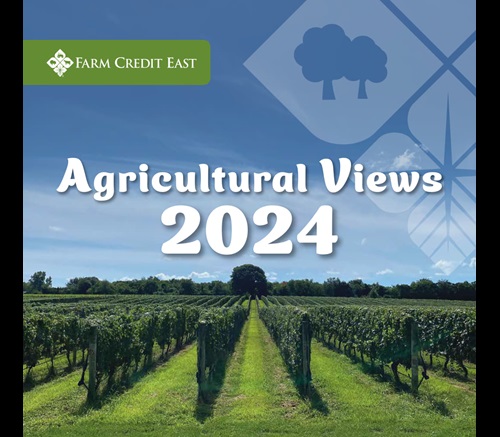 Acceptable Contest Entries
Planting, timber, irrigation, livestock or harvest scenes.
Industry shots of vineyards, commercial fishing, dairy farms, orchards, vegetable operations, nurseries, greenhouses, etc.
Action shots in fields, forests, barns or docks.
Seasonal photos, such as holiday decorations, Fourth of July events, pumpkins, winter scenes, etc.
County fairs, roadside markets or farmers' markets.
4-H or FFA events.
Need creative inspiration?
View our most recent Agricultural Views Photo Calendar.
The rules
Photo must be taken in New England, New York or New Jersey.
High-resolution (at least 1MB) images digitally submitted via the form below. Please note: the resolution of the photo submitted via the form below is the photo used for judging.
Do not touch up or add filters to photos prior to submitting.
No negatives, printed photos or links to web libraries.
Photos should have horizontal orientation.
Images become the property of Farm Credit East as outlined in the fine print below. No images will be returned.
Parties submitting photos certify that they have permission of all individuals shown in each photo and all individuals owning property shown in each photo.
Winning photos
Fourteen (14) photos will be selected for a $100 cash prize each. We will also award $25 prizes for small shots that we run in the date blocks.
Timeline
The deadline to submit photos to the 2025 Agricultural Views calendar is July 31, 2024. Winners will be contacted by October 15, 2024.
Get Started
Fill out the form below and submit your photo. If you have additional questions, please contact your local office.