Ag Economy
2022 Northeast Forest Products Review and Outlook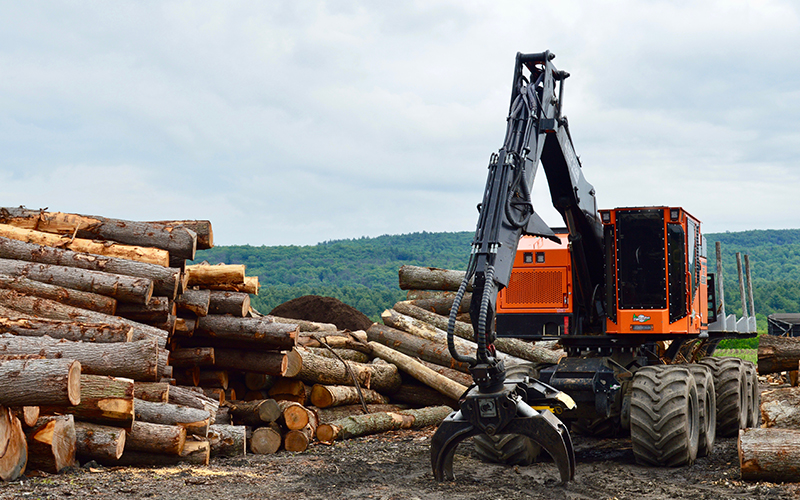 The forest industry, from the woods to the mill, continues to be a cornerstone of the Northeast's rural economy. Some sectors have seen growth, others decline, but the industry remains the interconnected network that supports landowners large and small, loggers and foresters in the woods, and mills that produce a range of products and anchor so many rural communities.
Sawmills and Lumber
This past year has seen wild volatility and price run-ups for lumber, and it isn't clear that price stability will return in the near term. On the demand side, this is driven by a combination of new housing starts, combined with lots of additions and remodeling as work-from-home appears to be a permanent fixture on the landscape. Supply has also been constrained, as some mills — mostly in other parts of the country — have been forced to curtail production due to workforce or log supply challenges.
Signs point to continued strong demand for lumber, which should keep prices strong. In addition to continued housing starts and renovations/remodeling, all of those new spaces need flooring and furniture — providing markets for the softwood and hardwood lumber sectors. Interestingly, normal market dynamics (supply and demand) have resulted in very little of the increased price of lumber trickling down to landowners for their timber. Put simply, there is an ample supply of timber for sawmills and an adequate logging infrastructure to deliver the timber — so far.
One area that has limited growth has been the ability of mills to move their residuals – wood chips and sawdust resulting from the sawing process. With the loss of so many pulp and biomass markets that use chips over the past few years, it's not clear that mills in the Northeast can significantly increase production — or build new mills — without new and diversified markets for residuals. Absent a meaningful increase in demand, don't expect sawlog prices to mirror the rises in lumber prices.
Pulp and Paper
The pulp and paper mills in Maine and New York that are operating all appear to be positioning themselves for the future. We've seen meaningful investments in wood yards, capacity improvements, and changes to new grades of paper. There has been a clear and necessary shift away from printing and writing paper grades to a more diversified mix of products that include market pulp, packaging grades, and some food-grade papers. Having a diversity of products helps mills, and the entire region, weather changing markets and product cycles.
The market is finally settling after the unexpected loss of the significant pulpwood market at the Androscoggin Mill in Maine. When a digester at this mill exploded in April 2020, its wood yards were full for mud season. All of this wood hitting the market, coupled with the logging capacity that served this market, caused significant disruptions across the entire region. Arguably landowners and loggers in New Hampshire and parts of Massachusetts felt this loss even harder than their counterparts in Maine — and continue to feel it today.
Biomass
Biomass electric facilities continue to face long-term challenges, most notably economics. It's generally true that biomass electricity is more expensive than many other alternatives, particularly when compared to other renewables such as wind and solar. Of course, there are a lot of reasons to want biomass to succeed — the market they provide for low-grade wood provides real opportunities for exceptional forest management — but that isn't how electricity prices are set. While a short-term increase in natural gas prices is providing a temporary reprieve for biomass electric plants, it isn't enough to drive investments in existing or new facilities.
Biomass heating provides some opportunity for expansion, and we are seeing a number of industrial and institutional projects on the drawing board utilizing wood pellets or chips. Biomass heat is less expensive than oil heat, and has a long-term history of price stability. These markets are small, however, when compared to biomass electric (think thousands or tens of thousands of tons instead of hundreds of thousands of tons), but provide a sustainable market for local loggers and landowners.
Logging
Loggers are the key link in a supply chain that runs from the wood to the mill and then to the market, and this link is struggling. Many loggers are facing supply chain challenges — stories of months-long waits for parts to run equipment are common, and continuing. Finding drivers for log trucks remains a challenge, and the entire sector has an aging workforce. These challenges have served as a constraint on wood for a number of mills, and prices have risen in many cases to reflect logging-related supply challenges.
At the federal level, loggers were able to receive COVID- relief funding via the Pandemic Assistance for Timber Harvesters and Haulers. Maine followed with a similar program. While these were certainly welcome relief for those businesses that needed them to survive, the entire industry needs to evaluate how to support the long-term viability of loggers and truckers.
Carbon
Carbon is beginning to play a role in the forests of the region, and this will only grow. Early in the process 10 years ago, several very large landowners took advantage of compliance forest carbon offset markets. More recently, a number of mid-sized landowners have engaged in carbon sales, and this has implications for future harvests. Many of the emerging carbon opportunities for landowners allow for continued timber harvest — some even promote it — but expect these lands to transition to longer rotations. As carbon sale opportunities continue to evolve, I expect we'll see many small landowners and some large landowners engage in the programs, and there will be implications across the entire supply chain.
Looking Ahead
While the forest industry always has ups and downs, there is good news on the horizon. A new sawmill has opened in Maine, specializing in small-diameter spruce/fir that is so abundant in the central part of that state. At the former Madison paper mill, a company will soon be manufacturing cellulosic insulation from wood chips, bringing an entirely new product to the industry. Another company has announced plans to co-locate at a forest industry site and make biochar, a product that can be used as a soil amendment and sequester carbon for centuries. Multiple firms have announced plans to build a biorefinery in the region, turning low grade wood into liquid fuel. Of course, announcements are not (yet) markets, and some may never materialize, but there are undeniably firms making investments in new products that will provide opportunities for a more robust and diversified forest industry.
---
This paper, along with more highlighting other industry outlooks in the Northeast, can be found in
Northeast Agriculture: 2022 Insights & Perspectives.
Meet the Authors
Connect with and discover our Today's Harvest blog authors and their broad range of financial and northeast agricultural expertise.