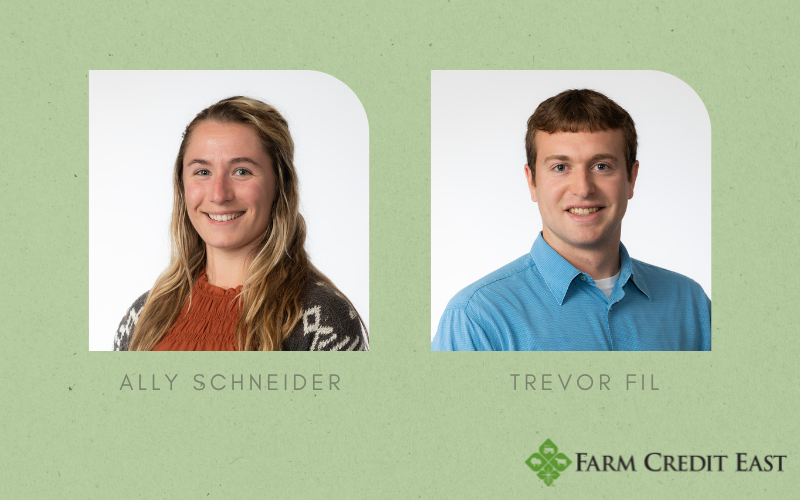 Farm Credit East has many diverse career opportunities, and there are plenty of pathways to take in starting a career with the company. Some staff begin their Farm Credit East journey as an intern after their Junior or Senior year of college. After interning, some begin employment in the Career Development Program (CDP).
I recently sat down with two former interns-turned-CDP trainees who have since moved into full-time positions in the Enfield, Conn., office, to learn more about their experience.
What was your experience with the Career Development Program?
Ally Schneider: Farm Credit East came to us after our internships and basically said, "We want you as an employee, but we don't have a specific position for you at the moment." That's what it is to be a CDP trainee. They saw we had potential and hired us to train for positions that may not have been open yet.
Trevor Fil: We began by going through trainings to gain a foundational knowledge of Farm Credit East and the credit process. We basically worked as credit analysts in the beginning until we were able to specialize, but we had opportunities to explore different roles and departments within the company.
Ally: They looked at where the needs were within the territory, as well as our strengths to find a good fit for us. We were each paired with a skills coach who worked with us every day, and we were really able to absorb knowledge from them.
Trevor: In addition to the office work, we went on farm visits. We were able to meet customers in person,which was eye-opening. Meeting customers gave me a sense of pride for what we do as an organization.
How did you become hired for the positions you're in today?
Trevor: About six months into my CDP training, the Commercial Lending team was looking for a new analyst. I was happy to take on the position.
Ally: I wanted to do more exploring, and when an opening for appraisal came up, I thought that was something I would strive in. I had done some appraisal work in my internship and it was a great opportunity. It's something I never thought I'd be able to do.
From your perspective, why was the Career Development Program beneficial?
Trevor: Having been an intern and spending time as a CDP trainee provided additional background knowledge about Farm Credit East that better equipped us to fill our roles.
We were really able to dive in and be sure we understood what we were doing. It wasn't just about checking off tasks, we truly had time to ask questions and gain a deep understanding of the processes.
Ally: Sometimes coming straight out of college, you don't necessarily know how to work effectively, or even know how to set a work/life balance. As a CDP, I was able to navigate that balance without the stress and expectations that go with a specific role.
I also love that the program was very exploratory. It was a good grace period for us to find what we really wanted to do as careers. And our skills coaches and superiors really wanted us to learn. I think that's what makes Farm Credit East stand out from other companies. They wanted us to learn to do things right.
---
Are you a graduating college senior or graduate student? Join our team as a Career Development Program trainee. We provide you with the resources you need to learn the foundations of successful credit delivery, financial accounting services delivery or property appraisal.
Meet the Authors
Connect with and discover our Today's Harvest blog authors and their broad range of financial and northeast agricultural expertise.