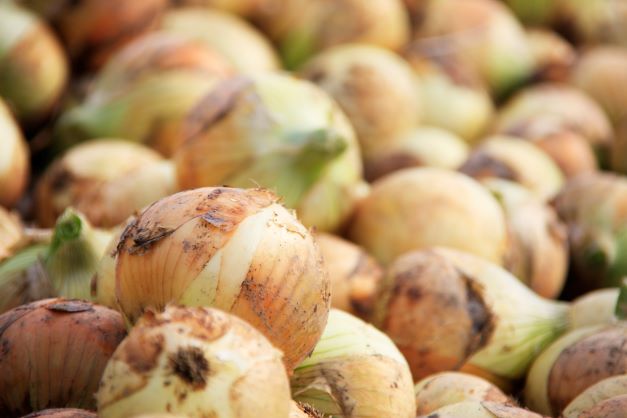 Onions are not necessarily a common commodity, but those who grow them know just how expensive it is to produce such a valued crop. Roughly 125,000 acres of onions are grown each year across 16 U.S. states. Compare that to the 48 states that grow 90 million acres of corn, and you can see how specialized this commodity is.
Just 12 counties in New York State grow enough onions for the Risk Management Agency (RMA) to consider it an insurable commodity. Cayuga, Genesee, Madison, Oneida, Ontario, Orange, Orleans, Oswego, Seneca, Steuben, Wayne and Yates are the only New York counties where onions are insurable.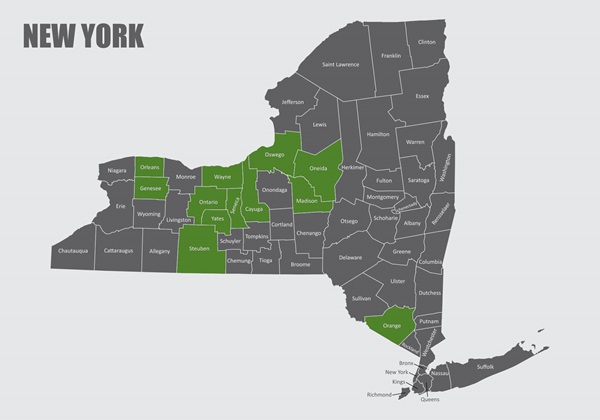 With such a specialized high value crop, it is important to understand the insurance policy for it.
Onions fall under the Multi-Peril Crop Insurance Approved Production History policy. In other words, anything Mother Nature throws at the crop is covered.
How the policy works
The policy uses previous production history to set the yield base. The deductible is set at the sales closing date (February 1) and is complimentary to your insurance level selection. You could have anywhere from a 50% to 85% policy, leaving a deductible range of 50% to 15%. That percentage is taken from your Approved Production History (APH). So, if you have an average 10-year production of 300 cwt. per acre and a 75% policy, to have an insurance indemnity, you must fall below 225 cwt. per acre (300x75%). In other words, you are electing to lose 25% of your onion crop before insurance kicks in.
Multiple perils can stack up to show a reduced yield. The most common peril to damage onions is precipitation, more specifically hail, drought, flood, etc. Most onions are grown on muck ground/black dirt, which can be very particular on its growing conditions. This ground easily floods or can be blown away in a drought. But, if there is a wet spring, followed by a cold front and then insect damage, and together these perils result in a low yield, they're covered.
Insurance calculations
To calculate your total liability per acre, take the production guarantee (225 cwt./acre) and multiply it by the established price per onion type. For 2023, yellows are set at $12.20/cwt., red onions at $19.70/cwt., and white onions at $19.10/cwt. So, per acre of white onions at a 225 cwt. production guarantee, you have $4,297.50 of protection. For the case of an indemnity, for every hundred weight that you fall below 225, your policy pays $19.10 up until the 225 cwt. guarantee.
Pilot Stage Removal is an onion specific option to add to the multi-peril insurance policy and is not available with a catastrophic policy. Pilot Stage Removal will protect production to the final stage. It increases your premium by 20% but covers the full crop value at any stage. If you do not have the Pilot Stage Removal option, your onions are covered as shown below.
| | | | |
| --- | --- | --- | --- |
| Stage | Planting | Description of Stage | % of Guarantee |
| First | Direct seeded | From planting to emergence of 4th leaf | 50% of final stage guarantee |
|   | Transplanted | From transplanting to 30th day thereafter | 50% of final stage guarantee |
| Second | Direct seeded | From emergence of 4th leaf | 80% of final stage guarantee |
|   | Transplanted | From the 31st day of transplanting | 80% of final stage guarantee |
| Final | Both | From topping & lifting to end of insurance period | 100% of final stage guarantee |
Since you can have many perils impacting your crop, the percent of guarantee only pans out for any hail damage and if the crop is not salvageable. Most of the time, the adjuster waits until the end of the growing season to see the full impact of all perils.
Selling such a high valued crop, like onions, is beneficial, but crop insurance is there to help if Mother Nature decides to throw in some challenges. Always reach out to your local Crop Growers agent with questions. It is important to have a good understanding of your cost of production per acre so your agent can help build a policy to cover your input costs.

Sources:
https://webapp.rma.usda.gov/apps/actuarialinformationbrowser/DisplayCrop.aspx
https://www.onions-usa.org/all-about-onions/retail/us-production-and-availability/
https://www.cropgrowers.com/crop-factsheets/Onion
https://www.ers.usda.gov/topics/crops/corn-and-other-feedgrains/feedgrains-sector-at-a-glance/#:~:text=The%20United%20States%20is%20the,grown%20in%20the%20Heartland%20region.
Meet the Authors
Connect with and discover our Today's Harvest blog authors and their broad range of financial and northeast agricultural expertise.