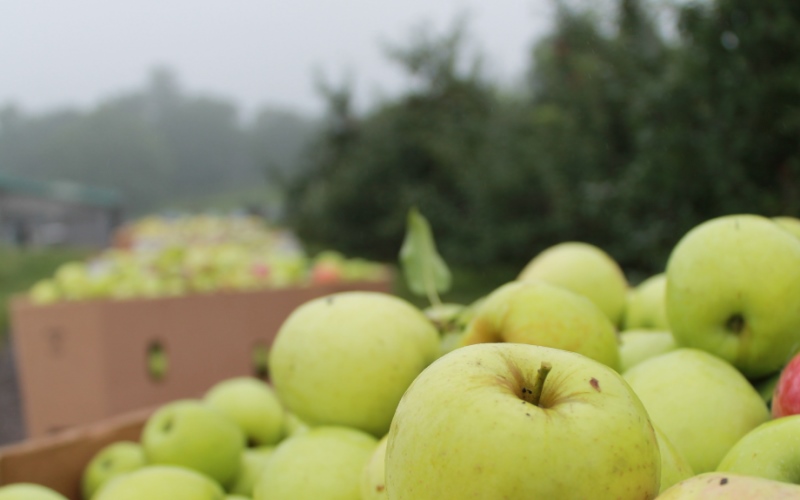 Beware the Bumper Crop
Written by Chris Gerlach, Director, Industry Analytics, USApple
This article takes a deep dive into U.S. apple production, price and export trends in an attempt to unpack a growing concern of many in the industry, what will happen when Washington produces at or near capacity?
U.S. Apple Production
Michigan apple growers are having a great year. By many accounts, the 2022 crop has been the state's largest ever, coming in around 1.5 billion pounds or 35 million, 42-pound bushels. That is a 125% increase over last year which happened to be a particularly bad year for Michigan production.
Despite their banner year, total U.S. apple production is down from last year by around 2%. In fact, total U.S. apple production has been falling for several years running, dropping from 279 million bushels in 2019 to an estimated 244 million bushels in 2022. That decrease – a figure equivalent to Michigan's biggest-ever year – is due to consecutively shorter harvests in Washington which is responsible for around two-thirds of all apples grown in the U.S.
From 2019 to 2022, Washington's total apple production has fallen from 181 million bushels to 143 million bushels – a more than 20% decrease. While there are several factors contributing to those declines, the most significant may have been the unprecedented heat wave in June 2021 that damaged large amounts of fruit and negatively impacted the sizes and storability of the remaining fresh apples. The effects of that event continue into this season as residual stress, along with a cold spring and poor pollination, has led to further year-over-year declines.
U.S. Apple Production & Acreage Trends

It is worthwhile noting that this is not a capacity issue. The number of apple-bearing acres in Washington has been flat since 2019 and it is safe to assume that as older blocks are pushed out, they are likely being replaced with more efficient, higher-density systems designed to increase yield per acre (and decrease costs).
This trend will not last forever. Eventually, Washington will have their own banner year producing as many as 200 million bushels, adding 70 million bushels to domestic supply. If, in that year, the other major apple producing regions come close to hitting their five-year averages, U.S. production could top 300 million bushels – a 23% increase over current levels.
While production at that scale would be unprecedented for the U.S., it is not too far above the 280-million-bushel mark set in 2019. The key difference between then and now, however, is that, since then, the U.S. has lost some key export markets – markets that could absorb that excess volume. In today's export environment, that fruit would stay home and compete domestically with apples from Michigan, New York and Pennsylvania.
Basic economics dictates that when you have an increase in supply without a corresponding increase in demand, prices fall. Unfortunately, per capita demand of fresh apples among U.S. consumers has remained almost flat since the 1980s, ranging between 16 and 19 pounds per year. While it is possible that persistent, lower apple prices may entice some shoppers to switch from bananas and berries, it is unlikely those shifts will occur in sufficient numbers to meaningfully increase demand.
Under this scenario, there are two likely outcomes: first, it becomes a race to the bottom, where marketing desks are forced to sell fruit below cost just to recoup some fraction of the expenses it took to grow, harvest, store, and ship the apples; and second, growers may sadly choose to leave their fruit in the orchard as prices don't justify the cost of labor needed to get them off the tree.
U.S. Apple Prices
It is important here to distinguish the prices growers receive, the wholesale or farm-gate price, from retail prices. While the two are certainly related, they are by no means the same and have different reactions to excess supply.
In general, retailers are trying to normalize the supply for their customers and keep prices relatively consistent – however, steadily increasing, to keep pace with inflation and protect margins. Farm-gate prices, on the other hand, have greater seasonality and fluctuate more widely around the average.
The grower prices are far more susceptible to changes in supply. This is clearly demonstrated every September when limited availability of new crop causes grower prices to peak. The situation gets more complex as the year progresses and prices reflect regional crop disparities, changes in transportation costs and, of course, international demand.

As with the retail price, the inflation-adjusted farm-gate prices have been increasing over time. However, it is important to note that higher prices do not necessarily translate to higher profits – revenues are only half of the story.
From March 2020 to January 2023, the consumer price index (CPI) for apples – a standard measure of inflation for consumer goods – increased by 22%. Over the same period, the producer price index (PPI) for apples – a standard measure of cost inflation – increased by 73%. Said another way, the growth in farm-gate revenue is not keeping pace with the growth in farming expenses.

These recent and dramatic increases in expenses – due primarily to rising labor costs – are already creating challenges for American apple farmers. If Washington growers and Mother Nature combine to produce at or near capacity, and those apples flood the domestic market, these diminishing margins will be stressed to the breaking point.
U.S. Apple Exports
To avoid racing to the bottom or dumping apples in a ravine, it will be critical to get fresh apple export markets working again so they can be a relief valve for the years when U.S. production exceeds domestic demand. Unfortunately, we're headed in the wrong direction.
From January 2018 to December 2022, total U.S. fresh apple exports were down 25%. These additional 500 million pounds of apples, a figure roughly equivalent to Pennsylvania's annual production, previously competed overseas – now, they compete at home.
Most of this impact was due to the reduction in apples going to India. In response to U.S. tariffs on Indian steel and aluminum, India placed retaliatory tariffs on U.S. apples (among other products). In 2018, India was the second largest export market – having just overtaken Canada – valued at more than $157 million. By 2022, that figure had fallen to less than 5 million, a 97% decline. It is estimated that the loss of this market has cost U.S. apple growers more than $500 million.
Worse still, in our absence, countries like Iran and Turkey have stepped in to fill the void. On the bright side, growers are optimistic that, if the playing field is leveled again, they will be able to compete on quality (port delays and shipping costs permitting).
Washington At Capacity
Under a "banner year" scenario for Washington, the $500 million in lost exports could be joined by an additional 3 billion pounds of apples needing to be sold either at home or abroad. As noted above, factors like regional crop disparities, changes in transportation costs and shifts in international demand make it difficult to say exactly what will happen when such a case occurs, but it can be said with some certainty that, without exports markets being open, U.S. apple farmers would face a challenging year.
The U.S. apple market is comprised of more than 26,000 farms, with many being passed from generation to generation. It is critical that U.S. policy makers act quickly to protect these farms and farmers by removing trade barriers and reopening vital international markets – the clock is ticking.
---
WEBINAR - 2023 Northeast Apple Industry Outlook
Recorded Thursday, April 6, at 12 p.m. ET

Chris Gerlach, director of industry analytics with US Apple, examined the implied production and economic outlook for 2023, as well as how production in Washington state has impacted markets for East Coast growers.
Click here to view the webinar.
---
View additional 2023 Industry Trends & Outlooks
Farm Credit East Disclaimer: The information provided in this communication/newsletter is not intended to be investment, tax, or legal advice and should not be relied upon by recipients for such purposes. Farm Credit East does not make any representation or warranty regarding the content, and disclaims any responsibility for the information, materials, third-party opinions, and data included in this report. In no event will Farm Credit East be liable for any decision made or actions taken by any person or persons relying on the information contained in this report.
Meet the Authors
Connect with and discover our Today's Harvest blog authors and their broad range of financial and northeast agricultural expertise.