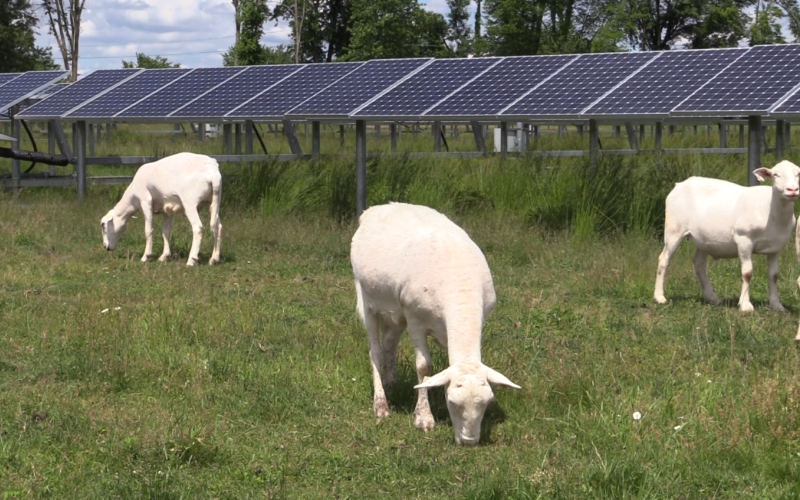 Solar power is already a very clean, renewable energy source that serves an important role in reducing our carbon footprint. Yet, one forward-thinking farmer has found a way to make solar initiatives even more sustainable by grazing her sheep on the grassy fields that lie below solar arrays.
Julie Bishop got her start with sheep when she acquired her Australian Cattle Dog Mandy, and along with Mandy came a newfound interest in herding. But once Julie bought a couple of sheep, she wanted more sheep, which soon turned into too many for her property to handle. So she began the search for more pasture area.
Driving by a nearby solar field, Julie noticed that the fenced-in area was being mowed. She remembers thinking, "They're wasting all that grass. I could be grazing my sheep there." So she picked up the phone and contacted the property owner to ask if they'd be willing to graze sheep instead of mowing. And as simple as that, Solar Sheep LLC was born. From there she's expanded to three locations in New Jersey simply by word-of-mouth.
When asked what has contributed to her success, Julie replied with a laugh, 'Because it's a good idea!" She meant that humbly, and continued to explain her thought process. Sheep on solar fields is a win for Julie because it gives her more acres to graze her growing number of sheep. It's a win for the solar owner because they can have the site's vegetation maintained more inexpensively than mowing. And it's a win for the sheep because they have more space to graze and less parasite problems.
Julie's sheep have become a handy counterpart to the local solar arrays. While her sheep only inhabit a few locations, she hopes to grow her flock to 800 ewes to fill additional solar sites that need tending. Any ewes beyond her capacity, she hopes to sell to others for solar grazing. "I hope to make this economically sustainable for me," she said.
Click below to listen to Julie's full story.
This is the second post in our series highlighting innovation in Northeast agriculture. To read the first post, featuring a New Hampshire oyster farm aiming to improve water quality in the Great Bay area, click here.
Meet the Authors
Connect with and discover our Today's Harvest blog authors and their broad range of financial and northeast agricultural expertise.