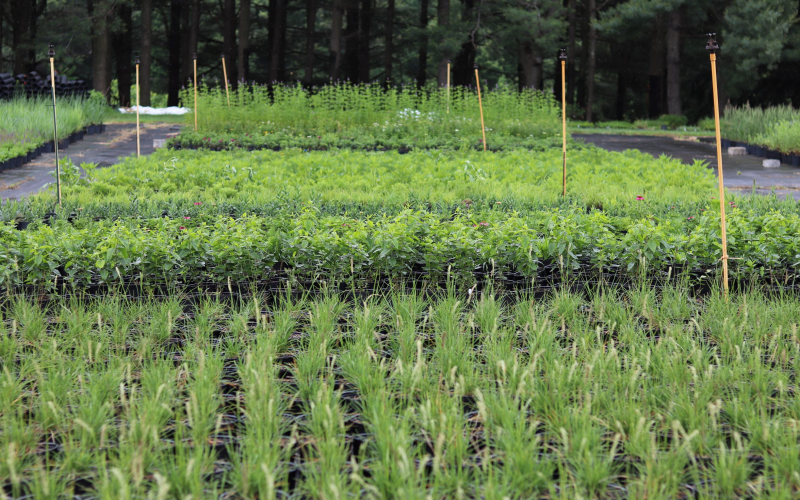 So far in our Stewards of the Land series, we've learned about the environmentally preferable practices at a New England orchard, a New York dairy farm and a Maine logging operation. In our final Stewards of the Land blog, we travel to New Jersey to learn about a nursery business that is also implementing multiple techniques to preserve the environment.
Carrie Stanker and Daryl Kobesky own and operate Sunset Farmstead — a seven-acre container-grown nursery in Bordentown, N.J. Sunset Farmstead grows native perennials, ornamental grasses, shrubs and other plants with a large focus on pollinators.
"We set out to grow good plants for pollinators," said Carrie. Over the last several years, studies have shown a decline in pollinators due to habitat loss and pesticide use. "We wanted to grow plants that create that habitat and food source," she continued.
Besides growing plants for pollinators, they were also on a mission to grow their plants sustainably by reinventing the whole growing process when they began three years ago. They started by implementing high efficiency irrigation and eliminating pesticide use. But, they didn't stop there.
"We understand that plants want sugars and carbohydrates more than they want the salt that is provided by synthetic fertilizer," said Daryl. Instead of using the typical mixture of peat moss, bark, sand and lyme, Sunset Farmstead began by creating their own planting media from waste products. It includes local leaf compost, which provides sugars and other carbohydrates; rice hulls, or trash from the rice industry, which serve as sand material; and PittMoss, which is recycled cellulose or newspaper and cardboard that acts as a peat moss to provide additional nutrients and water-holding capacity. "Everything that goes into growing our plants is a recycled or second-use product."
In addition to their homemade planting mixture, they use a controlled-release fertilizer that is 50% poultry manure, cutting down on their synthetic fertilizer usage. "We don't fertilize a lot, we don't water a lot, but we still end up with a pretty good plant!" Daryl joked.
Compared to traditional nursery businesses, Sunset Farmstead has seen significant cost savings. Their high efficiency irrigation system cuts out the need to run a water pump at all times, saving on water and electricity. They also save on the costs and the emissions from trucking since they are sourcing everything locally, rather than shipping materials from other states or countries.
While Sunset Farmstead is doing good for the environment and seeing cost savings, they have also run into challenges. "Our biggest challenge is getting people to understand how and why we're doing what we're doing, and why we believe it's better," said Daryl. He added that educating customers on their eco-friendly practices has improved sales, however.
Sunset Farmstead, as well as the other operations interviewed for the Stewards of the Land series, agree that they are committed to operating sustainably to conserve the environment.
Carrie had this advice for anyone looking to implement environmentally preferable practices in their business: "Just do it! Even if it's starting with one new thing. It may be an upfront investment, but give it a bit of time and the benefits will come."
To learn more about Sunset Farmstead, visit their website at SunsetFarmstead.com.
To catch up on previous articles in the Stewards of the Land series, click the links below.
A Massachusetts' farm's road to net zero
A Western New York dairy converts waste into renewable energy
Meet the Authors
Connect with and discover our Today's Harvest blog authors and their broad range of financial and northeast agricultural expertise.