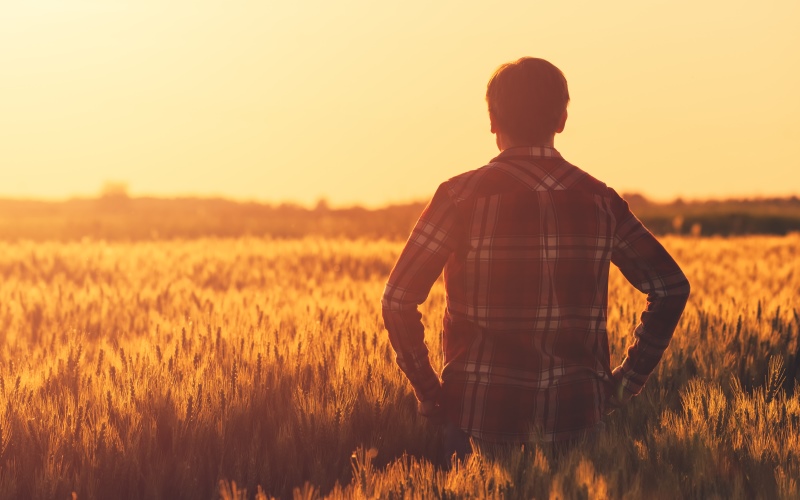 For the last five years, I've had the privilege of attending Farm Credit East's customer appreciation meetings held by each one of our 20 branches every fall. Joining the Knowledge Exchange team in our Enfield, Conn., office back in 2015, my first big fall project was helping to prepare the presentations, coordinate logistics, ensure technology worked, and then hop in a very full car to help our team make the 3-week road trip a success. In my travels to these meetings across the Northeast, it didn't take long to realize we were a customer-focused cooperative.
Customers traveled from all over to attend these meetings and staff connected personally with those customers during the meeting. That first year, and every year since, these sincere interactions reaffirmed my belief that strong relationships are a core value of Farm Credit East and the strength, perseverance and humility of customers is what makes me — what makes us — want to show up every day to a career focused on serving Northeast producers. From southern New Jersey, to the western-most offices of New York, and to the far-reaches of northern Maine, we appreciate you.
And this year, even though our in-person meals transitioned to a gift card, speakers gave their presentations to a virtual audience, and our cars stayed parked in the garage, I still felt the 60-minute program showcased our appreciation for our customers.
A silver lining to this year's webcast was its ability to include staff from across the association, including talented voices and friendly faces many of you may have recognized. For that reason, I'm pleased to share the following presentations from the virtual meeting.
The Star-Spangled Banner
The talented voices of Farm Credit East staff Dallas Kriebel, Tom Cosgrove, Matt DiSciacca, Maureen Doty and Melissa Benvenuto welcomed customers to the meeting.
View the 2-minute National Anthem
Cooperative Update
CEO Mike Reynolds and Board Chair Laurie Griffen presented a socially distanced presentation together this year.
Mike began their presentation, welcoming attendees and recognizing their efforts during this unprecedented year. He then transitioned to Laurie who echoed her appreciation for both customer and staff resilience this year. They then covered year-to-date financials, an interest rate outlook, and a recap of Farm Credit East's efforts to assist customers during this challenging period. They also presented plans to enhance Farm Credit East's digital infrastructure, launched the 2021 director elections and announced the opening of nominations for the Lipinski Rural Initiatives Award.
A Salute to Customers
Throughout the coronavirus pandemic, Northeast producers have stepped up to continue to serve their local communities and beyond. Having worked with Northeast producers for more than 100 years, we expected nothing less. In this video, hear from 11 Farm Credit East employees who salute customer efforts during this unprecedented year. Their words reflect the sentiments of our entire employee team.
Being our best when it matters the most
Throughout life, and this year especially, we have witnessed countless examples of heroes. From first responders to teachers, agricultural producers to our military, Kevin Brown describes how these essential people — the heroes — show up with a purpose. Are heroes ordinary people who do extraordinary things? Kevin doesn't think so. Instead, he reframed this adage with a few powerful stories in a 30-minute segment.
Farm Credit East customers who would like to view a playback of Kevin Brown's The Hero Effect may email knowledgeexchange@farmcrediteast.com to receive a password-protected link. This video will be available for viewing until December 17.
We're grateful for the feedback we received from our virtual attendees and appreciate the questions submitted throughout the program. Those questions are answered here.
While we were pleased to be able to show our appreciation in a virtual fashion this year, we look forward to the time where we can meet in person again. Until then, we hope this meeting was able to bridge the physical distance and extend our appreciation to our customer owners.
Meet the Authors
Connect with and discover our Today's Harvest blog authors and their broad range of financial and northeast agricultural expertise.