Preparing the dairy industry's next generation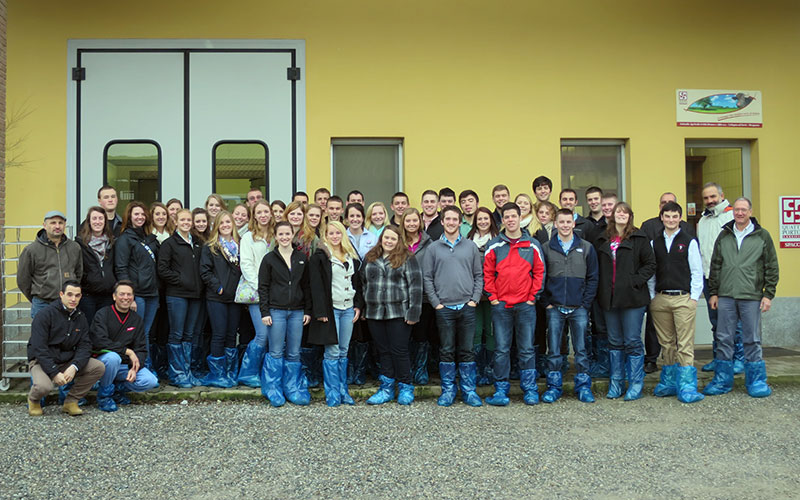 Armed with an array of classroom education and innovative experience, participants in the Cornell Dairy Fellows program graduate and move into diverse roles that touch countless aspects of the region, its economy and beyond.
In 1984, the Cornell Dairy Fellows Program was established to annually prepare a small group of hand-selected students to enter the dairy industry with an education beyond "traditional science courses" and to provide them with the tools to quickly and effectively take on roles in the ever-changing world of modern agriculture. The goal for students: To understand the cow, but understand that the cow is just one part of the business.
Diverse student participation
Dairy Fellows, which has in the last 32 years seen more than 1,200 graduates from 22 states, is a cross-curriculum program providing students instruction in fields like business management, biology and economics – all critical focus areas for today's dairy operators. All students entering the program have an interest in pursuing careers in the dairy industry upon graduation.
Though many of the 30-plus students participating each year are Animal Science majors, the program is not limited to Animal Science and other Fellows participants graduate with a wide range of degrees varying from Bachelor degrees to Ph.D.s in fields of study like Business Administration, Food Science, Applied Economics and Agricultural Science. Participation in the program typically means a wide array of coursework in their degree program, as well as other subject areas, such as labor relations and human resource management. The progam has one common goal: Leveraging Cornell's educational resources to prepare students for entry into the dairy industry by providing them the opportunity to build a portfolio of study and experience to make them top competitors when entering the job market.
Education outside the classroom
Students' experience stretches well beyond the classroom. In addition to trips in New York and around the U.S., there are trips abroad to learn about the dairy industry in countries like China, Italy, Spain and Germany. On these trips, students work with operating dairies to analyze business structures, finances and operations, to ultimately create recommendations for those dairies to sustain and grow their operations.
The goal of this industry collaboration is to not only educate participating students about what is required to operate a successful dairy business, but also how to create benchmarks and execute the steps required to do so. Students are encouraged to talk with dairy operators at length and ask a lot of questions; both key tactics in developing problem-solving and communication skills.
More student experience
In recent years, the Cornell Dairy Fellows Program has added another dimension to students' education and experience. Some participants now take part in the North American Intercollegiate Dairy Challenge, in which teams from 40 colleges around the U.S. and Canada apply what they learn in and out of the classroom to operational dairy farms. The competition is one that faculty and alumni say goes a long way to educate students about the industry in a real-world environment in which students have direct interaction with dairy operators. The Cornell team, comprising of the Dairy Fellows Program members, took first place in this year's competition.
Qualified for today's job marketplace
Cornell graduates who participate in the Dairy Fellows Program leave campus with not only a comprehensive understanding of operating a dairy farm today, but also with a leadership, communication and problem-solving skill set that helps them succeed in myriad roles in the business community. Many return to dairy farms, while others go on to careers in a broad range of agricultural businesses (including with Farm Credit East) and elsehwere in the business world.
Both Cornell University faculty and prospective employers say Dairy Fellows students often are not just skilled academically, but also are well-grounded. They know their roles both as students and later as professionals in the dairy industry and are adept at asking the right questions; each of which are critical skills and characteristics for college graduates entering the job marketplace.
Farm Credit's role in the Dairy Fellows Program
Farm Credit is a benefactor to the Cornell University Dairy Fellows Program through the. Farm Credit Northeast AgEnhancement Program, which awarded a $7,500 grant to the program to support its hands-on academic curriculum that inspires and prepares students to enter careers in the dairy industry.