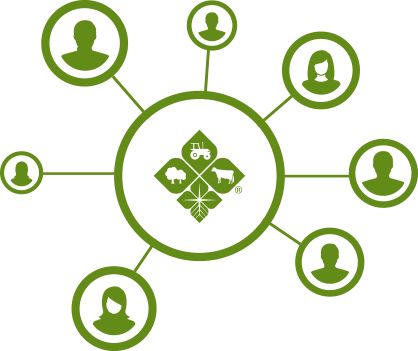 My career at Farm Credit East began a lot like what I would consider the typical Farm Credit employee experience. I had a summer internship, was hired into the Career Development Program after graduation and was then offered a full-time position as a tax associate in our Middleboro, Mass. office. But, as life continues, changes are inevitable, and I found my Farm Credit career headed for a break.
During my fourth year at Farm Credit East, I met my now-wife and she was given the opportunity to land her dream job. After long talks, we made the difficult decision to leave our roots and move to Washington D.C. to follow that dream. So I left Farm Credit East and began working as a financial advisor. A year went by before I realized I wanted to get back into accounting and, believe it or not, I stumbled into a recruiting role specifically for finance and accounting professionals. Who would have thought after a career in finance and accounting, I would be in a human resources role? Certainly not myself.
During my two roles in D.C., I spent a lot of time reflecting on what was important to me in my career and it always circled back to how much I valued working alongside the individuals at Farm Credit. The people I worked with in D.C. were wonderful, but for some reason, my mind always wandered back to Farm Credit. The culture I'd left was unlike anywhere else. Farm Credit East has 20 offices in seven states and yet an office eight hours away is willing to drop anything to help another office; the CEO knows everyone by name (and I mean everyone!); and family always comes first, no matter what. Companies stress a healthy and enjoyable work culture, yet few are successful in implementing one. Farm Credit East has mastered a solid company culture and it took my leaving to recognize that.
Eventually, my firm had a position open in their Hartford, Conn., office and I jumped at the opportunity to move back home. As my wife and I returned, I checked in with a few of my former co-workers at Farm Credit East. We met over coffee and it was like we never missed a beat, asking how our families were doing and how old colleagues were doing, it's as if those two years were a quick vacation. A month later, I was lucky to be back with an association that I am excited to spend the rest of my career with.
I am now the Recruiting Manager at Farm Credit East and I am tasked with finding new and innovative ways to attract, hire and retain talent. I work closely with all of our offices to understand how we can improve efficiencies in the hiring process and how we can better attract top talent in their respective locations. I also work closely with universities throughout the Northeast to partner and bring high-caliber individuals into our robust internship program. I do all of this in a variety of ways, but no better way than working with the team here at Farm Credit East.
I tell this story to encourage individuals that it's okay to not know what you want to do. Not knowing where you want to be or which company to work for is okay. The most important factor is enjoying your career, loving the people you work with and joining an organization that truly cares about you. If you find this, as I have with Farm Credit East, I promise that it will make for a life-long career.
If you are interested in learning more about my story or potential career opportunities at Farm Credit East, please reach out; I am more than happy to chat.