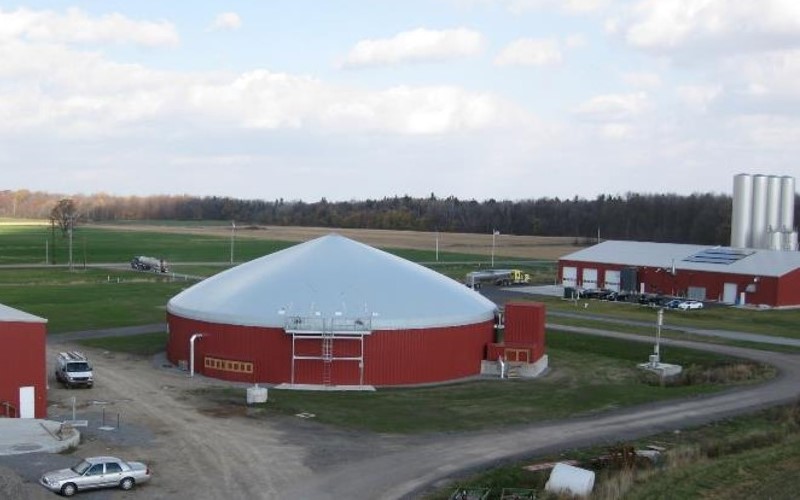 Last week in our Stewards of the Land series, we met a Massachusetts farm utilizing a number of environmentally preferable practices, including converting waste into energy. This week, we head to a dairy farm in Western New York that is also converting waste into energy, but is instead utilizing cow manure along with waste from the surrounding community and beyond.
A 2008 study conducted by U.S. Dairy, an organization created and funded by farm families to build trust and sales in the industry, found the dairy industry contributes only 2% of greenhouse gas emissions nationally. Since that time, the on-farm environmental impact has continued to decline. In 2017, U.S. Dairy reported the production of a gallon of milk required 30% less water, 21% less land and a 19% smaller carbon footprint than the decade prior. But this isn't the end of the road for the dairy industry.
Anaerobic digestion is a technology some dairy operations have employed to reduce greenhouse gas emissions. Through this process, micro-organisms break down organic materials like cow manure or food waste to create biogas, which can be used for electricity, heat, compressed natural gas or vehicle fuel. Digesters can also break down organic materials to produce fertilizers, compost or cow bedding.
Meet Noblehurst Farms
Noblehurst Farms is a 1,850-cow dairy with 3,000 crop acres in Linwood, N.Y. The multi-family corporation has been practicing environmentally preferable practices for many years, but their most recent iteration of a long history of environmental stewardship was the installation of an anaerobic digester.
After partnering with several other dairy farmers and Dairy Farmers of America to build a creamery in 2014, they needed a place to take the creamery's wastewater. The anaerobic digester system provided that solution, recycling the food-grade wastewater along with the farm's manure to create biogas and ultimately electricity to power the whole farm. They furthered this effort by investing in a food waste collection company called Natural Upcycling. This separate venture collects about 250 tons of food waste per day from seven states and the District of Columbia.
"Between the manure we're producing and food waste we're capturing, we are producing roughly 200 standard cubic feet per minute of biogas — running most of that biogas through an engine genset that puts out about 450 kilowatts per hour, or enough electricity to power about 300 homes in our community," said Noblehurst owner Chris Noble. "We're taking the methane that would naturally go into the atmosphere and combusting it to create electricity. That's a real benefit to the environment and helps Noblehurst on its journey to becoming a net zero farm."
In 2016, Noblehurst Farms earned the Outstanding Achievement in Community Partnerships from the Innovation Center for US Dairy. A well-deserved accomplishment recognizing the farm's longstanding environmental stewardship focus coupled with its efforts to better its surrounding community.
Dairy farms as recyclers
Noblehurst Farms is just one example of the many farms focusing on environmental stewardship and sustainability. "Dairy farms can be great recyclers, not only when it comes to food waste but also in feeding it to cows," he continued. "There are a number of farms incorporating food waste, such as orange peels, into their rations to be able to feed their cows on a lower cost basis and also provide a service to the community by recycling their food waste."
Chris also noted there are many ways to eliminate waste. "From the table, if you prepare smaller portions, you'll waste less," he said. "You can also donate excess food to local food pantries or donate food scraps to feed animals. The final step is compost or digestions. There are a lot of ways food can find a new home, so thinking holistically about it can really improve society."
In closing, Chris acknowledged, "We're at the beginning of a revolution to keep organic materials out of landfills, but it's a new industry so there isn't a lot of history. Educating customers and proving the value of the service is imperative."
To learn more about Noblehurst Farms, visit their website at LinwoodAg.com.
Next week, Farm Credit East's Stewards of the Land series will head back to New England to learn more about the forest management practices of a Maine logging operation.
Stewards of the Land: A Massachusetts' farm's road to net zero
Meet the Authors
Connect with and discover our Today's Harvest blog authors and their broad range of financial and northeast agricultural expertise.