2022 Customer Appreciation Meetings
As a cooperative, our customers are at the core of everything we do. Farm Credit East has continued to be successful and that is thanks to the strength and adaptability of our members. To celebrate you, our loyal customers, we held customer appreciation events across our territory in 2022. Thank you to all who attended! You may view the recording from the virtual meeting held on November 7 below.
Virtual Customer Appreciation Meeting
A virtual Customer Appreciation Meeting was held on Monday, November 7, covering a cooperative update from Board Chair Laurie Griffen and CEO Mike Reynolds, along with an entertaining presentation from consumer trends expert Kelly McDonald. Click play on the corresponding video to view a recording of the 70-minute presentation, or click below to view Kelly's a PDF of Kelly's presentation slides. slides
View a PDF of Kelly McDonald's Presentation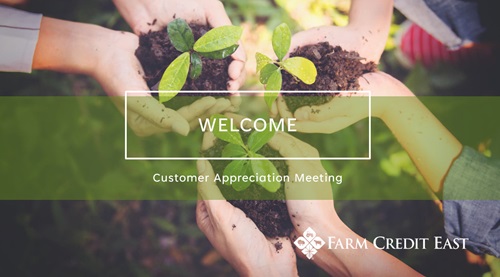 Have additional questions?
Please reach out!