2023 Annual Meeting & Director Elections
2023 Director Candidates
Four candidates are seeking election for two seats in 2023. The nominating committee conducted an extensive candidate search starting with an orientation session in the early summer, followed by fall Customer Service Council meetings, a committee conference call in December and an interview meeting in January. Following are this year's candidates.
Seat One
Nominated from the Central Region: Bridgeton, Claverack, Cooperstown, Flemington, Greenwich and Middletown offices.
Kurt William Alstede (age 59), of Chester, NJ, is primary owner and general manager of Alstede Farms, LLC, an 800-acre vertically integrated direct-to-consumer fruit and vegetable farm. Learn more about Kurt
Amy L. Walker-Bailey (age 58) of Fort Ann, NY, is chief financial officer of her family's three businesses: Walker Farms, LLC, a 1,300-cow family dairy operation with 2,700 crop acres of hay and corn; MGK Enterprises, LLC, a contract hauling trucking company; and Walker's Farm, Home & Tack, a retail farm store. Learn more about Amy
Seat Two
Nominated from the Western Region: Batavia, Burrville, Cortland, Geneva, Hornell and Mayville offices.
Robert James Colby (age 64), of Spencerport, NY, is vice president and co-owner of Colby Homestead Farms, Inc., a 285-cow dairy with 1,800 crop acres of corn, alfalfa, wheat and soybeans. Learn more about Robert
Brett D. Kreher (age 55), of Clarence, NY, is partner at Kreher Family Farms (and related entities), an egg production business raising approximately two million hens that produce conventional, organic and pastured organic eggs across three locations. Learn more about Brett
Meet the 2023 Director Candidates
Hear from the four candidates about why they seek your vote in this year's Board of Director election. In this short video, all candidates were interviewed at their place of business, answering questions about their background and operation; their involvement in agriculture organizations and other leadership experience; what they'd bring to the Farm Credit East Board of Directors; and why members should vote for them.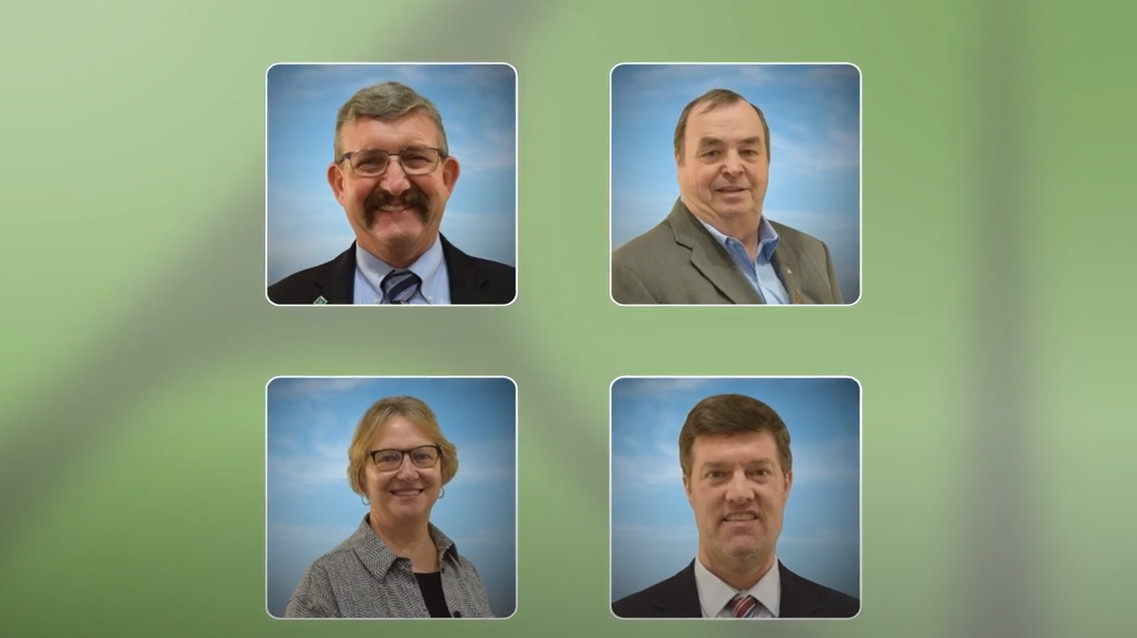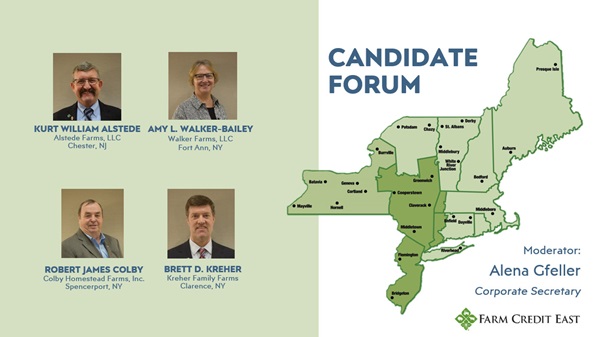 Director Candidate Forum
At Farm Credit East's 2023 Annual Meeting, a Director Candidate Forum was held to allow members to ask questions of the four candidates running for two Board of Director seats in 2023. Click play below to listen to the audio recording.
Election Process
Voting for directors will be by mail or online ballot. Ballots are mailed on March 22 and the polls close on April 12. Voters must be a stockholder of record as of March 1, 2023.
Candidates are listed by open seat and alphabetically by name. The election polls shall be closed no earlier than fifteen calendar days following the date on which the ballots are mailed to stockholders.
The election for each position shall be conducted independently with each voting stockholder given an opportunity to vote for each of the two open positions. You will have the option to complete a paper ballot or an online ballot. A third-party election tabulator will count the votes and declare the winners within five business days of the voting deadline. The candidate receiving the largest number of votes for each position shall be declared elected.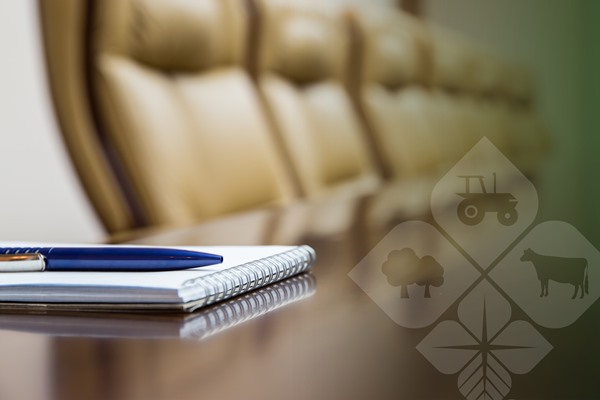 Annual Meeting
Farm Credit East's 2023 Annual Meeting was held Monday, March 20, 2023,at the Marriott located at 28 Day Hill Road in Windsor, Conn. This meeting received reports from the board, management and nominating committee; elected the 2024 nominating committee; and introduced the 2023 director candidates.