Financial Partner Magazine
Financial Partner magazine is for the customers, employees and friends of Farm Credit East, providing industry insights for higher yields and updates on the cooperative.
Latest Edition: Spring 2023
In this Edition
Looking Forward: 2023 Insights and Perspectives
As the calendar turns to spring and with the growing season upon us, this issue's cover story takes a deep dive into the industries served by Farm Credit East to provide an outlook for what to expect in the coming year. The cover story features outlook articles for the dairy, green, forest products and fishing sectors.
Additional Content
CEO Mike Reynolds describes the Farm Credit Difference: Our people, our industry knowledge, and our customer ownership.
Review a highlight of Farm Credit East's patronage program — including $117 million paid to customers owners in February 2023 from 2022 earnings.
Learn more about the Crop Growers crop insurance program, which has been helping to protect Northeast producers' investments for more than 20 years.
Meet the four candidates seeking election for two seats on the Farm Credit East board in 2023.
In The Washington Update, read about Northeast influence on the 2023 Farm Bill.
Learn more about the cooperative value Farm Credit Connect is bringing to Farm Credit East members.
Historical Editions
The search results are displayed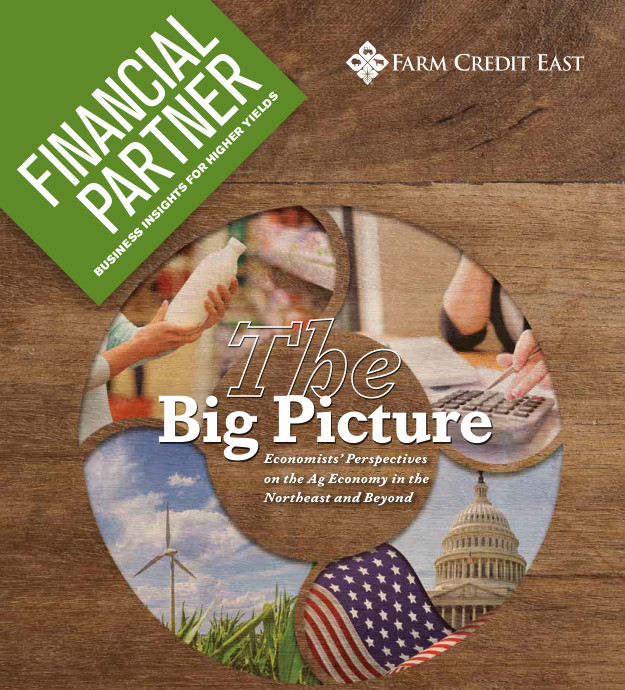 Farm Credit
Fall 2022: The Big Picture
After the rise and fall of the COVID-19 pandemic, there are new factors impacting our economy, including inflation, the war in Ukraine and ongoing supply issues. Not to mention continued labor challenges and a new farm bill on the horizon.

In this issue's cover story, we convened several leading ag economists to understand what's on the top of their minds and solicit advice for producers as they plan for the year ahead.
November 27, 2022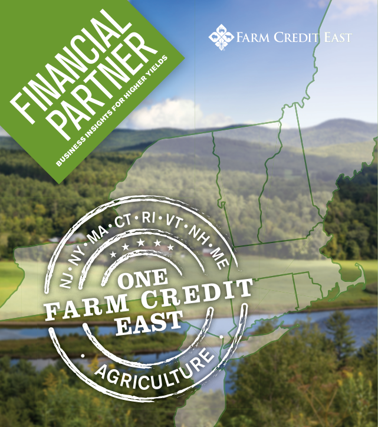 Farm Credit
Summer 2022: One Farm Credit East
Earlier this year, Farm Credit East was pleased to join with Yankee Farm Credit. In this issue's cover story, meet some of the new faces from the Northern Region, including several agriculture and forestry operations in Vermont, as well as a few of our new teammates. Also in this issue, we feature this year's 38 scholarship recipients aspiring to careers in agriculture, commercial fishing, forest products or related fields.
August 01, 2022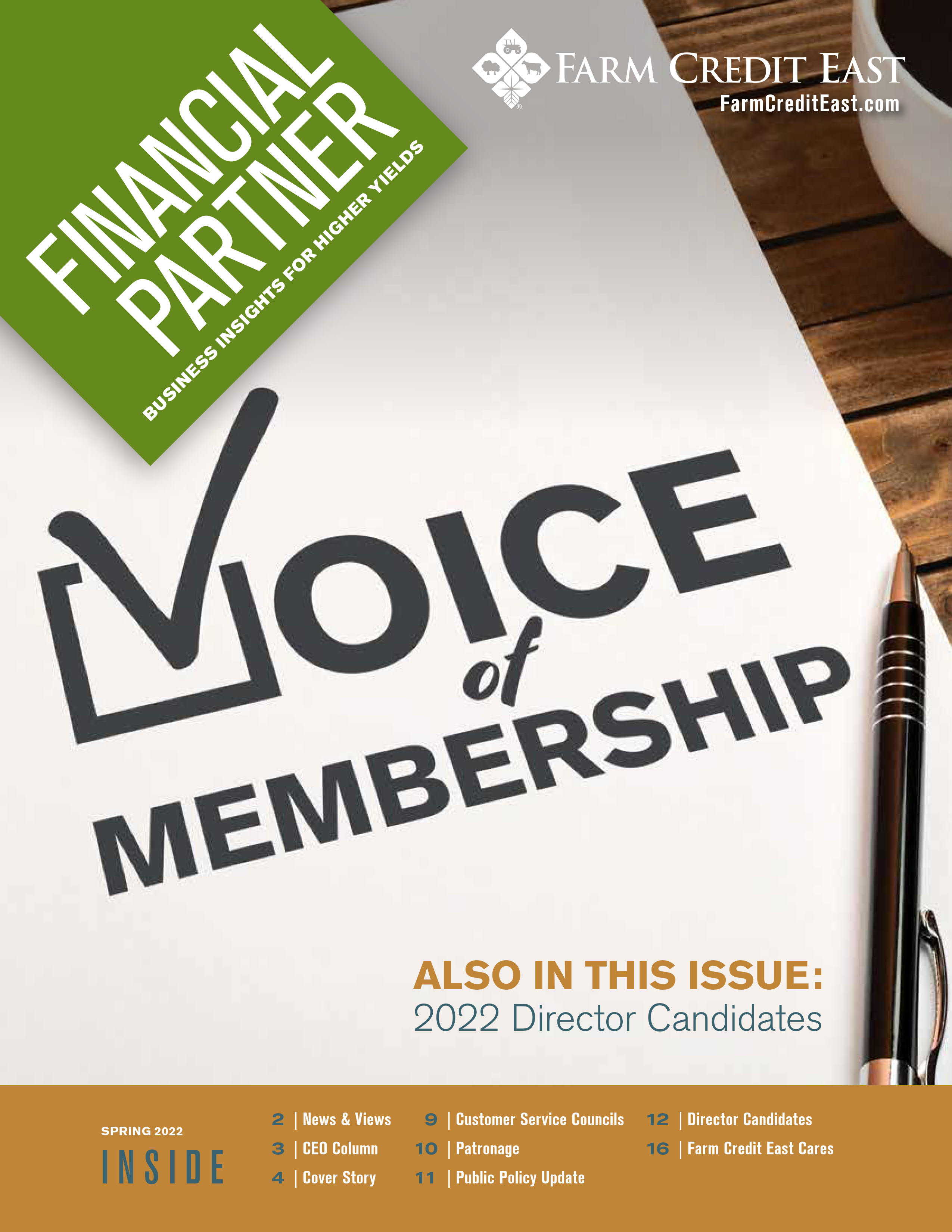 Farm Credit
Spring 2022: Voice of Membership
In our last Financial Partner, we introduced Farm Credit East's Environmental, Social and Governance (ESG) strategy. As a customer-owned cooperative, ESG is an increasing priority for Farm Credit East, and the governance pillar is one often overlooked when discussing ESG, however it is the one most customer focused. Governance defines how corporate decisions are made and how rights and responsibilities are distributed to interested parties, including the board of directors, management and shareholders.
March 23, 2022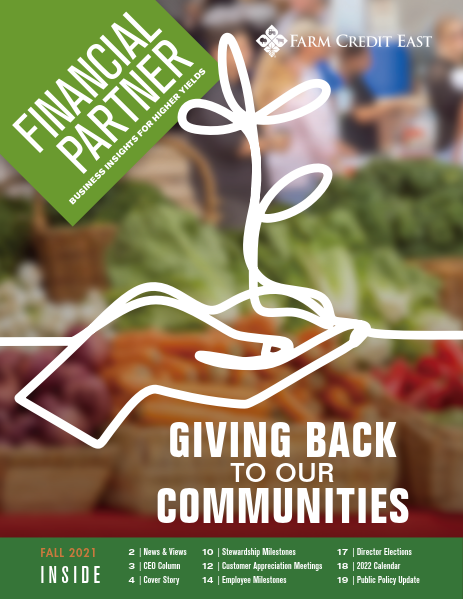 Farm Credit
Fall 2021: Giving Back to our Communities
ESG, or Environmental, Social, Governance, is an area of increasing focus for investors, policymakers and other stakeholders. Whether it's serving customers and the industries in which they operate or contributing to the communities where Farm Credit East customers and staff live, Farm Credit East's role as steward is one it takes seriously. In this issue's cover story, learn more about Farm Credit East's ESG story, including a few programs and initiatives the cooperative has supported in recent years to ensure the vitality of the Farm Credit East team, customers and the communities where our team lives and works.
December 07, 2021