Financial Partner Magazine
Financial Partner magazine is for the customers, employees and friends of Farm Credit East, providing industry insights for higher yields and updates on the cooperative.
Latest Edition: Fall 2023
In this Edition
Lessons from 2023: Managing Risks in a Volatile Environment
Weather doesn't discriminate and crops can pay the price. This year alone, the Northeast has experienced several weather events and natural disasters that have led to severe crop damage. This issue's cover story explores available crop insurance options to mitigate losses.
Additional Content
CEO Mike Reynolds highlights Farm Credit East's dedication to its customers in good times and bad through relationship lending, crop insurance and stewardship.
Learn more about Farm Credit East Cares and its support for flood and other natural disaster relief efforts throughout 2023.
Meet our 2023 Lipinski Rural Initiatives Award winners, MAVAC and Veterans Base Camp, and learn how you can nominate for the 2024 award.
In the Stewardship Spotlight, learn about Foodshed Alliance and their Sustainable Agriculture Enterprise, an innovative program that has received grant funding through the Farm Credit Northeast AgEnhancement program.
The Customer Appreciation recap shares a few key financial highlights and a special "thank you" to those who attended Farm Credit East's summer customer appreciation events.
Celebrate Farm Credit East's employee milestones with us! More than 60 of our employees are celebrating milestones this year - help us wish them well.
View from the Field highlights New Moon Nursery, located in Woodstown, N.J. Read about their path to a thriving nursery operation, or scan the QR code to watch a short video.
Lastly, The Washington Update shares an important public policy priority: protecting crop insurance. Also, learn more about the Farm Bill and actions you can take to urge congress to pass full legislation.
Historical Editions
The search results are displayed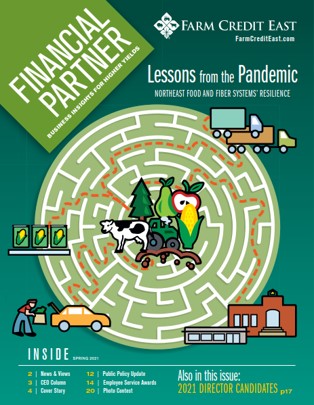 Ag Economy
The widespread disruptions relating to the COVID-19 pandemic created a dramatic shift in our food system impacting agriculture and processing along the food chain in different ways. In this issue's cover story, we look at how Northeast agriculture, commercial fishing and forest products markets reacted to the pandemic, lessons learned along the way, what still needs to change, and how our supply chain may be impacted.
March 16, 2021