Financial Partner Magazine
Financial Partner magazine is for the customers, employees and friends of Farm Credit East, providing industry insights for higher yields and updates on the cooperative.
Latest Edition: Fall 2023
In this Edition
Lessons from 2023: Managing Risks in a Volatile Environment
Weather doesn't discriminate and crops can pay the price. This year alone, the Northeast has experienced several weather events and natural disasters that have led to severe crop damage. This issue's cover story explores available crop insurance options to mitigate losses.
Additional Content
CEO Mike Reynolds highlights Farm Credit East's dedication to its customers in good times and bad through relationship lending, crop insurance and stewardship.
Learn more about Farm Credit East Cares and its support for flood and other natural disaster relief efforts throughout 2023.
Meet our 2023 Lipinski Rural Initiatives Award winners, MAVAC and Veterans Base Camp, and learn how you can nominate for the 2024 award.
In the Stewardship Spotlight, learn about Foodshed Alliance and their Sustainable Agriculture Enterprise, an innovative program that has received grant funding through the Farm Credit Northeast AgEnhancement program.
The Customer Appreciation recap shares a few key financial highlights and a special "thank you" to those who attended Farm Credit East's summer customer appreciation events.
Celebrate Farm Credit East's employee milestones with us! More than 60 of our employees are celebrating milestones this year - help us wish them well.
View from the Field highlights New Moon Nursery, located in Woodstown, N.J. Read about their path to a thriving nursery operation, or scan the QR code to watch a short video.
Lastly, The Washington Update shares an important public policy priority: protecting crop insurance. Also, learn more about the Farm Bill and actions you can take to urge congress to pass full legislation.
Historical Editions
The search results are displayed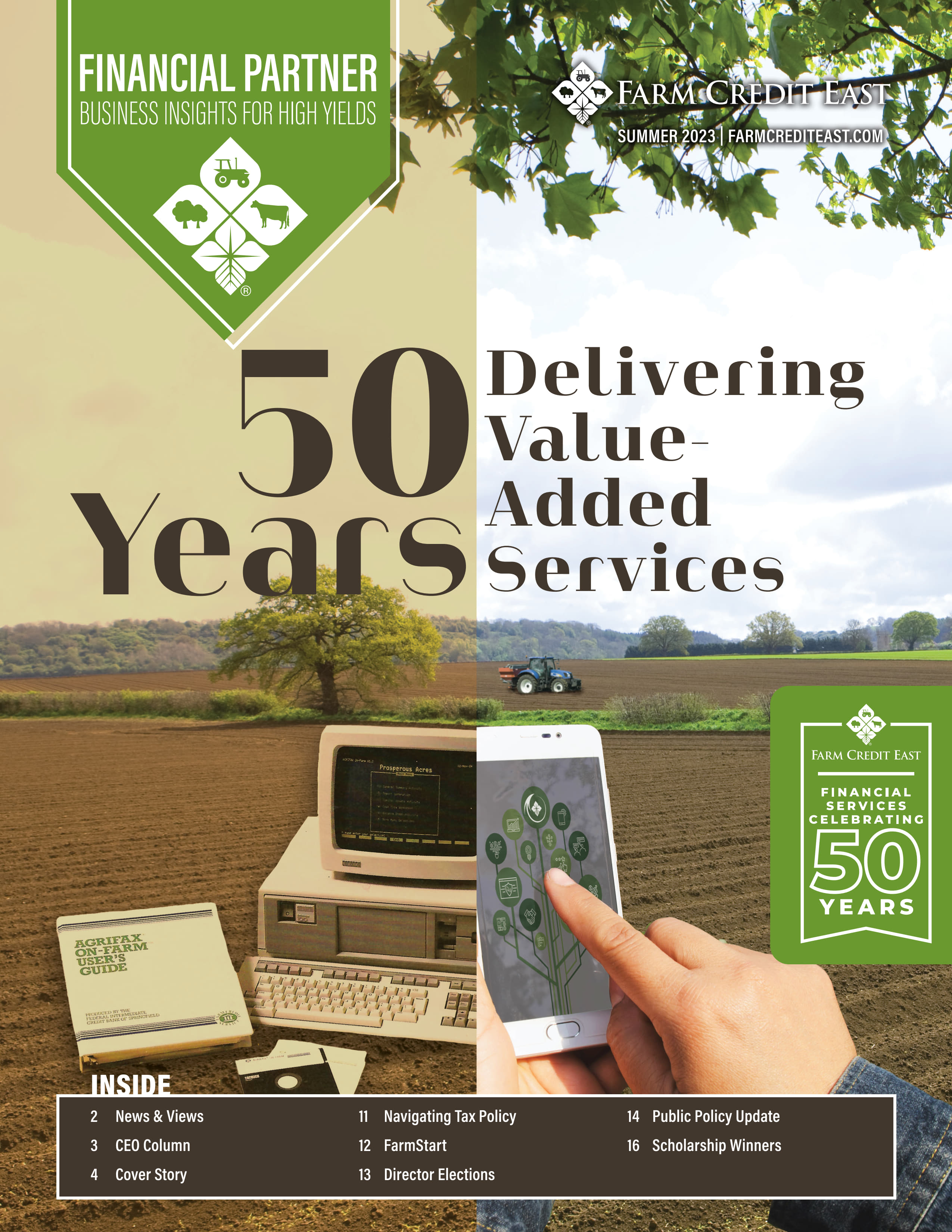 Farm Credit
Summer 2023: 50 Years Delivering Value-Added Services
Since 1973, Farm Credit East has provided financial services to Northeast agriculture. This issue's cover story provides an in-depth look into the 50-year history of Farm Credit financial services and how offerings such as recordkeeping, taxes, consulting, payroll and more have evolved over the years.
July 05, 2023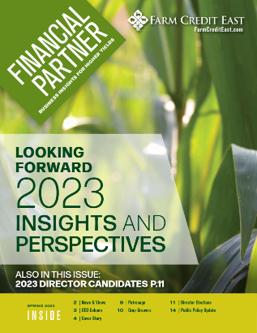 Farm Credit
Spring 2023: Insights & Perspectives
As the calendar turns to spring and with the growing season upon us, this issue's cover story takes a deep dive into the industries served by Farm Credit East to provide an outlook for what to expect in the coming year. The cover story features outlook articles for the dairy, green, forest products and fishing sectors.
March 17, 2023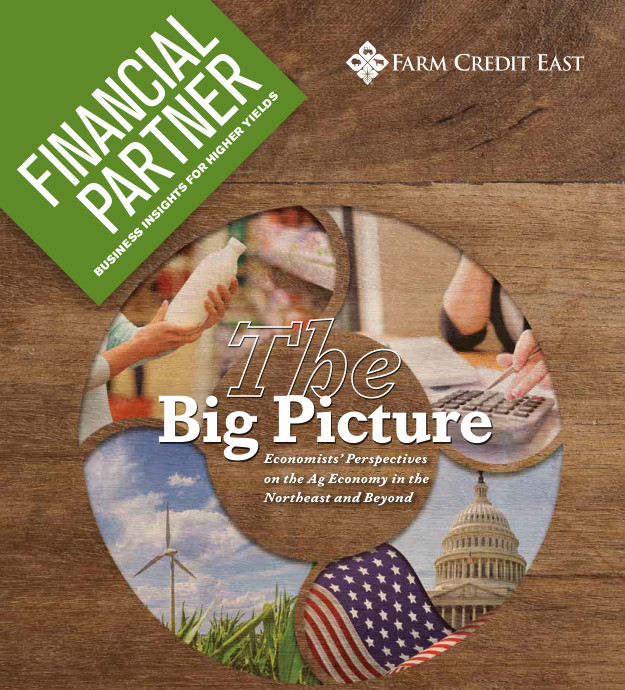 Farm Credit
Fall 2022: The Big Picture
After the rise and fall of the COVID-19 pandemic, there are new factors impacting our economy, including inflation, the war in Ukraine and ongoing supply issues. Not to mention continued labor challenges and a new farm bill on the horizon.

In this issue's cover story, we convened several leading ag economists to understand what's on the top of their minds and solicit advice for producers as they plan for the year ahead.
November 27, 2022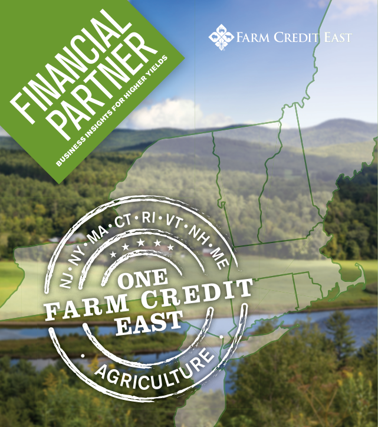 Farm Credit
Summer 2022: One Farm Credit East
Earlier this year, Farm Credit East was pleased to join with Yankee Farm Credit. In this issue's cover story, meet some of the new faces from the Northern Region, including several agriculture and forestry operations in Vermont, as well as a few of our new teammates. Also in this issue, we feature this year's 38 scholarship recipients aspiring to careers in agriculture, commercial fishing, forest products or related fields.
August 01, 2022