Financial Partner Magazine
Financial Partner magazine is for the customers, employees and friends of Farm Credit East, providing industry insights for higher yields and updates on the cooperative.
Latest Edition: Summer 2023
In this Edition
50 Years Delivering Value-Added Financial Services
Since 1973, Farm Credit East has provided financial services to Northeast agriculture. This issue's cover story provides an in-depth look into the 50-year history of Farm Credit financial services and how offerings such as recordkeeping, taxes, consulting, payroll and more have evolved over the years.
Additional Content
CEO Mike Reynolds touches on the importance of milestones - particularly the financial services milestone described in the cover story.
In a special edition of Tax Talks, Retail Financial Services Leader Dario Arezzo touches on the ways Farm Credit East advocates for its members in the tax policy space across the eight states in its service area.
Meet Nick Doyle, a cut flower grower and recent FarmStart customer who used the investment to grow his wholesale operation and retail garden center.
Learn more about Farm Credit East director elections and the opportunity to serve on the association's nominating committee.
In The Washington Update, learn the history of the Farm Credit Act of 1971 and how it allowed Farm Credit associations to begin providing financial services to agricultural businesses.
Meet Farm Credit East's 40 scholarship recipients for 2023.
Historical Editions
The search results are displayed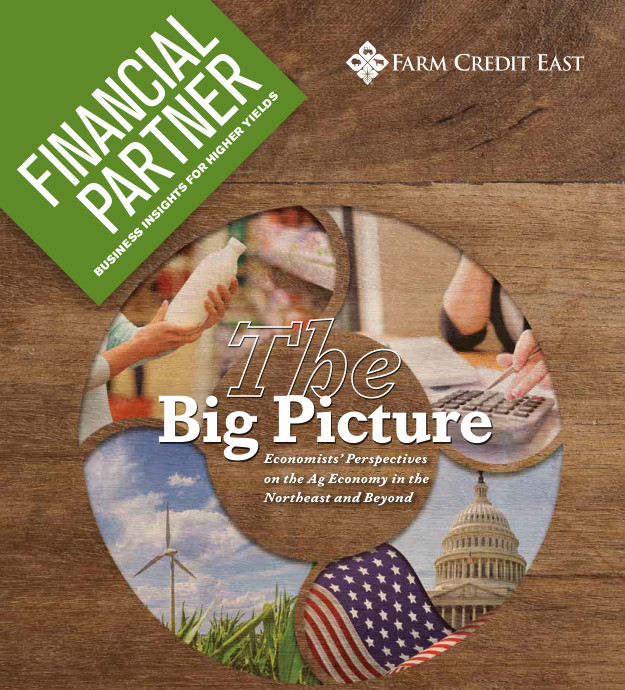 Farm Credit
Fall 2022: The Big Picture
After the rise and fall of the COVID-19 pandemic, there are new factors impacting our economy, including inflation, the war in Ukraine and ongoing supply issues. Not to mention continued labor challenges and a new farm bill on the horizon.

In this issue's cover story, we convened several leading ag economists to understand what's on the top of their minds and solicit advice for producers as they plan for the year ahead.
November 27, 2022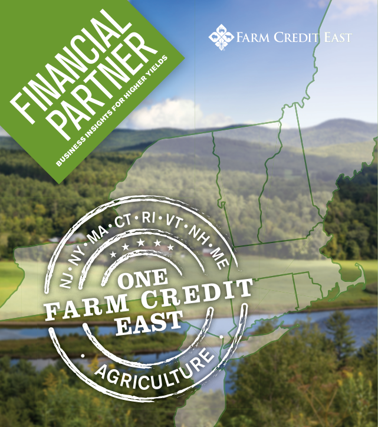 Farm Credit
Summer 2022: One Farm Credit East
Earlier this year, Farm Credit East was pleased to join with Yankee Farm Credit. In this issue's cover story, meet some of the new faces from the Northern Region, including several agriculture and forestry operations in Vermont, as well as a few of our new teammates. Also in this issue, we feature this year's 38 scholarship recipients aspiring to careers in agriculture, commercial fishing, forest products or related fields.
August 01, 2022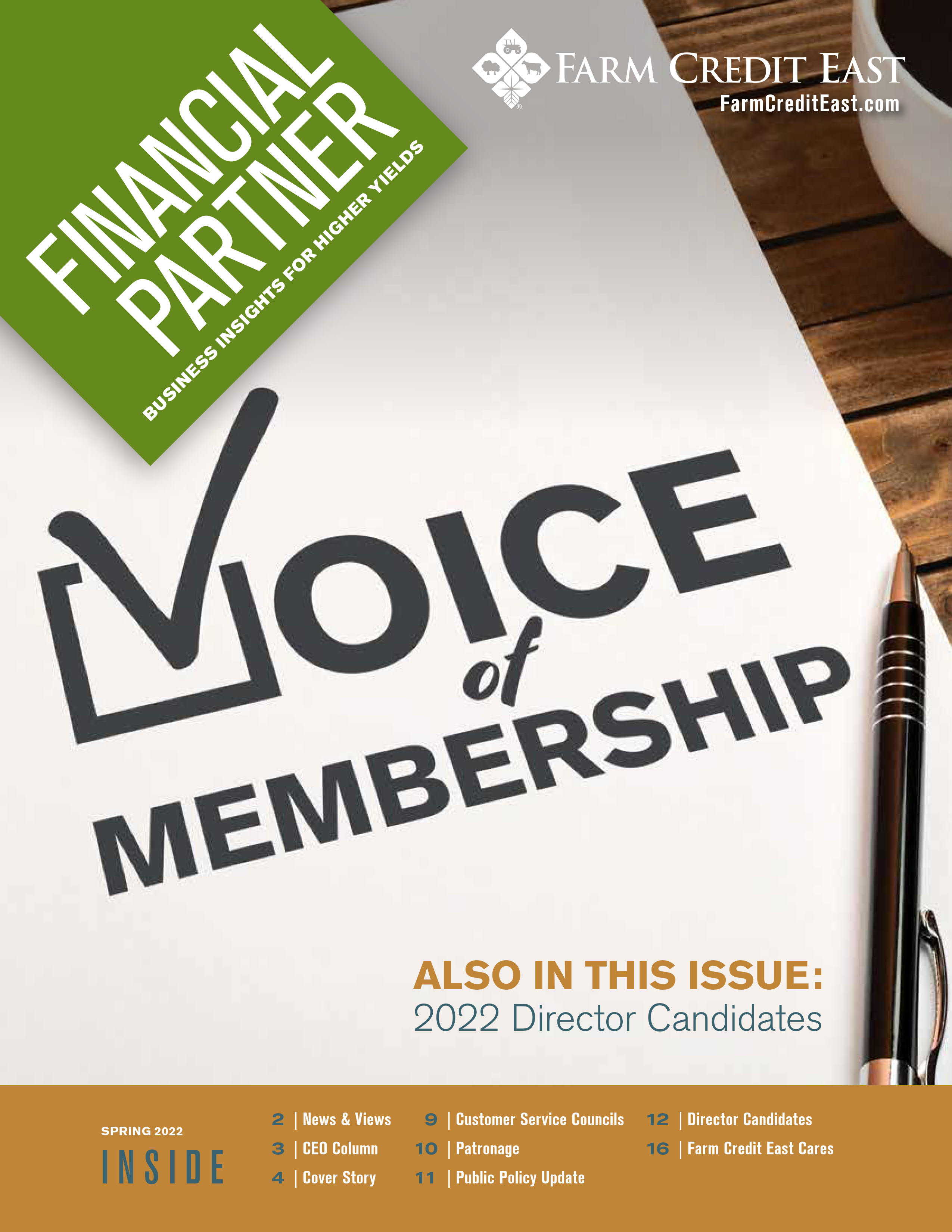 Farm Credit
Spring 2022: Voice of Membership
In our last Financial Partner, we introduced Farm Credit East's Environmental, Social and Governance (ESG) strategy. As a customer-owned cooperative, ESG is an increasing priority for Farm Credit East, and the governance pillar is one often overlooked when discussing ESG, however it is the one most customer focused. Governance defines how corporate decisions are made and how rights and responsibilities are distributed to interested parties, including the board of directors, management and shareholders.
March 23, 2022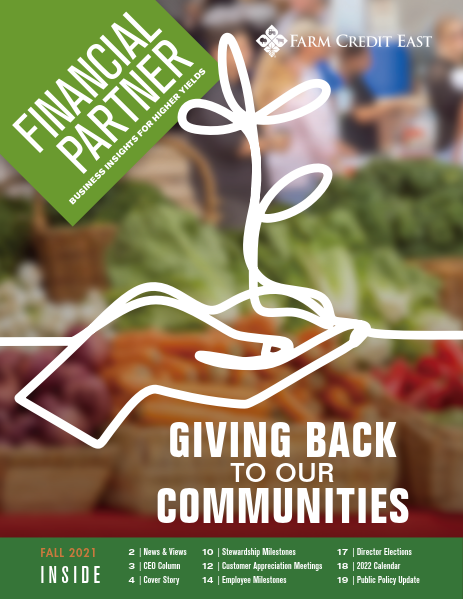 Farm Credit
Fall 2021: Giving Back to our Communities
ESG, or Environmental, Social, Governance, is an area of increasing focus for investors, policymakers and other stakeholders. Whether it's serving customers and the industries in which they operate or contributing to the communities where Farm Credit East customers and staff live, Farm Credit East's role as steward is one it takes seriously. In this issue's cover story, learn more about Farm Credit East's ESG story, including a few programs and initiatives the cooperative has supported in recent years to ensure the vitality of the Farm Credit East team, customers and the communities where our team lives and works.
December 07, 2021