contents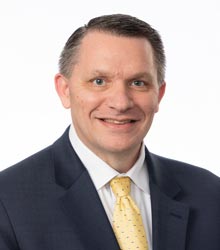 Mike Reynolds
CEO
Farm Credit East, ACA
Dear Farm Credit East Customer,
As business owners yourselves, you're well aware that constant progression is necessary in today's business environment. Farm Credit East is not immune. We are continually evaluating our business to provide the best possible customer experience and to grow your cooperative. It is our priority to remain a strong organization and valued partner to the region's agriculture, commercial fishing and forest products into the future.
To achieve this goal, we must continue to evolve our business. Over the past few years, we've been embarking on a digital journey. Until now, many of these changes have been to our internal operations. In recent months, customers have begun to experience some changes to our business.
This fall, we launched a new website coupled with an enhanced customer portal called Farm Credit Connect. Through these digital tools, we aim to provide customers access to their information when and where they want it.
As the leading lender to Northeast agriculture, our goal is to get money to customers faster while also providing the consultative lending relationship you've come to expect. In the months ahead, we'll modify our organizational structure to advance our strategy. Some changes, such as improvements to our credit delivery process, aim to streamline operations for efficiency, compliance and security. We also aim to better match our resources and expertise with customer needs.
We also realize that financial services, such as tax, payroll, appraisal and business consulting, are key to our strategic advantage. As such, we will be adding a Chief Financial Services Officer to our executive team to provide dedicated leadership in this area. Having both the credit and financial services functions represented on the executive team will provide a greater focus on execution to better serve specific customer needs.
As part of this realignment, no offices will close, and all employees will continue to have a role at Farm Credit East. However, local offices will be managed regionally, allowing us to continue to streamline processes and expand resources and expertise across office locations.
Additionally, some staff will have the opportunity to take on new roles. In some cases, this may mean your Farm Credit East point of contact will change. Rest assured, any changes to your Farm Credit East contacts will be communicated to you and there will be a transition period as you get to know your new relationship team.
We have a lot of wheels turning here at Farm Credit East to evolve our business for the future. One thing that will remain unchanged is our commitment to customer relationships. As a customer-owned cooperative, our customers and our employees are at the root of every decision. We want to ensure our organization fits evolving customer needs into the future. This strategy is a just continuation of our ongoing commitment to our customers.
As we close out the year, I pause to reflect on all we have accomplished this year, and I'm excited about what lies ahead. I'm grateful to work with a strong team committed to supporting the business needs of Northeast agriculture, commercial fishing and forest products. The future of Northeast agriculture is bright, and your cooperative is equipped to grow with it.
Michael J Reynolds
Chief Executive Officer
Farm Credit East, ACA
Have Additional Questions?
Let's get in touch!