CEO'S Message
An Update on your Cooperative
contents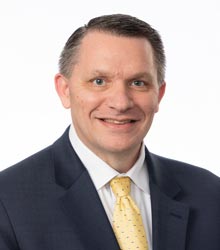 Mike Reynolds
CEO
Farm Credit East, ACA
To the customer owners of Farm Credit East:
The 3+ years since I became CEO have been a time of material change for your cooperative. There has been a lot to digest, both for our team and for you, our customer owners. In this update, I want to explain the strategy behind some of these changes and provide an update about the exciting things on the horizon to continue to position your cooperative for success into the future.

Farm Credit is different than other organizations, in part because of our specific focus on serving farming, fishing and forest products businesses along with other agribusinesses and rural property owners. Our cooperative structure grounds us in making sure that what we do is for the long-term benefit of our members and their families.

When our customers succeed, your cooperative succeeds. When the cooperative is successful, it means better returns for our members through even more competitive interest rates and patronage dividends, expanded services, and the ability to reinvest in our team and our organization to meet the needs of the next generation of customers. This unique relationship between the cooperative and our customer owners means we are on this journey together.

Let me step back to explain how we landed on our current strategy. In 2020, we all had to adapt business practices to conduct basic business functions during the peak of COVID-19. In late 2021, we strengthened our organization when you approved the merger of Yankee Farm Credit and Farm Credit East to serve northeast agriculture as one team. We also spent much of 2021 and 2022 completing a strategic review of every aspect of our business to answer the question: 'How can we better serve our customers today and in the future?'.

After completing our review, the resulting strategy boiled down to the following three priorities, and we're pleased to already report progress:
While there are still changes in process, I can assure you the Farm Credit East team is doing their very best to adopt the new systems. I encourage you to engage as our team introduces new processes and digital tools to benefit your business and the cooperative in the long run.
I also acknowledge we won't get everything perfect right out of the gate. If we don't meet your expectations in the near term, please let us know. Your feedback will help us improve as we move forward.
The main thing I hope you take away from this message is this evolution of how we do business is with the customer in mind — we aim to better serve you. Our focus in 2023 is on getting our team and our members comfortable with the new systems and helping you take advantage of the opportunities we have created to improve your experience.
On behalf of the entire Farm Credit East team, thank you for your patience as we work through these changes. With your continued involvement and commitment to the success of your cooperative, we are confident that 2023 can be another great year for Farm Credit East and our members.
Thank you for choosing to be a part of our success and we look forward to being a part of yours.
Michael J Reynolds
Chief Executive Officer
Michael.Reynolds@farmcrediteast.com
Have Additional Questions?