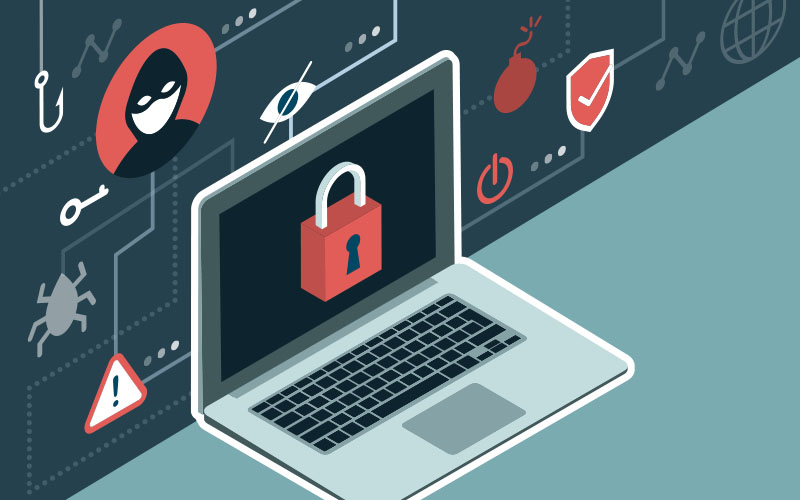 October is Cybersecurity Awareness Month. Farm Credit East's security team is working to educate customers and staff about security best practices to use in their work and personal lives. There are a few things you can implement today to keep you and your information safe.
#1. Protect Your Mobile Device
Mobile devices have become permanent fixtures in our daily lives. It's amazing to think about what is possible with mobile devices that wasn't possible just a few years ago. But with great power, comes great responsibility. Our devices help us to connect, work, shop, and play – and to enable that, they hold a lot of sensitive information. Protecting our devices is like protecting ourselves.
How many times a week do you lose your phone in your own house? For many people, this is a regular occurrence. Misplacing your device while in the safe confines of your home is no big deal… but what about outside those walls? It's critical to recognize that smartphones and tablets are highly targeted by thieves who watch for moments when unsuspected users let their guards down.
Make it a habit to physically secure your devices when you're out in public.
Don't leave them unattended on a restaurant table, or on an airport check-in counter, or even on your desk at work. Treat your mobile device the way you would a wallet full of cash or jewelry, take precautions so it isn't gone in a flash! Here are some best practices:
| | |
| --- | --- |
| | Question your connections. The same tools you use to connect with people, sites and applications are the same tools that cybercriminals use to connect with you. Don't let connectivity be your kryptonite. Do not send sensitive data – like account logins or banking information – over free Wi-Fi. Open networks (those that don't require a password) are not secure and should not be trusted to keep confidential information secure. |
| | Be thoughtful when enabling GPS location services. Only turn this feature on within trusted applications. (Some applications have location services turned on by default – check your settings!) Keep in mind that sharing your location and using location tags can expose personal residencies and reveal schedules and habits. |
#2. Enable Multi-Factor Authentication
Authentication is all about verifying your identity. When you log into accounts and systems, the information you provide is intended to confirm your status as an authorized user. The problem with single-point authentication (think passwords and PINs) is that it is a single point of failure. If a password is the only safeguard in place, and that password is compromised… well, everything is compromised. Multi-factor authentication (MFA) has gained steam over the past several years. As password theft and successful password compromise attacks have skyrocketed, multi-factor authentication has been adopted. MFA requires two or more pieces of information – in other words, multiple factors – during the authentication or login process.
When it's an option, always opt for MFA.
In some cases, MFA isn't optional. Some companies require multiple forms of authentication to enter their systems. In other cases, the choice is yours. Here are some reasons why you should take advantage of MFA when it's offered:
| | |
| --- | --- |
| | It's easy to add. Sites and applications generally provide step-by-step instructions and clearly explain when to expect an MFA prompt, and how to complete a login. |
| | It's easy to use. MFA adds just a few seconds to your login process. (And the extra seconds are worth it.) |
| | It's far more secure than a password alone. Cybercriminals have access to billions of stolen usernames and passwords on underground forums. So… what if the only thing standing between a criminal and your data, finances, and files is a compromised password? MFA helps to limit the damage that can be done if a threat actor steals account credentials. |
#3. Practice Safer Web Browsing
What don't we use the internet for these days? We check email, read the latest news, stay in touch with friends, find sports scores and stats… and that's all before breakfast! Using the internet is commonplace and comfortable – and in some cases, even necessary. Even so, surfing the web has its dangers.
The fact is the internet is an ever-shifting landscape. More pages pop up daily, with new applications, new capabilities, and new resources. While plenty of the sites and features we use are perfectly safe, scammers are working overtime to take advantage of unsuspecting surfers.
The following are pitfalls to avoid when browsing:
| | |
| --- | --- |
| | Prompts to run or download software. Malicious websites can generate pop ups that look like messages from your browser or computer. A random prompt to install or upgrade software can be a warning sign. Don't click anything in an unexpected pop-up window; only install software from a known, trusted source. |
| | Bogus search results. When using a search engine, it's important to study your results before clicking. Hackers try to secure high-level search results and trick you into visiting their sites. Scrutinize URLs to ensure they are legitimate links and be careful if you are searching for popular or trending topics. Scammers will act quickly to capitalize on celebrity news, recent deaths, and major disasters by creating fake web pages about these topics. |
The bottom line? Take control!
With older threats still lingering and new threats emerging daily, it's more important than ever to exercise safe cybersecurity practices. It's critical to realize that you are in the driver's seat. Though you might get a warning about a dangerous site or dangerous content, your web browser cannot stop you from visiting a risky site or downloading spyware. Using the tips above can help you keep you and your information safe.
And don't stop there! Other best practices will also keep you safe, like using strong passwords and varying them from site to site, and limiting sensitive online activity to private computers and secure networks. You have the power to stay safe online if you take control!
Meet the Authors
Connect with and discover our Today's Harvest blog authors and their broad range of financial and northeast agricultural expertise.