Lessons from the Pandemic: Animal Protein Sector's Resilience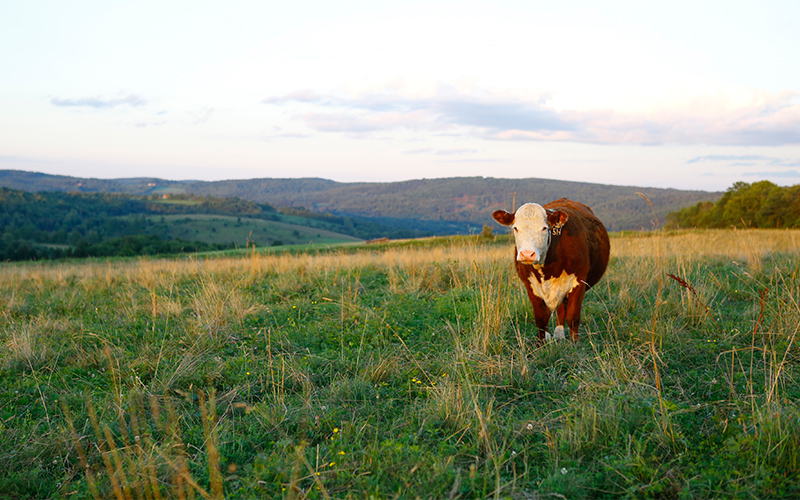 From long lines to empty supermarket shelves, the onset of the COVID-19 pandemic in the spring of 2020 caused disruptions in our food system like we have never experienced in our lifetime.
As COVID-19 continued to spread, schools, restaurants and many other facilities that purchase large supplies of food were shut down as people were forced to stay home. This created a dramatic shift in our food system, causing food distributors, processors and retailers to divert massive portions of food originally intended for foodservice into retail distribution channels. According to a CoBank report, away-from-home food consumption fell to just one-third of total food expenditures during this time — a level not seen in the U.S. since the early 1980s. So how did the food system react?
In the coming weeks, we will release a three-part series covering different sectors of the Northeast food system to learn how they adjusted to meet a redefined demand. We'll look at how markets reacted to the pandemic, lessons learned along the way, what still needs to change, and how our supply chain may be impacted. In this first installment, we take a look at the animal protein sector.
A significant factor fueling panic buying was the closures of meat packing plants due to coronavirus infection. According to CoBank's report, The Great Grocery Grab of 2020, at the onset of the pandemic, nearly half of U.S. red meat capacity was forced to close following large COVID-19 outbreaks at meat processing facilities. These closures had a profound impact on supply, driving meat prices to record highs.
However, due to increasing costs to maintain employee safety and a shift in protein consumption, higher prices did not compensate for added expenses. Furthermore, livestock was selling at a price disadvantage from the farm gate but at a significant premium at retail.
Despite these challenges, meat plants were able to get back up to speed relatively quickly. "That's a real testament to the industry," said Will Sawyer, former lead animal protein economist with CoBank's Knowledge Exchange Division.
Will explained that labor has been a top challenge for the U.S. meat industry for the past few years, and COVID-19 only amplified the situation. Following outbreaks, the industry invested billions of dollars in safety precautions, including regular temperature checks, COVID-19 testing, installing barriers, and providing healthcare to workers so they are incentivized to stay home when they are sick.
To further balance employee absences with increased demand and animals ready for slaughter, meat processors shifted production from secondary processing (for value-added and convenience items like bacon or sausage) to primary processing. While this alleviated the surplus of animals for slaughter, processors receive significantly lower prices for primary meats.
"As we enter 2021, this processing shift has gotten somewhat better," said Will. "But when we look at general indicators, hand labor is critical to process some products, such as bone-in ham versus boneless ham. So many processors are starting to invest in automated technology to be able to accomplish the same processing without the need for human labor."
"As far as labor is concerned, OSHA COVID-19 guidelines remain unchanged even after an employee is vaccinated, so we expect a lot of these precautions to stay," Will continued. "But now that the meat processing plants have so much experience in controlling virus spread, 2021 should be a much smoother year as far as meat supply."
Here in the Northeast, one of the greatest challenges facing animal protein is limited processing capacity. To date, Farm Credit East business consultant Nathan Rudgers notes establishing new slaughter facilities has been a challenge due to a lack of community acceptance and the seasonality of custom slaughter facilities, which makes them difficult to operate on an ongoing basis. However, seasonality constraints have somewhat evaporated due to newfound consumer demand.
As we look to the future, consumer interest and demand is believed to have staying power. "This change in our food system due to COVID-19 is most likely a permanent shift," said Nathan.
To be able to meet demand going forward, Nathan anticipates a renewed push to build new slaughter facilities. Additionally, the Coronavirus Response and Relief Supplemental Appropriations Act signed into law in December 2020 has a provision to provide grant funding for existing USDA inspected slaughter facilities, allowing them to expand and update equipment and facilities to increase capacity and improve shortcomings.
Meet the Authors
Connect with and discover our Today's Harvest blog authors and their broad range of financial and northeast agricultural expertise.