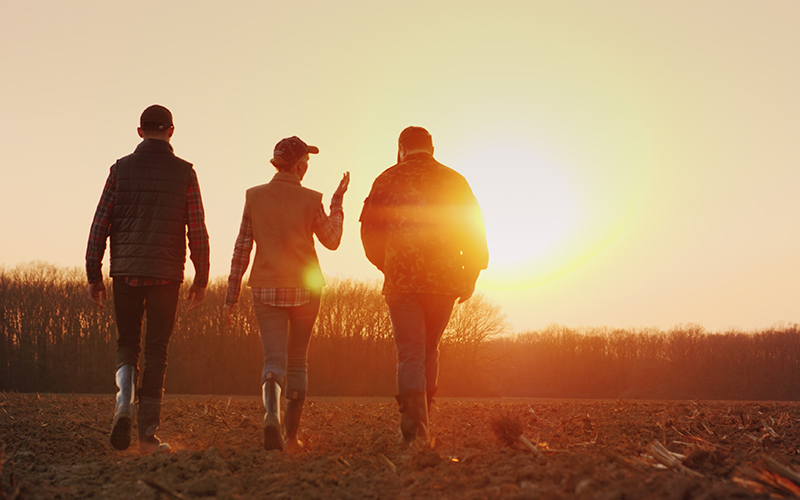 As a cooperative, our customers are at the core of everything we do. Despite the challenges of the past 18 months, Farm Credit East has continued to be successful thanks to the strength and adaptability of our members. To celebrate our loyal customer-owners, Farm Credit East held a virtual Customer Appreciation Meeting on Tuesday, November 9, and several in-person events across the Northeast over the summer and fall.
Cooperative Strategic Update
During these events, attendees heard from CEO Mike Reynolds, Board Chair Laurie Griffen or Vice Chair John Knopf, along with representatives from their local office. CEO Reynolds discussed the future of the association. He presented the five-year vision encompassing everything from operational excellence, to commitment to our communities, quality growth and protecting customer information. But most importantly, he discussed the initiatives Farm Credit East has underway focused on enhancing the customer and employee experience. These five pillars will be the cooperative's drivers as we head into 2022 to ensure Farm Credit East remains a strong partner to Northeast agriculture, commercial fishing and forest products producers. View a recording of this presentation from the virtual session held on November 9.
You can also view a video providing year-to-date financial results (through 8/30/21) here. As the video notes, Farm Credit East financials remain strong. This strength provides the cooperative the capacity to work with members through challenging periods; the capital to help members grow or adapt their businesses; and the resources to invest in the future of the cooperative, including investments in the people and technology required to meet members' needs and compete in a changing business environment.
The management presentation also provided an update on the progress of the now stockholder-approved merger with Yankee Farm Credit. The last step in the process is final approval by the Farm Credit Administration. If all conditions are met, the newly merged association is expected to begin operation on January 1, 2022, under the legal name of Farm Credit East, ACA, and leadership of CEO Mike Reynolds.
Focus on Environmental Stewardship
Another focus of this year's meetings was environmental stewardship. Supporting producers' conservation practices and efforts to combat climate change is a core focus of Farm Credit East. In our summer Financial Partner as well as a blog series this summer, we highlighted the environmentally preferable practices of four producers. At this year's customer meetings, we highlighted we highlighted another four stories of how Northeast producers have adopted climate smart practices and conservation measures to make their businesses more resilient and protect the environment. Attendees learned more about Vanguard Renewables headquartered in Wellesley, Massachusetts; Pine Barrens Native Fruits in Browns Mill, New Jersey; Powell Grapes in Portland, New York; and heard about the forestry sector's conservation efforts from the Maine Forest Products Council. Watch the video now.
Lipinski Rural Initiatives Award
The meeting closed with Farm Credit East formally opening nominations for the Lipinski Rural Initiatives Award. This award was established by Farm Credit East's board of directors in in 2020 conjunction with Bill Lipinski's retirement as CEO. The award aims to recognize programs, projects, individuals, businesses, organizations and/or institutions that are working on innovative and transformational efforts to revitalize rural communities in the Northeast. The deadline for nominations is January 31, 2022. Learn more, including a video about the 2021 recipients, here.
Thank You
Above all, this year's event provided Farm Credit East the opportunity, whether in person or virtually, to show its appreciation for its customers. Thank you to those who attended this year's meetings and thank you to all for your continued relationship with Farm Credit East.
Meet the Authors
Connect with and discover our Today's Harvest blog authors and their broad range of financial and northeast agricultural expertise.