Kurt W. Alstede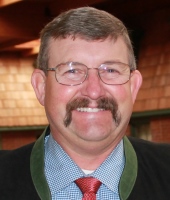 Kurt W. Alstede, (55), of Chester, N.J., is founder, owner and general manager of Alstede Farms, LLC, a 600-acre vertically integrated fruit and vegetable farm founded in 1982. The farm includes tree and small fruit, vegetables, ornamentals, a year-round store, processing, PYO, and agritourism. Fore more information visit alstedefarms.com.
Farm Credit/Community Involvement: Member of the Flemington Customer Service Council. Kurt is director of the County Tourism Bureau, vice chair of the NJ Highlands Council Regional Planning Authority, and active in NJ Farm Bureau and the Morris County Board of Agriculture.
Additional Business Interests/Affiliations: Owner and general manager, Lebensfreude, LLC; NJ State Committeeman, USDA Farm Service Agency; Secretary, Chester Fireman's Relief Association; and agricultural liaison, New Jersey Agricultural Society.
Family members who transact business with Farm Credit East: Spouse, brother and father