Laurie Keene Griffen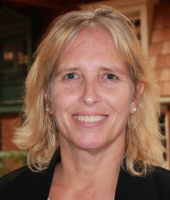 Laurie Keene Griffen, (55), of Stillwater, N.Y., is co-owner and operator of Saratoga Sod Farm, a 700-acre turfgrass sod farm, also growing 500 acres of corn and soybeans. The operation also offers seed and fertilizer products, a sod installation service, and sells retail bagged garden soil in The Big Yellow Bag. Learn more at saratogasod.com.
Farm Credit/Community Involvement: Current Farm Credit East director, serving as vice chair. Laurie previously served on the Greenwich Customer Service Council and the nominating committee. She has been involved with Farm Bureau, Cooperative Extension, 4-H and Cornell Advisory Council. Laurie is a graduate of LEAD NY, serving on its board and as president.
Additional Business Interests/Affiliations: None
Family members who transact business with Farm Credit East: Spouse, mother-in-law, mother, sisters and brothers-in-law, uncle, aunt and cousins.