LouAnne F. King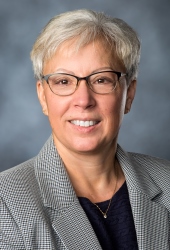 LouAnne F. King, (age 57), of Waddington, NY
Business Address: 307 Jones Road, Madrid, NY 13694
Served by the Potsdam Branch
Business Experience (past 5 years): Partner of Mapleview Dairy LLC, a family-owned 3,400 cow dairy that has 2,500 replacement heifers and approximately 5,000 cropped acres. LouAnne serves as the financial and office manager with primary responsibilities including human resources policy oversight and financial record-keeping, to enable the younger generation to concentrate on production management. Learn more at mapleviewdairy.com.
Farm Credit/Community Involvement: Current Farm Credit East Director, serving as chair of the Business Risk Committee. LouAnne has also served on membership organizations including the Northeast Dairy Producers Association, Kappa Delta Sorority and the NYS Dairy Promotion Advisory Board, as well as her church.
Additional Business Interests/Affiliations: Mapleview Farms, LLC; Mapleview Cattle Company, LLC; Forest View Heifers LLC; Co-owner, Midas Touch Genetics.
Family members who transact business with Farm Credit East: Spouse, brother, sister, parents-in law, sisters-in law, brothers-in-law, daughters, son-in-law, nephews