Terry Rider Zittel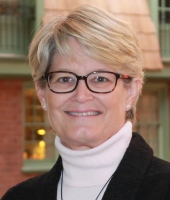 Terry Rider Zittel, (59), of Eden, N.Y., is corporate secretary and business manager of Amos Zittel & Sons, Inc., a wholesale vegetable, flower and retail market business growing 300 acres of fresh market vegetables, including sweet corn, peppers, lettuce, cabbage, broccoli, brussel sprouts and squash, and a certified organic crop of mini cukes and hot peppers. They also have three acres of greenhouse growing two million rooted liners of 950 vegetative annual varieties for Ball Seed®, and wholesale finished spring pots. Fore more information visit Zittels.com.
Farm Credit/Community Involvement: Terry previously worked as a farm business management agent and acting program leader for Cooperative Extension. She's also director and past president of the Eden Community Foundation, a 501c3 private giving for public good.
Current Business Interests/Affiliations: Zittel's Country Market, Member of TREW R2 LLC, a family farm in Delaware; past president and current chair of marketing and strategy committee for Eden Community Foundation; and treasurer/bookkeeper for Harvest Malawi, a 501c3 (status pending) agricultural development organization.
Family members who transact business with Farm Credit East: Spouse