Knowledge Exchange Partner
March 2018 Knowledge Exchange Partner
Volume 12, Issue 3
March 2018
Click here for a PDF version of this month's issue.
Congress Makes Significant Changes to the Dairy Margin Protection Program
When the U.S. Congress passed the Bipartisan Budget Act of 2018, it included major changes to the Dairy Margin Protection Program (MPP). The changes significantly lower the premium costs for the first five million pounds of margin coverage under the program.
Due to these changes, the law instructs USDA to reopen the 2018 sign-up process so that farmers can make new coverage selections based upon the new premiums and coverage levels.
In addition to lowering premiums, the law changes the coverage from being based on a bi-monthly average of margins to monthly. MPP pays farmers the difference between a national Actual Dairy Producer Margin (ADPM) and the coverage level elected by the farmer, up to a maximum of $8.00 per hundredweight (cwt).
For example, if a farmer chooses margin coverage at $6.50/cwt, and the ADPM falls to $6.10, the farmer is paid $0.40/cwt, on the amount of milk they elected to cover. Previously, payments were based on the average of successive two-month periods (Jan/Feb, Mar/Apr…), which, in some cases, resulted in one month under and one month over, thereby no payment was triggered.
The new changes convert the payment calculations to a monthly schedule. Payments will be made on one-twelfth of the annual production enrolled in any month that the ADPM falls below the producer's coverage level.
Three changes were made related to the cost of the program:
The $100 administrative fee is waived for farmers who meet USDA criteria as "beginning, limited resource, disadvantaged, or veteran farmers".
There is a two-tier system for premiums, with the initial coverage being lower (Tier 1), and coverage over a specified volume being higher (Tier 2). This specified amount was raised from four million pounds of milk (approximately 160 milking cows) to five million pounds (approximately 200 cows).
The premium rates for Tier 1 are significantly lowered (Figure 1).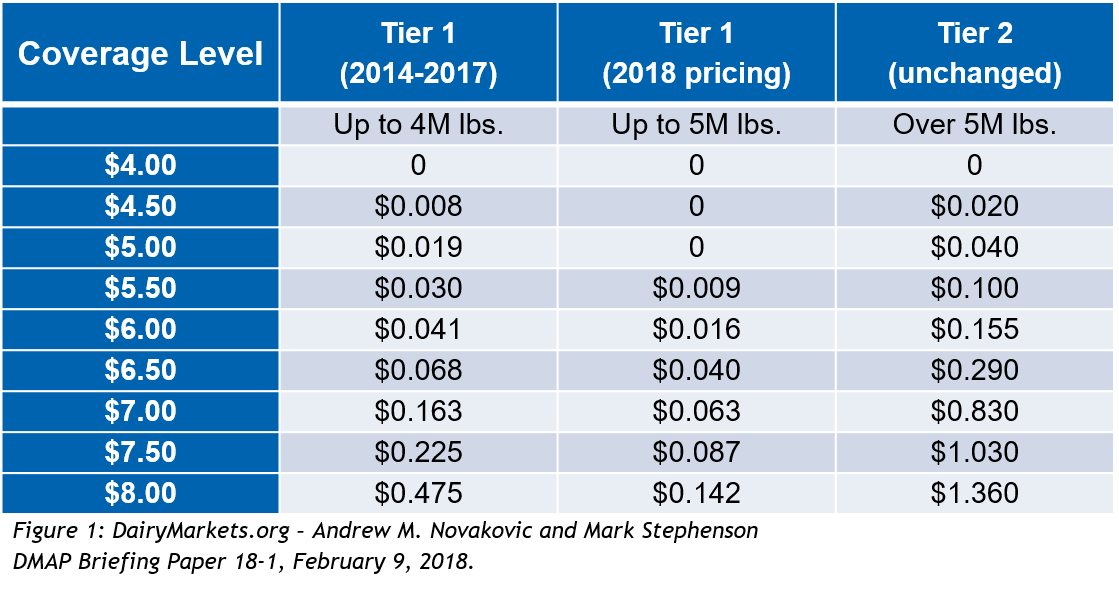 Guidance for Producers
There is a decision aid tool on the program on Dairy Markets and Policy (DMaP) website: DairyMarkets.org/MPP/Tool/
While it has not yet been updated to reflect the new lower premium levels, it should be updated in advance of the closing of the new enrollment period. The new premium levels have been lowered enough that producers may want to give the MPP program a second look. It is forecast that the ADPM margins will be below the $8.00 max coverage, and perhaps below $7.00 through June 2018.
What about the Livestock Gross Margin (LGM-Dairy) Program?
Producers cannot have MPP and LGM coverage simultaneously. If a farmer has an LGM-Dairy contract for any months of 2018, they will not be able to enroll in MPP for those months.
The new law also made an important change to the LGM-Dairy program, which is offered though crop insurance agents, such as Crop Growers, LLP.
LGM-Dairy is somewhat similar to MPP in that it gives producers an opportunity to buy protection against a contracted level of income over feed costs. While the concept is similar, the calculation of the margin and premiums under LGM are different than for MPP. LGM-Dairy coverage levels and premiums vary from month-to-month depending on market conditions, while MPP always offers the same coverage levels.
The coverage options under LGM may be more or less attractive than MPP depending on the given month. In general, when margins are expected to be higher, LGM offers opportunities to lock in that margin. Conversely, when margins are expected to be lower, MPP is more likely to offer better coverage to the producer.
A major limitation in the past was that funding for the LGM program was limited, and often ran out midway through the year. The new law eliminates that funding cap. While this does not guarantee new funding for the program, it does create an opportunity for program participation to be expanded.
Decisions to Make
For both the LGM and MPP programs, producers must decide whether or not to participate and if so, how much of their production to cover, and at what margin. Whether LGM or MPP makes more sense for your operation, and at what coverage levels varies depending on the circumstances of your individual farm.
Stay tuned for news relating to the reopening of the MPP signup period from the USDA Farm Service Agency, and look for the MPP decision tool from DMaP to be updated with the new premium costs. The MPP decision tool offers a comparison between MPP and LGM coverage.
This article summarizes information from: "Changes to the Margin Protection Program for Dairy Producers", by Andrew M. Novakovic, and Mark Stephenson; DMAP Briefing Paper 18-1, February 9, 2018. Retrieved from: dairymarkets.org
Northeast Commercial Fisheries Outlook
New England fishermen landed $1.3 billion of seafood last year, continuing a recent steady annual increase of about four percent in value. Three iconic species – lobster, scallop, and in a distant third place, groundfish – comprised 75 percent of the value of the catch. As populations of fish wax and wane over time, so go prospects for fishermen. Prospects are up for scallop and groundfish – but with a big question mark for lobster.
The scallop and groundfish fisheries are managed under quota systems, meaning regulators set an upper limit on the amount of each species that they'd like to be caught. For scallops, the total projected catch is permitted to increase from 47 million to 52-60 million pounds in 2018. Five resource surveys pointed to increased abundance and a healthy range of size and age suggesting good fishing prospects for the next few years at least. Further out, scientists have some concern over an apparent lack of new scallops being born, but those figures are very preliminary.
Groundfish include a basket of several stocks such as haddock, cod and several types of flounder. There are a lot of moving parts in the groundfishery, but overall prospects seem to be improving after well over a decade of quota limits that cut the fleet from more than 1,000 vessels years ago to well under 300 today. Figure 1 shows the consolidated changes in groundfish quotas for next year. The winners outnumber the losers in both number and magnitude, for an overall increase of 17 percent. As importantly, a few of the losses have no material effect. For example, the haddock quota is currently so large that the remaining fleet can harvest perhaps 15 percent of its total allowable catch. A four percent reduction next year won't change those prospects one bit.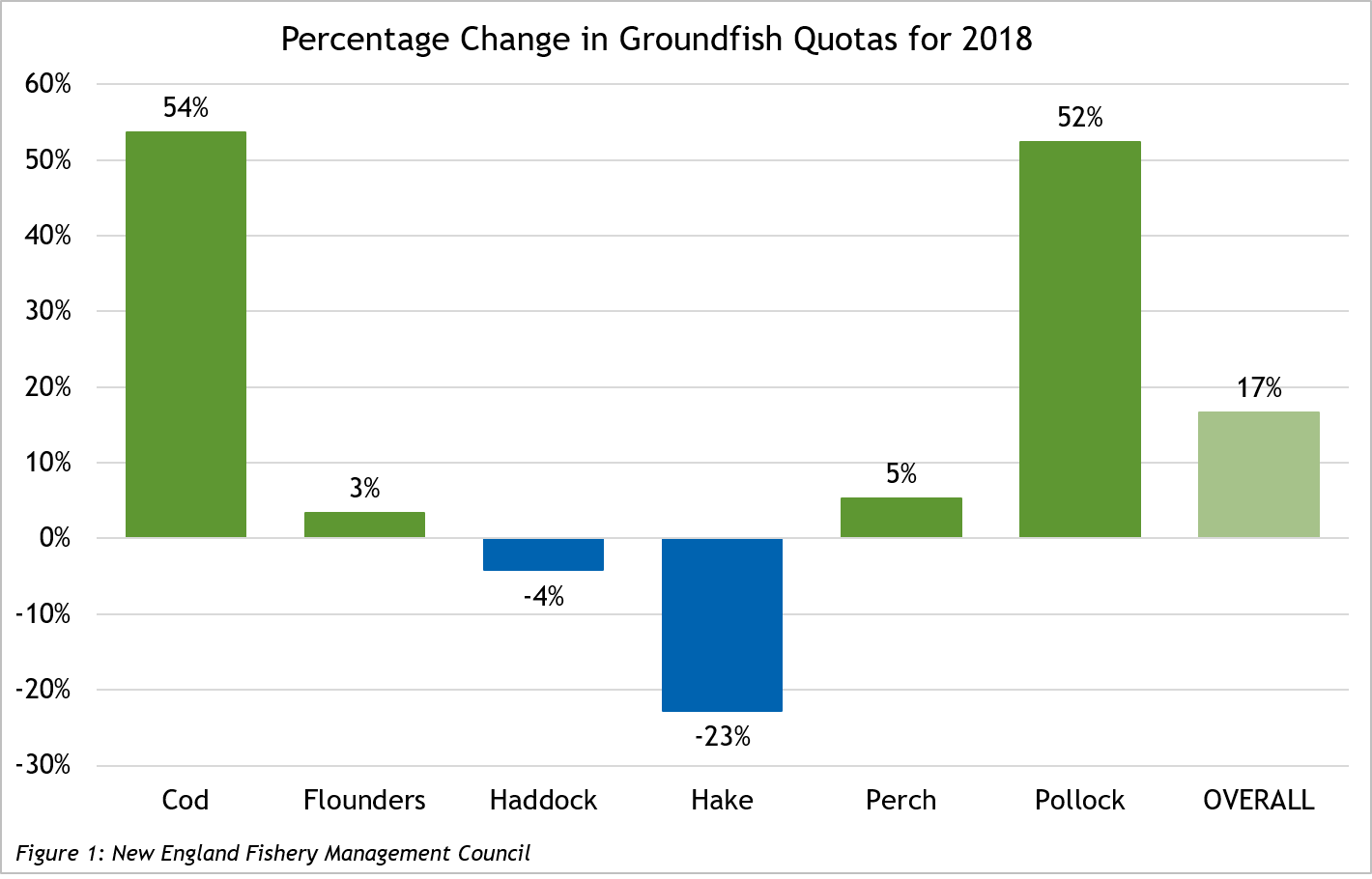 Prospects are murkier for lobster. There is no genuine quota in this fishery – regulators attempt to control harvest largely by limiting the number of lobster traps fishermen may haul. New England's lobstermen, particularly in Maine, have prospered under a three decade-long run of record-breaking revenues (Figure 2). They've risen six-fold, rivalling the rise in the Dow Jones Industrial Average over the same timeframe. But early reports are that Maine's landings appear to have fallen off smartly this year, and like other asset bubbles, some in the business speculate this one is due for a correction.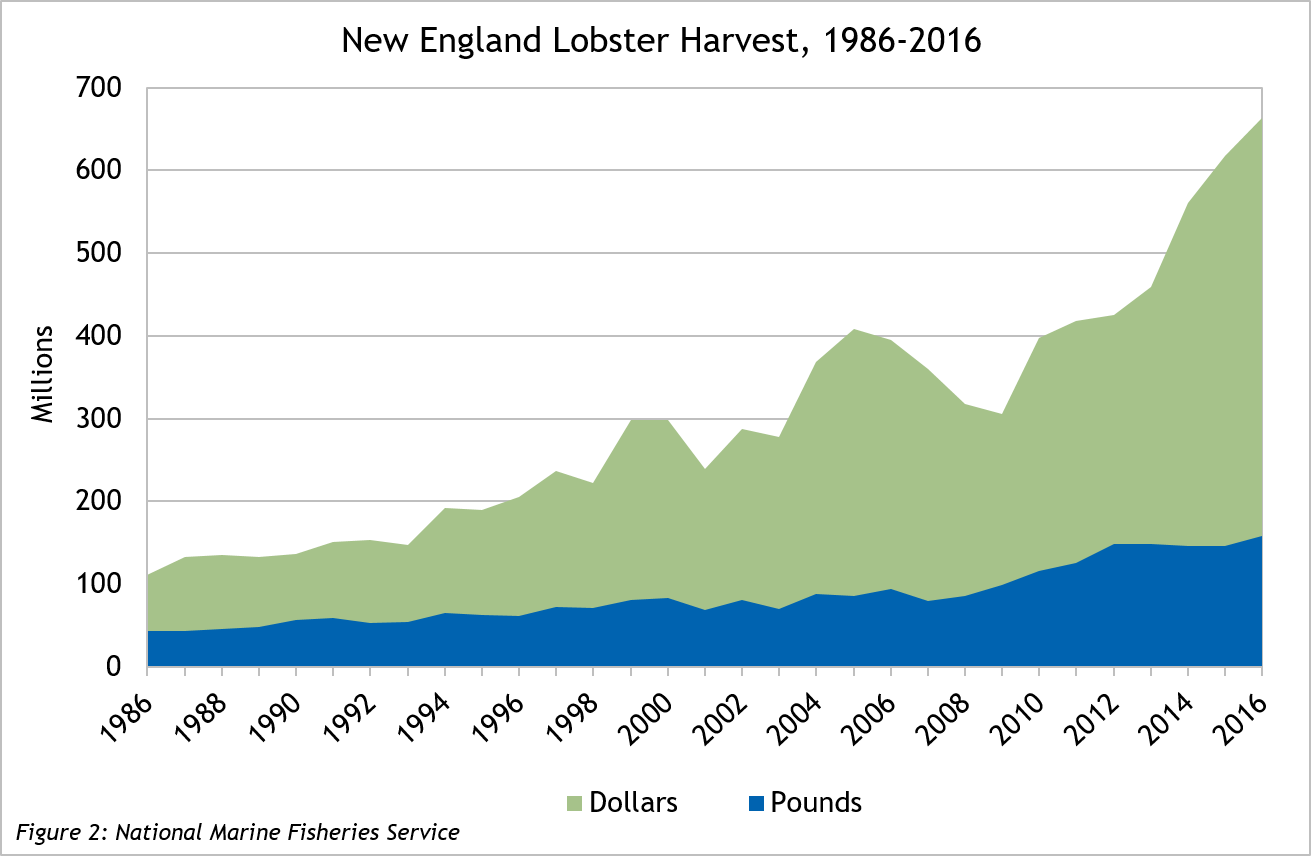 In days gone by, fishermen adapted to the ebb and flow of abundance by shifting their target stocks – perhaps emphasizing lobster in some years, or riding a relative bounty of groundfish in others. Increasing regulation of, and entry limits to, our many fisheries has had the unintended consequence of curtailing that flexibility. Today's fishermen are largely balkanized into a few specific fisheries, where bad fortunes in one can often no longer be offset by pursuing another.
It's not all about abundance. Innovation and capturing missed opportunity drives revenue as well. Just 40 percent of New England's groundfish quotas are harvested each year, and doubling that rate would solve most of the industry's financial woes. A small-scale fishery for pollock (one of the groundfish stocks) is developing in New England, using hooks – a fishing gear that faded from use several years ago, but which holds promise for this specific stock. The haddock resource is most efficiently, and increasingly, harvested with nets newly designed to target it almost exclusively.
At the dock, an increased focus on sustainability is driving electronic traceability technologies such as quick response ("QR") coding. Maine's lobster industry is experimenting with fishermen-owned unloading stations, expanded overseas marketing endeavors and ongoing development of value-added products such as prepackaged lobster tails. It's a tall hill to climb – lobster meat is already one of the most expensive proteins in the marketplace – but expenses keep climbing too, so the industry pushes ahead.
Huge advances in full utilization of catch are making their way to New England from overseas. Traditionally, more than half of a groundfish – the skin, the bones and so on – were discarded in the process of transforming a whole fish to a plate-ready fillet. Eventually, much of that waste was recycled into low-value products like fish meal, or as an additive to pet food.
To our east, across the Atlantic to Iceland and in Europe, entrepreneurs are creating high-value products from what was once viewed as waste. Decorative handbags made from fish skin, with a durability that can last decades. Enzyme is extracted from fish intestines, then processed and packaged as a natural skin cream (and proven effective as well). And 3D food printers can now transform a fish fillet into unique shapes such as the stars and the moon. That has to go over better than fish sticks with the kids!
In the end, abundance is key and Mother Nature bats last. Some stocks wax today while others wane tomorrow. But overall, the near-term outlook for our fisheries is healthier, and with much room to expand.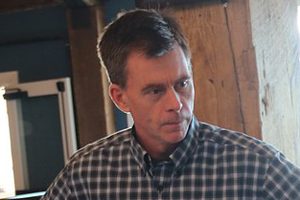 Hank Soule has 30 years experience in New England seafood harvesting, production and fishery management. He manages the Sustainable Harvest Sector, a cooperative of vessels participating in the region's groundfishery.
---
"Yesterday is not ours to recover, but tomorrow is ours to win or lose." - Lyndon B. Johnson
Editor: Chris Laughton
Contributors: Tom Cosgrove and Bob Smith
View previous editions of the KEP
Farm Credit East Disclaimer: The information provided in this communication/newsletter is not intended to be investment, tax, or legal advice and should not be relied upon by recipients for such purposes. Farm Credit East does not make any representation or warranty regarding the content, and disclaims any responsibility for the information, materials, third-party opinions, and data included in this report. In no event will Farm Credit East be liable for any decision made or actions taken by any person or persons relying on the information contained in this report.