Knowledge Exchange Partner
Inflation: Temporary 'Growing Pains' or a Worrisome Sign of a New Trend? | Dairy Risk Management: Many Options for Northeast Producers
Volume 15, Issue
June 2021
Inflation: Temporary 'Growing Pains' or a Worrisome Sign of a New Trend?
According to the U.S. Bureau of Economic Analysis, real gross domestic product (GDP) increased at an annualized rate of 6.4% in the first quarter of 2021.1 In "normal" times, this would be truly outstanding. If we take the wild swings of 2020 out of the equation, this 6.4% quarterly figure would be the highest level of growth since 2003.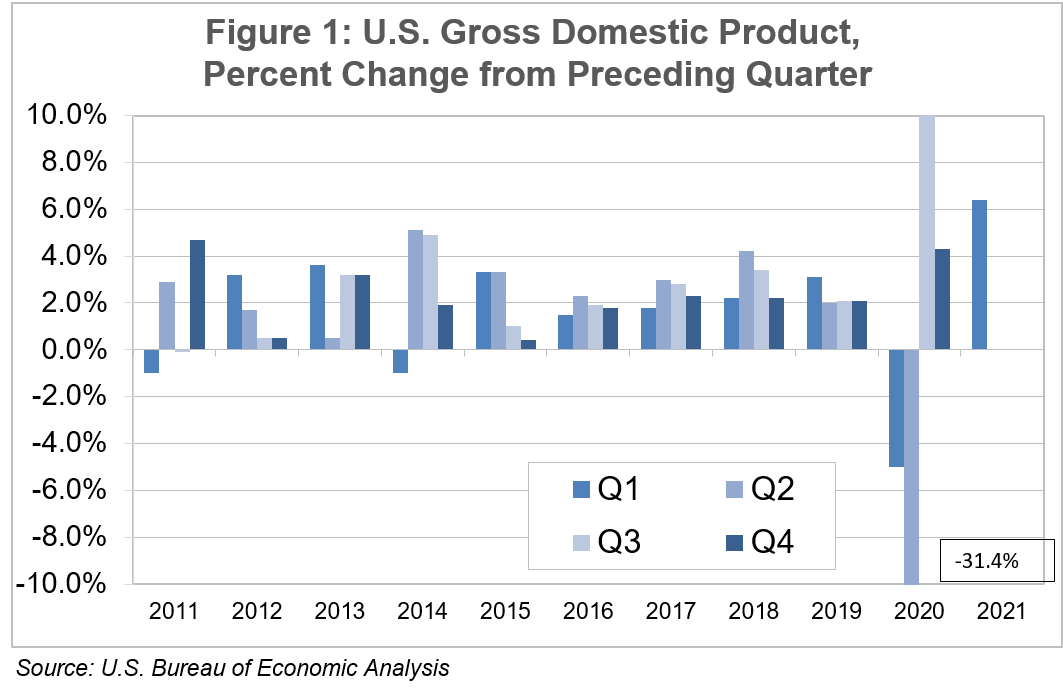 Context is everything, however, and we can't overlook the impact of the COVID-19 pandemic on the economy. Prior to COVID-19, the economy had been on a long, slow-but-steady trend of economic growth, going back to the recovery from the Great Recession of 2008-09. Then in the first four months of 2020, the economy took a staggering hit as businesses shut down and only those deemed essential were able to remain open. There was a similarly dramatic rebound in the third quarter of 2020, as many businesses were able to reopen at some level of capacity.
Since October 2020, we've continued to see economic recovery at an encouraging rate, but it's illustrative to look at a linear chart of U.S. GDP rather than quarterly changes. Looking at Figure 2, one can clearly see that despite a strong upward trajectory, the total U.S. GDP remains below pre-COVID levels.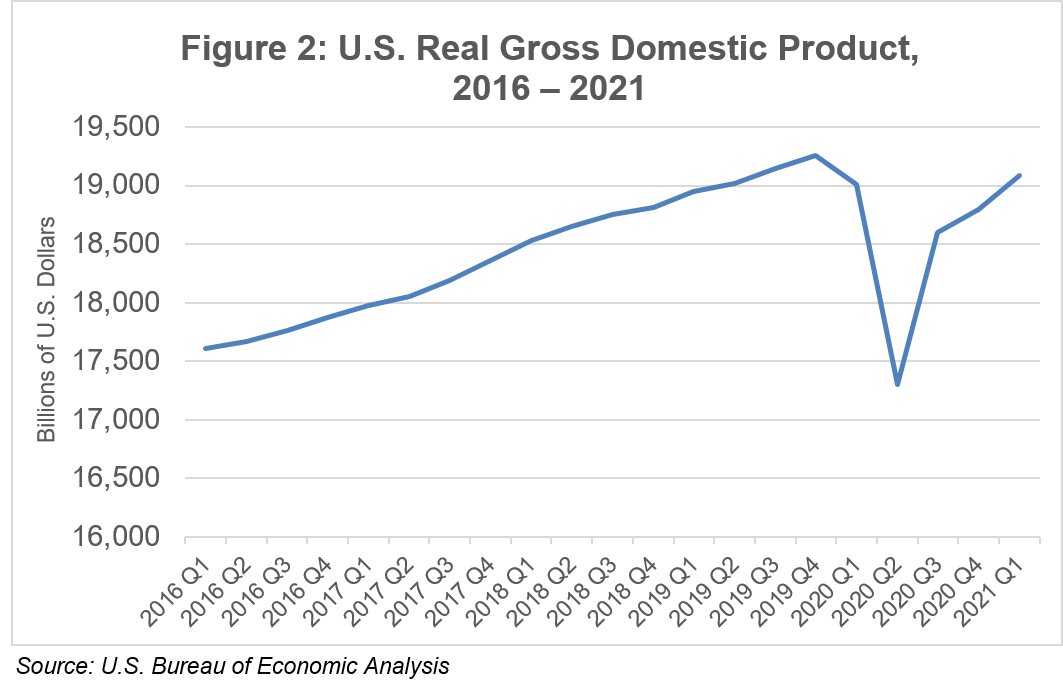 Is the U.S. economy overheating? It's hard to tell at this point. Overall U.S. economic activity remains below levels we've seen before, but conditions are highly variable from one industry sector to the next.
What's particularly notable are the product shortages and capacity constraints in some industries. Many commodities have significantly increased in value over the last year, with significant price inflation for some goods.
This raises the specter of inflation, which is indeed a concern — although again — it's highly specific, with some products costing a lot more, while others remain flat.
The consumer price index (CPI) showed an increase of 4.2% in April 2021 compared to April 2020, the largest 12-month increase since September 2008. However, there is a lot of unpack in that statistic. A significant portion of the increase was due to a 25% increase in energy prices from April 2020. This is largely due to what is called a "base effect." In other words, it's not so much because energy costs are high now, as much as it's because they were abnormally low in April 2020, the trough of the COVID-19 recession. U.S. crude oil is currently at $66.24/bbl., still well below prices seen from 2011-2014. Whereas in April 2020, crude was trading from $9-19/bbl., and even briefly went negative for a period of time in futures markets. So, it's important to consider the comparison points when we consider year-over-year changes. Figure 3 shows the decline in the CPI for March through May of 2020.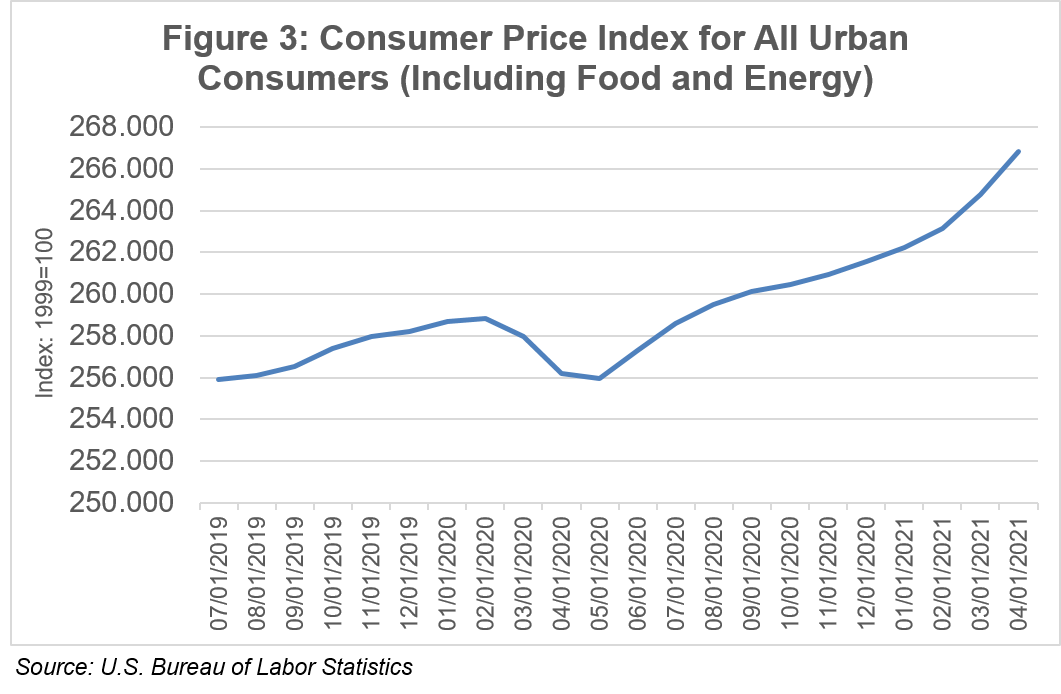 Still, base effects aside, there are clear signs that costs are rising, some dramatically so. Anecdotally, we hear that businesses are paying more for everything from hired labor to packaging to building materials. These increases are compounded by supply chain problems limiting the supply of everything from computer chips, gasoline and lumber to chicken wings, plastics and fertilizer. Some of these price increases and supply shortages are artifacts of the pandemic: Just as businesses struggled when demand fell sharply in the early stages of COVID-19 shutdowns, so too are they struggling to return to "normal" as demand resurges and the economy regains its footing after a year of reduced demand. Businesses are replacing laid-off workers, rebuilding inventories, and restoring output to pre-COVID levels.
Significant price increases over last year aren't surprising. The real test will be whether the rate of inflation we are currently seeing is sustained over the remainder of 2021. Economists differ in their forecasts: The Federal Reserve, while it is watching inflation closely, sees still-elevated unemployment as a sign that the economy is not overheating. Fed governor Christopher Waller said in a May speech, "The May and June jobs report may reveal that April was an outlier, but we need to see that first before we start thinking about adjusting our policy stance. We also need to see if the unusually high price pressures we saw in the April CPI report will persist in the months ahead."2
The opinions of Fed leadership matter a great deal. Their policies have held interest rates near zero and greatly expanded the money supply over the past year in an effort to support the economic recovery from the pandemic recession.
Other analysts disagree, suggesting we are at a turning point with the significant monetary and fiscal stimulus of the recent past combining with pent-up demand from consumers and businesses to overheat the economy, causing a level of inflation we haven't seen in a long time. A survey of manufacturers from the Federal Reserve Bank of Philadelphia found that companies in its region saw widespread price increases for both manufacturing inputs and the companies' own finished products. More than three-quarters of firms reported price increases, while none reported decreases. The firms' median forecast for prices was for an increase of 5.0%, an increase from 3.0% when asked the same question in February.3
Whatever the case may be, all eyes are on the U.S. Federal Reserve as they face a rising challenge: How to continue their aggressive monetary policy to promote returning U.S. employment to pre-pandemic levels, while simultaneously keeping inflation under control. Low inflation over the past 30 years, even given significant monetary stimulus at various times, has convinced many that the Fed can continue low rates without spurring inflation. But some fear a worst-case scenario where we experience both inflation and sluggish hiring: Economic data from April 2021 showed both slowing job growth and rising prices — not the results economists hoped to see.
All-in-all, we will have to wait and see whether the current rate of price increases will be sustained, or whether this inflationary trend is temporary, and one which will subside once the economy gets back to pre-COVID levels.
---
1 The 6.4% figure is an "advance" estimate and subject to revision.
2 Quoted in "Fed's Waller Says Inflation Jump Likely Temporary, Urges Patience", The Wall Street Journal, May 13, 2021.
3 "Another Inflation Warning", The Wall Street Journal, May 20, 2021.
Dairy Risk Management: Many Options for Northeast Producers
Rising feed costs across the country have resulted in shrinking income-over-feed-costs (IOFC) for dairy producers. This has made risk management programs, including the USDA Dairy Margin Coverage program (DMC), valuable tools in managing dairy margin risk for both milk price and feed cost.
Producers who signed up for DMC and opted for $9.50/cwt. margin coverage will receive $3.04/cwt. in payments for March, as the DMC calculated margin came in at only $6.46/cwt., based on U.S. average milk prices of $17.40 and feed costs of $10.94 per cwt. of milk sold. This is the fourth time the monthly margin has come in below $7.00 over the past 12 months.
Producers who insured at the $9.50 level have received payments in eight of the last 12 months, from April 2020 through March 2021. As Table 1 shows, coverage has been higher in 2021 compared to 2020's average Northeast participation of 30%.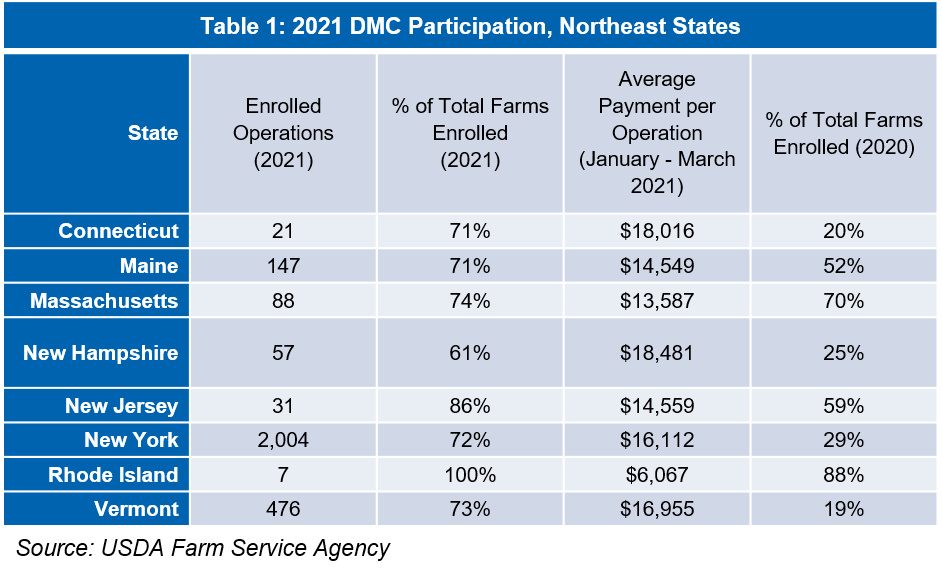 Scenarios
Note that payments vary significantly depending on the size of farm and coverage levels selected, but here are a few examples:
Example 1:
Annual Historical Production: 2,500,000 pounds
Coverage Percentage: 95%
Coverage: 23,750 cwt., Tier I: $9.50 margin
Annual Premium: $3,663 or $0.15/cwt.
2020 Program Payments: $16,368 or $12,705 in excess of premium
2021 Program Payments (through March): $16,200 or $12,537 in excess of premium (so far)

Example 2:
Annual Historical Production: 5,000,000 pounds
Coverage Percentage: 95%
Coverage: 47,500 cwt., Tier I: $9.50 margin
Annual Premium: $7,225 or $0.15/cwt.
2020 Program Payments: $32,736 or $25,511 in excess of premium
2021 Program Payments (through March): $32,400 or $25,175 in excess of premium (so far)

Example 3:
Annual Historical Production: 10,000,000 pounds
Coverage Percentage: 95%
Coverage: 95,000 cwt., Tier I: 50,000 cwt. $9.50 margin
Tier II: 45,000 cwt. $5.50 margin
Annual Premium: $12,100, or $0.13/cwt.
2020 Program Payments: $34,919 or $22,819 in excess of premium
2021 Program Payments (through March): $34,105 or $22,005 in excess of premium (so far)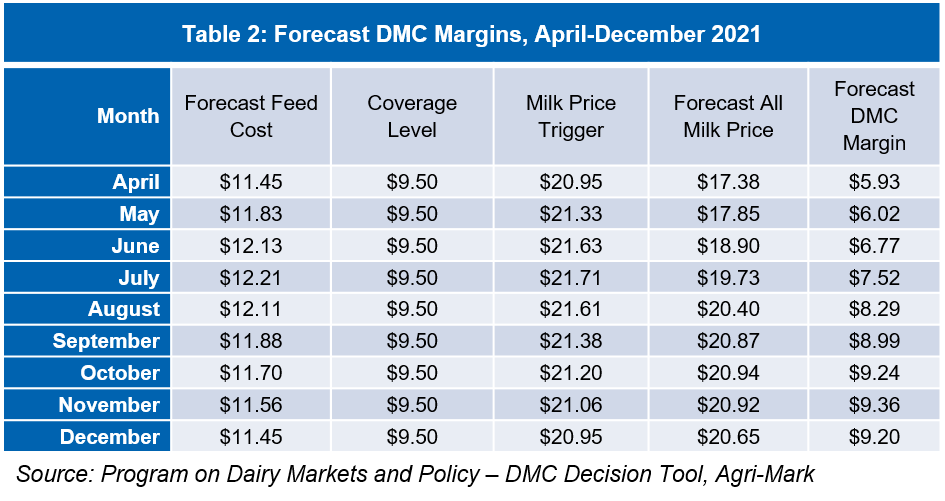 The sign-up period for DMC is in the fall of each year. While it's too late to sign up or change coverage levels for DMC, there are still a number of risk management options available to Northeast dairy producers.
Dairy Revenue Protection (DRP) and Livestock Gross Margin-Dairy (LGM) are two programs offered by crop insurance agents, with premiums supported by the USDA Risk Management Agency. Producers can combine coverages of multiple programs under certain circumstances.
DRP and DMC can be enrolled in simultaneously. LGM can also be enrolled in at the same time as DRP and/or DMC, as long as they do not cover the same milk production. Your Crop Growers agent can help advise on coverage options.
Dairy Revenue Protection (DRP)
DRP is a federally supported crop insurance program designed to insure against unexpected declines in the quarterly revenue from milk sales relative to a selected coverage level. The "expected revenue" is based on futures prices for milk, and the amount of covered production elected by the producer. It offers two revenue pricing options:
The Class Pricing Option uses a combination of Class III and Class IV milk prices as a basis for determining coverage and indemnities.
The Component Pricing Option uses the component milk prices for butterfat, protein and other solids as a basis for determining coverage and indemnities. Under this option, producers may select the butterfat test percentage and protein test percentage to establish insured milk price.
DRP does not take feed costs into account, but rather compares actual milk revenues to those expected based on futures markets. Premiums are supported by the Risk Management Agency from 44 to 55% depending on the coverage level selected, making them more affordable to producers. DRP coverage is selected quarterly, and producers can apply through a crop insurance agent at any time.
As stated above, producers can participate in both the DRP and DMC programs simultaneously.
Livestock Gross Margin-Dairy (LGM)
LGM is a margin-based insurance product. It provides protection when feed costs rise or milk prices drop and can be tailored to any size farm. With LGM, a producer can insure a given income-over-feed-cost (IOFC) margin. Unlike DMC, where producers select a given IOFC margin up to $9.50, with LGM, producers can insure any IOFC margin forecast by futures markets. If the actual margin, as determined by national price levels comes in below the insured margin, an indemnity is triggered. LGM-Dairy is similar to buying both a call option to limit higher feed costs and a put option to set a floor on milk prices.
2018 Farm Bill provisions allow for dairy operations to participate in both LGM-Dairy and Farm Service Agency's DMC program. However, LGM and DRP cannot be used to cover the same milk production. Producers can sign up for LGM coverage through crop insurance agents at any time, and coverage is selected on a monthly basis.
Producers can also purchase put and call options in the futures markets directly to hedge risk. Some cooperatives offer hedging services and consultations, or you can go to a commodities broker.
Crop Insurance
Finally, when determining risk management options for your dairy, don't forget the crop side! There are several options available to insure grain or silage production and help manage your risk on inputs and feed on the expense side of the income statement Crop Growers agents are available to assist you in protecting both your milk production as well as your corn and soybean needs.
---
Editor: Chris Laughton
Contributors: Chris Laughton, Tom Cosgrove and Jeremy Forrett
View previous editions of the KEP
Farm Credit East Disclaimer: The information provided in this communication/newsletter is not intended to be investment, tax, or legal advice and should not be relied upon by recipients for such purposes. Farm Credit East does not make any representation or warranty regarding the content, and disclaims any responsibility for the information, materials, third-party opinions, and data included in this report. In no event will Farm Credit East be liable for any decision made or actions taken by any person or persons relying on the information contained in this report.