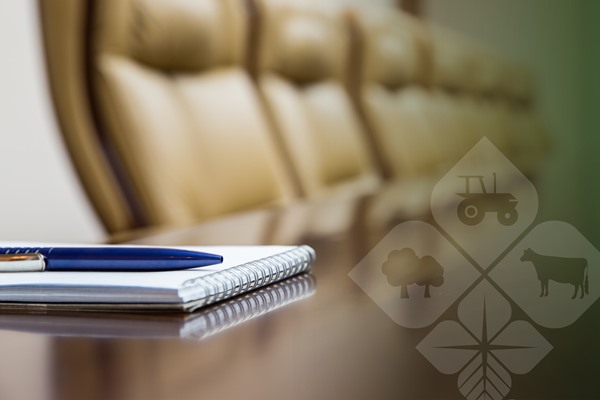 Farm Credit East, a customer-owned cooperative lender and financial services provider, has announced the results of its recent director elections and board reorganization meeting. The 19-member board represents the diversity of Northeast agriculture and forest products.
Farm Credit East, ACA stockholders recently elected the following three members to serve on its board of directors:
Michael N. Brooks, from the Central Region, was elected for a three-year term. Michael is a managing partner of Dusty Lane Farms LLC, an irrigated vegetable and grain farm in Elmer, NJ, growing potatoes, peppers, spinach, sweet corn, cabbage, corn, soybeans and wheat.
Philip "Jamie" Jones, from the Central Region, was elected for a four-year term. Jamie is a managing member of Jones Family Farms, Shelton, Conn., producing strawberries, blueberries, pumpkins and Christmas trees. Jamie also established a vineyard and winery currently producing 6,000 cases per year.
Terry R. Zittel, from the Western Region, was elected for a four-year term. Terry is the business executive and treasurer of Amos Zittel & Sons, Inc., a fifth generation wholesale vegetable and flower business in Eden, NY, growing fresh market, hand harvested vegetables as well as rooted liners and a potted flower crop.
Farm Credit East congratulates the winning candidates and thanks customer-members for participating in the election process.
At the April 26 reorganization meeting, the board reelected Laurie Griffen, of Stillwater, N.Y., as its Chair and reelected John Knopf, of Canandaigua, N.Y., as Vice Chair. In addition to Chair Griffen and Vice Chair Knopf, the Executive Committee also includes Peter Call, of Batavia, N.Y., Tom Colgan, of Lyme, N.H., and Jamie Jones, of Shelton, Conn.
"Farm Credit East has an essential role in serving Northeast agriculture, commercial fishing and forest products," said Chair Griffen. "We have an excellent board of directors, committed to the future of our members in the Northeast. The experience and diversity of our board enables us to effectively represent members across our service area."
Farm Credit East is a customer-owned agricultural cooperative and part of the nationwide Farm Credit System. Farm Credit East serves Connecticut, Maine, Massachusetts, New Hampshire, New Jersey, New York, Rhode Island and Vermont.
The full Farm Credit East board is comprised of 19 directors, which includes four appointed directors who bring additional skills and capabilities to the boardroom. In addition to those recently elected to the board and those elected to leadership and Executive Committee positions, the board includes: Kurt W. Alstede, Chester, N.J.; Barry A. Buck, Mapleton, Maine; Tim C. Chan, Claremont, N.H.; David Folino, Starksboro, Vt.; David "Skip" Hardie, Groton, N.Y.; LouAnne F. King, Madrid, N.Y.; Jay McWatters, Hamburg, N.Y.; James A. Robbins II, Searsmont, Maine; Lisa P. Sellew, Lebanon, Conn.; Douglas W. Shelmidine, Adams, N.Y.; Kyle Thygesen, Tunbridge, Vt.; and Peter H. Triandafillou, Orono, Maine.