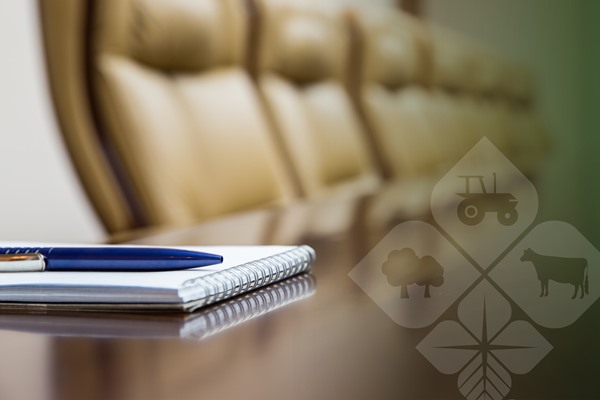 ENFIELD, CONN. — Farm Credit East, a customer-owned cooperative lender and financial services provider, has announced the results of its recent director elections and board reorganization meeting. The 18-member board represents the diversity of Northeast agriculture and forest products.
Farm Credit East, ACA stockholders recently elected the following two members to serve on its board of directors:
Amy L. Walker-Bailey, from the Central Region, was elected to a four-year term. Amy is chief financial officer of her family's three businesses: Walker Farms, LLC, a 1,300-cow family dairy operation with 2,700 crop acres of hay and corn; MGK Enterprises, LLC, a contract hauling trucking company; and Walker's Farm, Home & Tack, a retail farm store.
Brett D. Kreher, from the Western Region, was elected to a four-year term. Brett is partner at Kreher Family Farms (and related entities), an egg production business raising approximately two million hens that produce conventional, organic and pastured organic eggs across three locations.
Farm Credit East congratulates the winning candidates and thanks customer-members for participating in the election process.
At the April 25 reorganization meeting, the board reelected Laurie Griffen, of Stillwater, N.Y., as its Chair and reelected John Knopf, of Canandaigua, N.Y., as Vice Chair. In addition to Chair Griffen and Vice Chair Knopf, the Executive Committee also includes Tom Colgan, of Lyme, N.H., LouAnne F. King, Madrid, N.Y.; and James A. Robbins II, Searsmont, Maine.
"Farm Credit East has an essential role in serving Northeast agriculture, commercial fishing and forest products," said Chair Griffen. "We have an excellent board of directors, committed to the future of our members in the Northeast. The experience and diversity of our board enables us to effectively represent members across our service area."
Farm Credit East is a customer-owned agricultural cooperative and part of the nationwide Farm Credit System. Farm Credit East serves Connecticut, Maine, Massachusetts, New Hampshire, New Jersey, New York, Rhode Island and Vermont.
The full Farm Credit East board is comprised of 18 directors, which includes three appointed directors who bring additional skills and capabilities to the boardroom. In addition to those recently elected to the board and those elected to leadership and Executive Committee positions, the board includes: Michael N. Brooks, Elmer, N.J.; Barry A. Buck, Mapleton, Maine; David Folino, Starksboro, Vt.; David "Skip" Hardie, Groton, N.Y.; Jamie Jones, of Shelton, Conn.; Jay McWatters, Hamburg, N.Y.; Lisa P. Sellew, Lebanon, Conn.; Douglas W. Shelmidine, Adams, N.Y.; Kyle Thygesen, Tunbridge, Vt.; Peter H. Triandafillou, Orono, Maine; and Terry R. Zittel, Eden, N.Y.
Learn more about our board members.
###