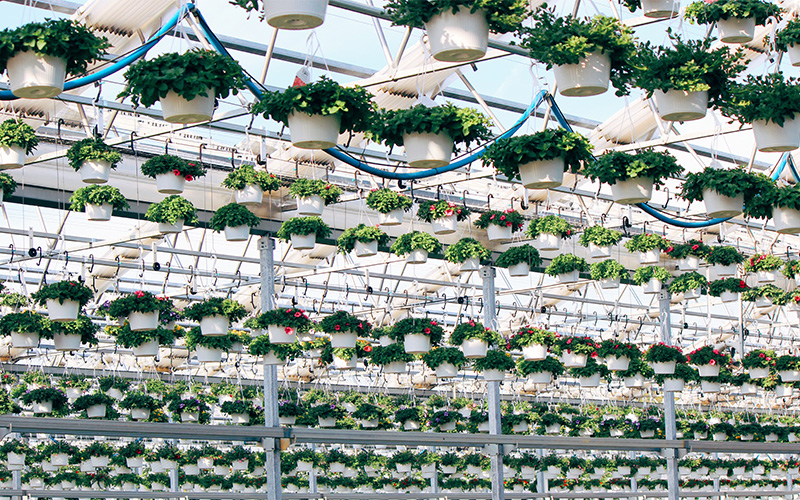 Unlike many sectors of the agricultural economy, nursery and ornamental greenhouse production tends to be influenced primarily by the state of the general U.S. economy – particularly housing markets and consumer spending. Therefore, the continued good performance of the overall economy is a positive for the green industry heading into 2020.
In July 2019, the current economic expansion became the longest in U.S. history. However, after expanding at a 3.1% pace in the first quarter of 2019, the economy slowed down considerably and grew by a rate of only 2.0% in the second quarter, 2.1% in the third and first estimates of fourth quarter gross domestic product (GDP) ranged from 1.3% to 2.3%. GDP in 2020 is expected to remain in the 2% range for the year. The unemployment rate dropped further in 2019, with the headline jobless rate starting at 4% in the first half of the year, then declined to 3.5% by the end of the year. However, the economic news was mixed for the green industry in 2019 as regional weather patterns and economic differences were variable and labor availability issues continued to plague the industry.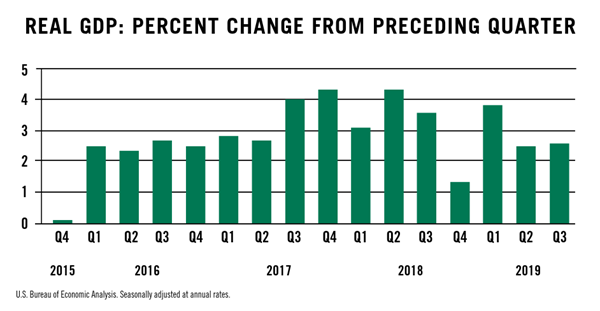 The good news is that consumer spending has been supported by job gains and wage growth. However, while those at the bottom of the income scale have seen significant improvement, largely due to increases in state and local minimum wages, and the top 1% are doing well, the middle class continues to struggle. Reasons for this include higher health care costs (the health insurance component of the Consumer Price Index rose over 20% in 2019), higher education costs and a lack of affordable housing. The economic prospects of middle-class independent voters will likely be key in the November 2020 election.
Overall, lawn and garden spending increased to $52.3 billion despite a slight decrease in household participation. While the lion's share of spending in the lawn and garden industry is led by Boomer households, once again, Millennial households reported strong levels of participation, spending and—perhaps most importantly—planned future purchases. The national gardening survey revealed that 38% of 18-34-year-olds planned to spend more on lawn and garden activities in 2019, compared to the overall average of 29%. In addition, 18-34-year-olds accounted for a quarter of estimated lawn and garden spending despite having lower household incomes and being more likely to live in an apartment or condominium. Household participation in lawn and garden activities among younger households largely matches other age groups but has grown at a faster rate than other segments over the last five years.
The green industry is strongly correlated with housing, and new home sales continue to be a bright spot for the U.S. economy. The number of single-family homes sold in 2019 was up almost 17% from a year ago. The average sales pace in the past three months sits at a post-recession high. New home sales normally run around 70% of single-family housing starts but have now exceeded that threshold for each month of the past year, signaling plenty of appetite for new homes. As a result, home construction needs to pick up to keep pace with consumers' appetites. The good news is that builders are responding, with the number of new single-family housing starts surging over the past several months to within spitting distance of new highs for this current economic cycle. Sales in 2020 are expected to surpass 2019, continuing an upward trend.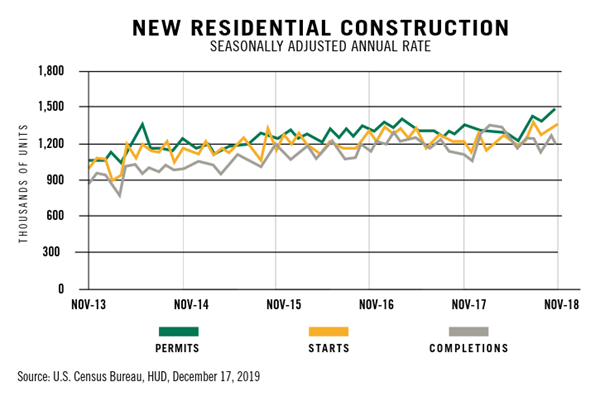 Some of this growth in housing has been the result of the Federal Reserve Open Market Committee (FOMC) being proactive, cutting the federal funds rate 25 basis points three times in 2019. The FOMC also provided needed liquidity to short-term funding markets by starting to expand its balance sheet again with purchases of short-term Treasury bills.
Currently, there is a temporary truce in the U.S.-China trade war, but there is greater price uncertainty in the global agricultural marketplace. Input costs for many green industry firms will likely continue to rise, exacerbating the cost-price squeeze already being experienced. The prices of grower inputs are 26.8% higher than they were pre-recession, according to recent calculations of the Index of Prices Paid by Growers.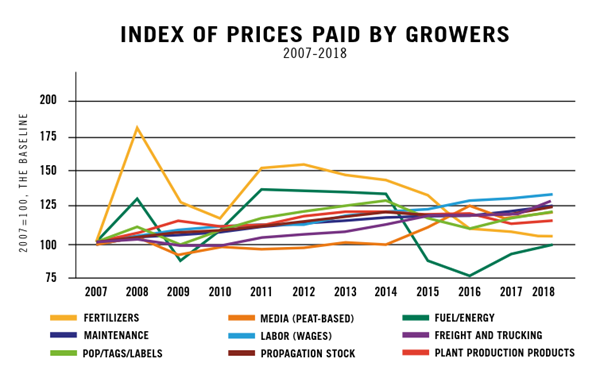 In summary, the economic expansion that has been underway in the U.S. for more than 10 years will likely continue for the foreseeable future, albeit at a subdued pace and likely to remain modest over the next two years. But all economic forecasts, even in the best of times, are subject to at least a bit of uncertainty and the unsettled political and geopolitical environment imparts more uncertainty than usual into the economic outlook.
It is helpful to remember that recessions occur in one of two ways. First, an "exogenous" shock can lead to an economic contraction. For example, the moonshot in oil prices that occurred in the aftermath of the OPEC oil embargo in late 1973 was the proximate cause of the deep downturn in the U.S. economy in 1974 and 1975. But exogenous shocks are difficult if not impossible to foresee, and most forecasters generally refrain from incorporating them explicitly in their outlooks.
Second, economies can also slip into recession when imbalances build up in an important sector, such as housing in the previous decade or the tech sector in the 1990s. A sudden unwinding of these imbalances can then lead to an economy-wide downturn. A hallmark of the current expansion in the U.S. economy is its relative lack of these large and noticeable imbalances. However, housing prices are only 11% lower than what they were before the collapse during the last recession, so this will be an important indicator to follow over the next year.
Considering the current economic indicators in light of the variables reflecting down-side risks, I estimate there is only a 40% chance of recession occurring in 2020, but an 80% chance of a recession in 2021. This means that green industry firms should continue to have an overall favorable market situation in 2020 but will experience increased costs of doing business due to trade and non-trade inflationary effects. Thus, it is imperative for green industry firms to begin contingency planning for the impending downturn when it does occur.
These contingency plans should incorporate proper strategies for managing working capital, continuing to incorporate lean manufacturing strategies into the value chain, ensuring the firm is not over-leveraged going into the downturn, carefully evaluating CAPEX investments, and positioning the firm properly by articulating the company's value proposition in its key customer base.
Meet the Authors
Connect with and discover our Today's Harvest blog authors and their broad range of financial and northeast agricultural expertise.