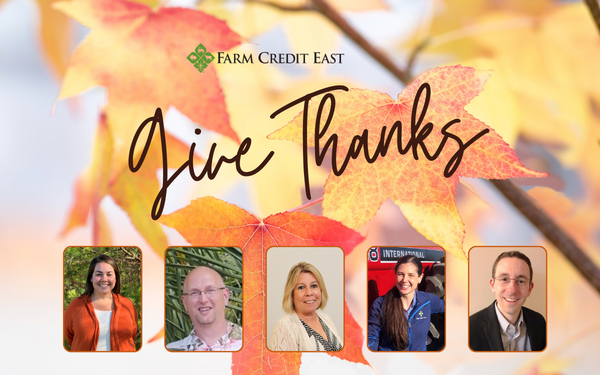 'Tis the season to give thanks!
I think we can all admit to getting wrapped up in our day-to-day and not taking near enough time to pause and reflect on all we have; all we've accomplished; and the people around us who play such an important role in our day-to-day. That's exactly what this time of year is for. As we approach Thanksgiving and the holiday season, we asked some of our teammates to reflect on what they're grateful for. I think you'll notice some common themes, from family, friends and coworkers to the great agricultural community we serve every day. Read on for their responses.

From Joe Baldwin, senior tax consultant in Claverack, New York:
I'm thankful to be part of an organization with the reputation and expertise unlike any other. I'm proud to describe what I do and who I work for. I really appreciate that Farm Credit is forward thinking, challenging, and always looking to serve customers in unique, creative ways.
From Dennis Eckel, senior loan officer in Geneva, New York:
I am thankful for the opportunity to work with the people who are the backbone to our community and country. I'm thankful to have the flexibility in my job to be able to work from home, allowing me to get my kids on and off the bus and attend more of their after-school activities. I am thankful to work with all my Geneva teammates, and though they have changed over the years, they continue to be strong, hardworking people who have my back just as much as I have theirs.

From Kelsey Mackenzie, loan officer in Middleboro, Massachusetts:
Throughout the past couple of years, we have all been faced with doubt and uncertainty about what's to come. Our farmers, fishermen and agribusiness owners are well accustomed to these anxieties, whether it be a global pandemic, fluctuating climate, labor shortages — you name it. Despite that adversity, our customers have persevered with grit and grace. Therefore, I am thankful to work hard for such hardworking people that inspire me to put my best foot forward every day.

From Patty Stover, branch operations leader, Flemington, New Jersey:
I am thankful for my amazing family and my co-workers at Farm Credit East. I work with so many excellent people and technology has allowed me to form new relationships with colleagues throughout Farm Credit East's territory. I am grateful to work at a place that values me and my ideas, and I look forward to the next chapter at Farm Credit East.

From Kristi Wood, branch office manager serving Western Vermont:
I am most thankful for my family. Not only the family that my husband and I have created, but also the one that raised me. I feel so lucky to have such a great relationship with my parents, grandparents and brother. They, like my husband's family, have allowed my children to grow up healthy, strong and surrounded by love.

I am also thankful to live and work in a strong agricultural community in a state that is renowned for its natural beauty.

And I am thankful for my career. I've learned so much and met so many great people. I couldn't imagine doing anything else. I am extremely grateful to work for an organization that provides products, services and support to the agricultural community that I grew up in and that I am raising my family in. Supporting the farms that feed our world is extremely gratifying.
In closing, thank you to our customers across the Northeast for choosing us to be your trusted financial partner. And thank you to the entire Farm Credit East team for your commitment to serving our customers. As the holidays near, we encourage you to do the same and reflect on all that you're thankful for.
Meet the Authors
Connect with and discover our Today's Harvest blog authors and their broad range of financial and northeast agricultural expertise.