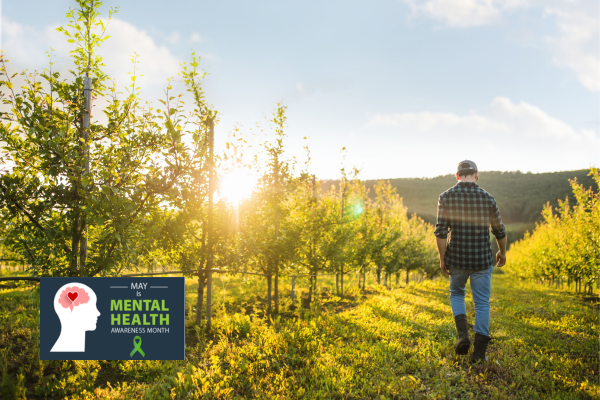 Life is stressful, and farm life can be even more so. The challenges of running a small business with limited resources, where so much is out of your control (weather, markets, pests, disease, etc.) can be overwhelming. Couple that with rural isolation and limited access to resources, and things can reach a crisis point. But you're not alone and there are resources to help cope and manage some of these stressors.
May is Mental Health Awareness Month. To raise awareness around the importance of dealing with issues impacting mental health — from stress to conflict — following are helpful resources available in each Northeast state. Mental health should not be ignored and those who need support should not hesitate to seek it. Together we can fight the stigma sometimes associated with mental health issues.
National / Multi-State
Farm Credit East Customer Assistance Program – Free for Farm Credit East customers, their family members and their employees. Provides assistance and referrals for many of life's challenges.
800-252-4555
Farm Aid – Farmer Services – One-on-one assistance and connections with resources.
800-327-6243
Cultivemos – The Farm and Ranch Stress Assistance Network Northeast
National Suicide Prevention Hotline
800-273-8255, or 988 in many areas
SAMHSA (Substance Abuse and Mental Health Services Administration) National Helpline
https://www.samhsa.gov/find-help/national-helpline
800-662-4357
Connecticut
AgriStress Helpline for Connecticut – Emergency and non-emergency resources. Peer-to-peer networking, business resources and family resources.
833-897-2474
Maine
Maine Agricultural Mediation Program
https://extension.umaine.edu/agriculture/agricultural-mediation
207-581-3487
Massachusetts
Massachusetts Agricultural Mediation Program
https://www.umb.edu/mopc/projects/agricultural_mediation_program
617-287-4040
New Hampshire
New Hampshire Agricultural Mediation Program
800-511-2213
New Jersey
New Jersey Agricultural Mediation Program
https://www.nj.gov/agriculture/sadc/agmediation/
609-984-2504
New York
New York FarmNet – Free and confidential help with a wide variety of farm issues, including stress and mental health, financial difficulties and more.
800-547-3276.
New York State Agricultural Mediation Program
866-669-7267
Rhode Island
Farm and Ranch Stress Assistance RI
401-414-5465
Center for Mediation Rhode Island
https://cmcri.org/service/agricultural-mediation/
401-273-9999
Vermont
Farm First – Vermont-based program providing farmers with support, resources and information to reduce stress, including peer support and self-assessments.
802-318-5538
Vermont Agricultural Mediation Program
800-511-2213
Meet the Authors
Connect with and discover our Today's Harvest blog authors and their broad range of financial and northeast agricultural expertise.