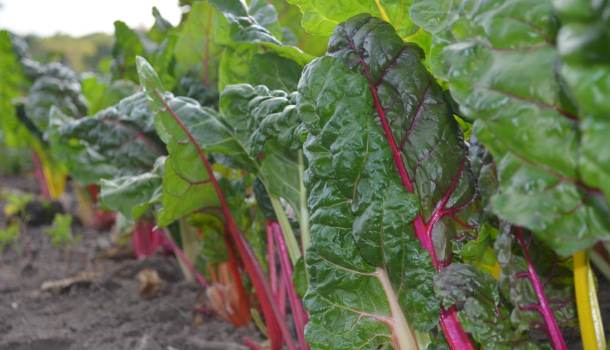 Many farmers think of crop insurance as only relevant for large row-crop growers. But if you're a diversified farm, there are new options that are worth another look, particularly in light of recurring natural disasters that have been hitting the region.
"But can I cover my escarole…?"
The northeast has been a historically underserved area when it comes to crop insurance as compared to the rest of the United States. This is due to its plethora of specialty crops, such as fruits and vegetables, which have traditionally had fewer options in terms of risk management crop insurance. This is especially true of smaller, more diverse operations.
The USDA Risk Management Agency (RMA) has been working harder than ever to serve the diverse and smaller operations of the Northeast through continual improvement of the Micro Farm Policy (2022) which aims to increase the region's food security . Micro Farm crop insurance enables small, diversified producers to obtain insurance coverage for up to 85% revenue protection of all their crops under one policy, limited to $350,000 in allowable revenue. Micro Farm is available in all Northeast counties.
Important changes for 2024
Following the update of Micro Farm for 2024, important changes have been made that should give you cause to reach out to your agent for another policy review. Some of these changes include:
the allowance of an underlying Federal Crop Insurance Corporation crop insurance policy in addition to holding Micro Farm (i.e., having both the apple policy and the Micro Farm policy at the same time),
an additional 30 days to submit past the March 15 deadline,
allowance to remove the lowest year of historic revenue for the purpose of calculating the expected value through an exclusion option,
and allowing vertically integrated entities to be eligible for Micro Farm.
Loss Example:
A small, diversified farm in Essex County grows strawberries, pears, lettuce, maple syrup, honey and sunflowers. Their 5-year average allowable revenue for 2024 is $92,500. The farmer strongly believes in having a sound risk management plan in place and decided to pay $4,013 in premium following harvest to guarantee 85% of their average revenue, equating to $78,625.
Little did the farmer know that their two acres of strawberries would be sitting in a half inch of water for a week straight. Additionally, despite various legal measures, the farmer also lost the battle with local wildlife, resulting in unsalvageable pears and three massive deer.
Given this bad year for fruit, it's a good thing the farmer is diversified. The lettuce looked incredible and marked record sales. The farmer calls their agent within 72 hours and files a notice of loss. The farmer also files their taxes for 2024. Their actual allowable revenue results in $65,000. The gross indemnity paid is $13,625.
Value of Micro Farm
Micro Farm allows previously underserved, small-to-mid-sized specialty crop producers to gain access to the federal crop insurance program through revenue protection by insurable cause of loss. If your operation has annual revenues exceeding $350,000, Whole Farm Revenue Protection may be a great alternative as there are many changes for the 2024 calendar year as well.
With these new changes in mind, be sure to contact a crop insurance agent with any questions regarding your operation sooner rather than later. Micro Farm policy is a bit more complex than typical single-crop insurance policies so adequate time is required to address the intricacies of each unique operation.
---
To learn more about Whole Farm Revenue and Micro Farm Crop Insurance, contact a Crop Growers specialist today.

Crop Growers is an equal opportunity provider.
Meet the Authors
Connect with and discover our Today's Harvest blog authors and their broad range of financial and northeast agricultural expertise.