Crop Insurance
Risk Management Agency Develops New Policy for Apple Producers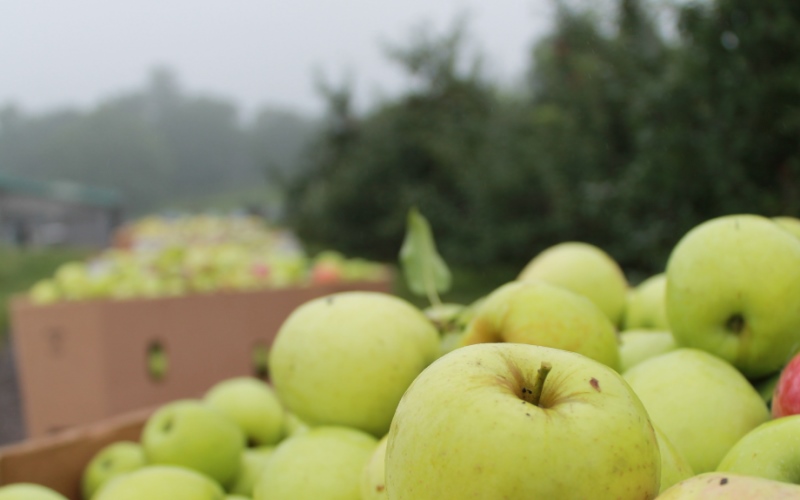 The Risk Management Agency's (RMA) Apple Crop Insurance Policy has become a mainstay of risk management in the United States apple industry. There are currently over 240,000 acres insured, providing almost $2.1 billion in protection to producers. Hail, freeze, wind and drought are just a few of the natural weather events that can impact a quality apple crop.  
Apple producers have worked closely with RMA over the past 20 years to ensure the Apple Crop Insurance Policy met the needs of the dynamic apple industry. Improvements include the addition of Varietal Group coverage, which provides more accurate pricing reflected in growers' markets. Also added was the ability to establish unit structure by Varietal Group, which allows producers to segment their policy to provide better tailored coverage for their own farm. The working relationship between apple producers and RMA has resulted in a program that met most of the industry's needs. 

Apple Crop Insurance Program Current Participation
| | | | |
| --- | --- | --- | --- |
| State | Policies Earning Premium | Acres Insured | Amount of Protection |
| Washington | 1,116 | 144,633 | $1.7 billion |
| New York | 343 | 31,709 | $164 million |
| Michigan | 409 | 25,127 | $133 million |
| Pennsylvania | 134 | 11,406 | $48 million |
| California | 45 | 2,236 | $11 million |
Source: RMA Summary of Business 2023 Crop Year as of 7/20/2023  

Since 2012, weather-related events throughout the United States have resulted in widespread crop losses impacting the apple industry. These weather-related events have resulted in over $1.1 billion of indemnity payments to apple producers. During this same period, apple producers paid over $467 million in premiums for this protection. These indemnity payments provide a significant benefit to apple producers to offset the financial impact to their businesses.
The Federal Crop Insurance Program is the central component of the federal farm safety net. By law, USDA is required to operate the program in ways that "improve the actuarial soundness of the federal multiperil crop insurance coverage." Statute requires USDA to operate the program "to achieve an overall projected loss ratio of not greater than 1.0." 

Apple Crop Insurance Program Claim History (Crop Years 2012 – 2016)
| | | | |
| --- | --- | --- | --- |
| State | Total Premium* | Indemnities Paid | Loss Ratio |
| Washington | $158,307,713 | $64,957,589 | .41 |
| New York | $55,830,221 | $109,158,738 | 1.96 |
| Michigan | $98,116,315 | $89,993,534 | .92 |
| Pennsylvania | $42,214,904 | $42,282,302 | 1.00 |
| California | $18,782,846 | $19,815,712 | 1.05 |
| All States | $480,237,651 | $455,035,268 | .95 |
Source: RMA Summary of Business as of 7/20/2023 – information available when the RMA Apple Policy evaluation began.
* Total Premium includes apple producer share of premium as well as federal premium support.

To ensure the success and sustainability of the Apple Crop Insurance Policy, RMA initiated an evaluation of the policy, including input from apple producers and industry representatives. The Apple Policy evaluation process began in late 2017 through apple producer and industry listening sessions with feedback on the current policy and recommendations on how to improve the policy. RMA thoroughly reviewed the information obtained and recommended program modifications. 
As part of the evaluation process, RMA has since reengaged the apple industry, including U.S. Apple, approved insurance providers and crop insurance agents, to review the proposed changes and obtain additional feedback. The Apple Crop Insurance Policy will experience significant changes as a result of the evaluation process. The most impactful of these changes are as follows:
The current policy does not count fruit graded as less than US Fancy as production in a claim. The proposed policy would count some of this production that is sold in a claim. It would utilize a Fresh Fruit Factor to determine how much to be counted. There would be a 10% cap for the first year of the revised policy.
Any fruit that is sold without a grade (within the US or State Grade Standards as applicable) would not be subject to the Fresh Fruit Factor and would be counted as full production in a claim.
Apples sold in the slicer market would not be counted as fresh fruit with respect to the requirement that at least 50% of fruit must have been sold as fresh in one of the last four years. 
To have a Fresh policy, producers would be required to complete a new Apple Supplemental Report. This report must include an accounting of fruit sold as fresh, processing and direct market. Producers who wish to obtain premium pricing for direct market and processing fruit must include revenue in addition to production.
There are times that producers remove acreage after the acreage reporting date. These producers would be able to sign a revised acreage report by March 31 to remove these acres from the policy and pay a reduced premium on those acres.

RMA issued a draft Apple Policy for the industry to comment in December of 2021. There were over 200 commenters on the proposed policy with over 1,000 comments. Earlier this year, RMA held listening sessions with producers to clarify the proposed changes to the policy. The plan is to have the new revamped Apple Crop Insurance Policy take effect in 2025.  
By Jeremy Forrett and John Fitzpatrick, of Farm Credit East, with contributions from Greenstone Farm Credit Services
---
To learn more about Apple Crop Insurance Policies and other Crop Insurance, contact a Crop Growers specialist today. 

Crop Growers is an equal opportunity provider.  
Meet the Authors
Connect with and discover our Today's Harvest blog authors and their broad range of financial and northeast agricultural expertise.