Farm Credit
A Summer with Farm Credit: An intern's perspective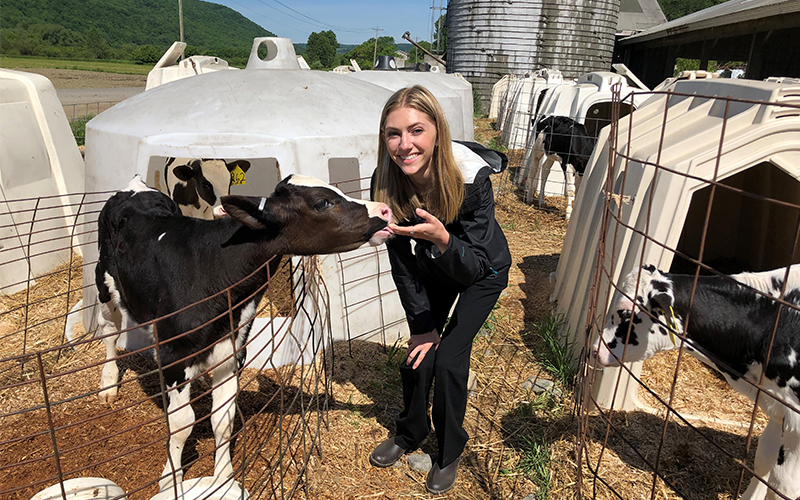 Each summer, Farm Credit East welcomes a group of students to our organization to give them the opportunity to learn about what we do and the industries we serve. This year, we were fortunate to have 17 interns join our team. Similar to those in the past, this year's interns brought tremendous value to Farm Credit East and our customers by providing fresh ideas, creative solutions and a spark of innovation in how we operate. As summer comes to a close and internships wrap up, I asked three of our interns to reflect on their summer experience.
Ashley Patterson studies agriculture business management at SUNY Cobleskill and interned in our Greenwich, NY office. Faith Clancy also studies agricultural business management at SUNY Cobleskill and interned in our Cortland, NY office. Stephen Clarke studies finance and mathematics at Siena College and interned in our Cooperstown, NY office.
Here's what Ashley, Faith and Stephen had to say about their summer experience.
Cystal Bernardes: Why did you decide to join Farm Credit East as a summer intern?
Ashley Patterson: I decided to intern at Farm Credit East after talking to several people who currently work for Farm Credit East or have in the past. They all spoke highly of the company for its culture and integrity, which are important aspects for me when choosing to work for a company.
Faith Clancy: I heard nothing but great things about the organization from past interns and I wanted to explore agriculture that I wasn't entirely familiar with. This was the perfect opportunity to do so.
Stephen Clarke: I interned at Farm Credit East for the diversity of the experience. Although I came in as a credit intern, I knew I would be exposed to all of the different departments and would be challenged by day-to-day office work, as well as my summer project.
Crystal: What have you enjoyed most about your summer internship experience?
Faith: I couldn't have asked for a better summer internship experience. It's hard to pick my favorite part, but I loved talking to farmers and learning about their operations. Creating relationships with customers and Farm Credit East employees was another one of my favorite experiences because I was able to learn so much from each and every one of them.
Ashley: The most rewarding part of my summer was getting to work in a hands-on environment with people in the field I'm interested in. It allowed me to truly explore if it was a career path I wanted to follow.
Crystal: What have you learned during your internship experience and how are you able to take this back with you to your final year of school?
Ashley: I learned to always say "yes" to opportunities. Being more on the shy side, I'm never the first person to jump into something. However, my experiences working at Farm Credit East taught me that saying "yes" and being open to try new things will get you so much further in both your career and life.
Faith: I learned tactical skills like how to do tax returns and how acreage reporting is done for Crop Insurance, but I also learned soft skills that will be a huge asset for my future. One of these soft skills is the importance of creating and maintaining relationships and how valuable those relationships are to both the customer and Farm Credit. Going forward, I aim to keep my connections strong and relevant for my future.
Stephen: I know my senior year will be project intensive, so working on a professional project this summer helped prepare me for my capstone classes this year. My project was to make an analysis of our dairy market and it taught me new ways to identify market opportunities. I also learned how to be more efficient in data analysis and ways to take advantage of the resources at my disposal.
Crystal: What surprised you most about Farm Credit East?
Faith: The thing that surprised me most about Farm Credit East was the diversity of each branch's portfolio. Being from the area, I was expecting to work mostly with dairy operations, but I was able to see so many other types of agriculture that I didn't even know existed just a few miles from home.
Stephen: I, too, was most surprised by the diversity. I don't have an agricultural background, so I was expecting to only see dairy and crops. Over the course of the summer, I saw vineyards, timber operations, elk farms, equine farms, quarries, aquaculture and so much more. I also learned that the dairy industry has more depth as well. There are many different kinds of cows and operations with differing sizes and capacities.
Crystal: How would you describe Farm Credit East's culture?
Ashley: Farm Credit East's culture truly is how everyone describes it; a family. I was immediately taken in and welcomed by everyone in the office. Even when they were busy, people would always find the time to answer my questions or teach me something new. Knowing I had a whole branch of people supporting me and wanting me to succeed is one of the greatest aspects that Farm Credit East provides their employees.
Faith: If I had to describe Farm Credit East's culture in one word, it would be special. I know it's simple, but Farm Credit is full of people who are passionate about agriculture. It creates a sense of community throughout the entire association, and I am very fortunate to be able to have been a part of it. It is called the "Farm Credit family" for a reason!
Crystal: What is your advice to someone who is considering a Farm Credit East internship?
Stephen: Keep an open mind. Especially coming in without an agricultural background, every day is an opportunity to learn something new. Take advantage of learning new things and having new experiences.
Ashley: I'd advise to just do it! There are so many aspects to Farm Credit East and so many different job opportunities available that you would never know about until you are immersed in the business. You might find something that you really like and want to pursue. It is rare to find an internship that lets you truly make a difference within the company along with growing your professional skills, and that's just what the Farm Credit East internship experience does. This internship is well worth it, so if you are considering it, then go for it.
Thank you, Faith, Ashley and Stephen for sharing your experiences during your summer at Farm Credit East. A big thank you to all 17 of our interns who have devoted their time and hard work towards the continued success of Farm Credit East and our customers.
Click here to learn more about our internship opportunities.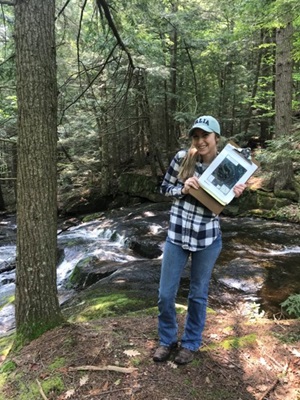 Ashley Paterson tries her hand with appraisal. Ashley studies agriculture business management at SUNY Cobleskill and interned in our Greenwich, NY office.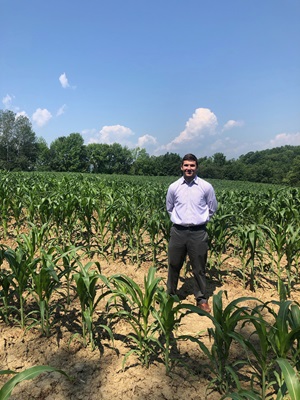 Stephen Clarke checks out a corn field. Stephen studies finance and mathematics at Siena College and interned in our Cooperstown, NY office.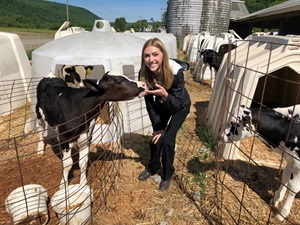 Faith Clancy visits a dairy farm. Faith studies agricultural business management at SUNY Cobleskill and interned in our Cortland, NY office.
Meet the Authors
Connect with and discover our Today's Harvest blog authors and their broad range of financial and northeast agricultural expertise.