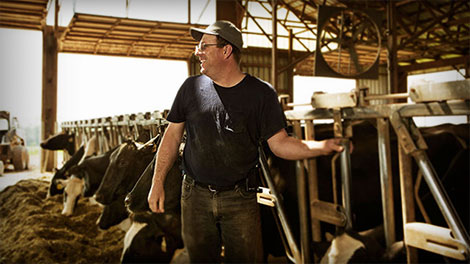 U.S. dairy herd reached a seven-year high in August of 2016 and milk production was 2.5 percent higher in October, year-over-year. But 2016 wasn't without its challenges. Milk prices fell roughly $1.26/cwt., or 8 percent from 2015, which itself was a tough year. While two consecutive years of low prices have impacted Northeast dairy producers' financials, these producers have proven themselves remarkably resilient in the face of adverse economic conditions.
Heading into 2017, the average Northeast dairy farm has a significantly tighter cash position than one year earlier. 2017 promises moderate recovery, with prices expected to average anywhere from $0.75 to $1.50/cwt. higher than 2016. Feed costs are expected to fall to the lowest level since 2010, providing some margin relief but not enough to fully make up for low milk prices.
Demand for organic dairy products, particularly fluid milk and yogurt, remains strong, showing increases in 2016. Organic milk continues to sell at a significant premium to conventional milk, but production expenses are also higher, most notably due to the cost of organic feed and substantially lower output per cow. Still, margins for organic producers remain attractive, drawing interest from some conventional producers in converting to organic. Some organic buyers have established waiting lists due to the increase in farms wanting to convert.
Nationally, 2016 dairy production varied by region. Many Western states moderately increased production, while Midwestern and Eastern states showed larger production increases. In California, the largest dairy producing state, milk production increased by 1.8 percent. Meanwhile, New York had a 4.7 percent increase, year-over-year, as of October.
Globally, milk production has slowed somewhat, with major exporting regions such as the EU and New Zealand showing production declines. Meanwhile China and other major importers have been more active. This has led to rising international prices for dairy products, making U.S. products more competitive. While overall dairy export value continued to decline in 2016 (16 percent lower through September 1), projections are for exports to increase in 2017.
The Dairy Margin Protection Program
As the Dairy MPP closed out its second year in 2016, many participants were left disappointed. The program, which allows producers to insure income-over-feed-costs (according to national figures) at levels between $4 and $8/cwt, has made minimal payouts thus far. Calculated margins hovered right around the $8 mark for much of the year, resulting in some payments, but less than premium costs in most cases. About half of Northeast farms participated in the program, most at the $4/cwt level. LGM-Dairy remains a viable option for producers who have not participated in MPP.
What will 2017 bring?
Farm Credit East hosted a webinar on January 20, 2017 at 9AM EST to find out. The annual Dairy Outlook webinar looked at what's coming in the year ahead for dairy economics, policies and regulations.
In this webinar, Dr. Mark Stephenson, University of Wisconsin-Madison, presented his forecast for dairy markets in the coming year, covering both global and domestic dairy markets. Karl Czymmek, Cornell PRO-Dairy, gave a brief review of current and upcoming environmental issues and regulations, and Jodi Smith, from Upstate Niagara Cooperative, gave a Northeast market perspective. The webinar also included commentary from Farm Credit East dairy experts Bill Zweigbaum and Brian Monckton.
To view a recording of this webinar, click to play below.
---
1 U.S. Dairy Export Council