Apple Industry Outlook: 2018 and Beyond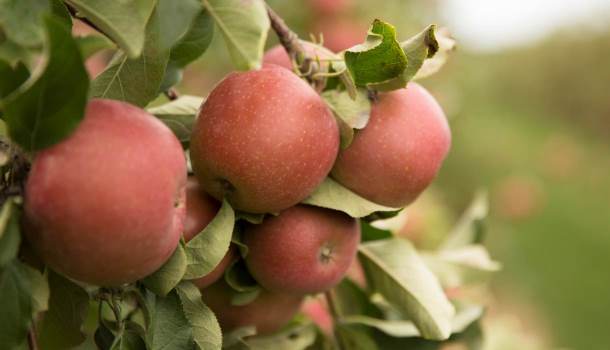 Changing External Environment
The changing external environment for international trade most directly affects Washington, the major U.S. exporter of fresh apples, but indirectly affects other apple producing states, as apples not exported by Washington depress prices on the domestic market.
Deterioration in the external environment for international trade has persisted since 2014 and has taken its toll on U.S. apple exports. For decades, the United States placed its hope for further liberalization of agricultural trade on the World Trade Organization (WTO). But the WTO has struggled to even maintain current levels of liberalization. No longer fearing WTO sanctions, major importing countries, such as China and Indonesia, have erected barriers to imports of fresh apples. The most egregious barrier has been the 2014 Russian ban on imports of produce from the European Union, Australia, Canada, the United States and Norway, now in its fourth year. Competing exporters, like Chile and New Zealand, have increasingly bypassed the WTO process and sought advantages for their apple exporters through regional or bilateral trade deals.
More ominously for future trade prospects, China seeks to set up a managed trade system to replace the WTO model, and has been using various carrots and sticks to woo additional countries to its approach. In addition, President Trump has weakened traditional U.S. support for the WTO by his open skepticism about multilateral trade agreements and his strong criticism of NAFTA.
Changing Industry Environment
Since 2000, the U.S. apple industry has been in a state of continual change. Many less favored operators, orchards and districts have withdrawn from the industry. Large, integrated grower-packer-marketers have attained a dominant position. The overall apple industry has prospered.
Table 1 compares changes in some key industry metrics by major apple producing states for the three-year periods, 2000-02, 2007-09 and 2014-16. Bearing acres declined rapidly for all U.S. states between 2000-02 and 2007-09, and more slowly between 2007-09 and 2014-16. Only Washington managed a small gain in bearing acres in the most recent period. However, the average productivity of the remaining acreage has increased by more than 42 percent since 2000-02 due to more intensive production methods.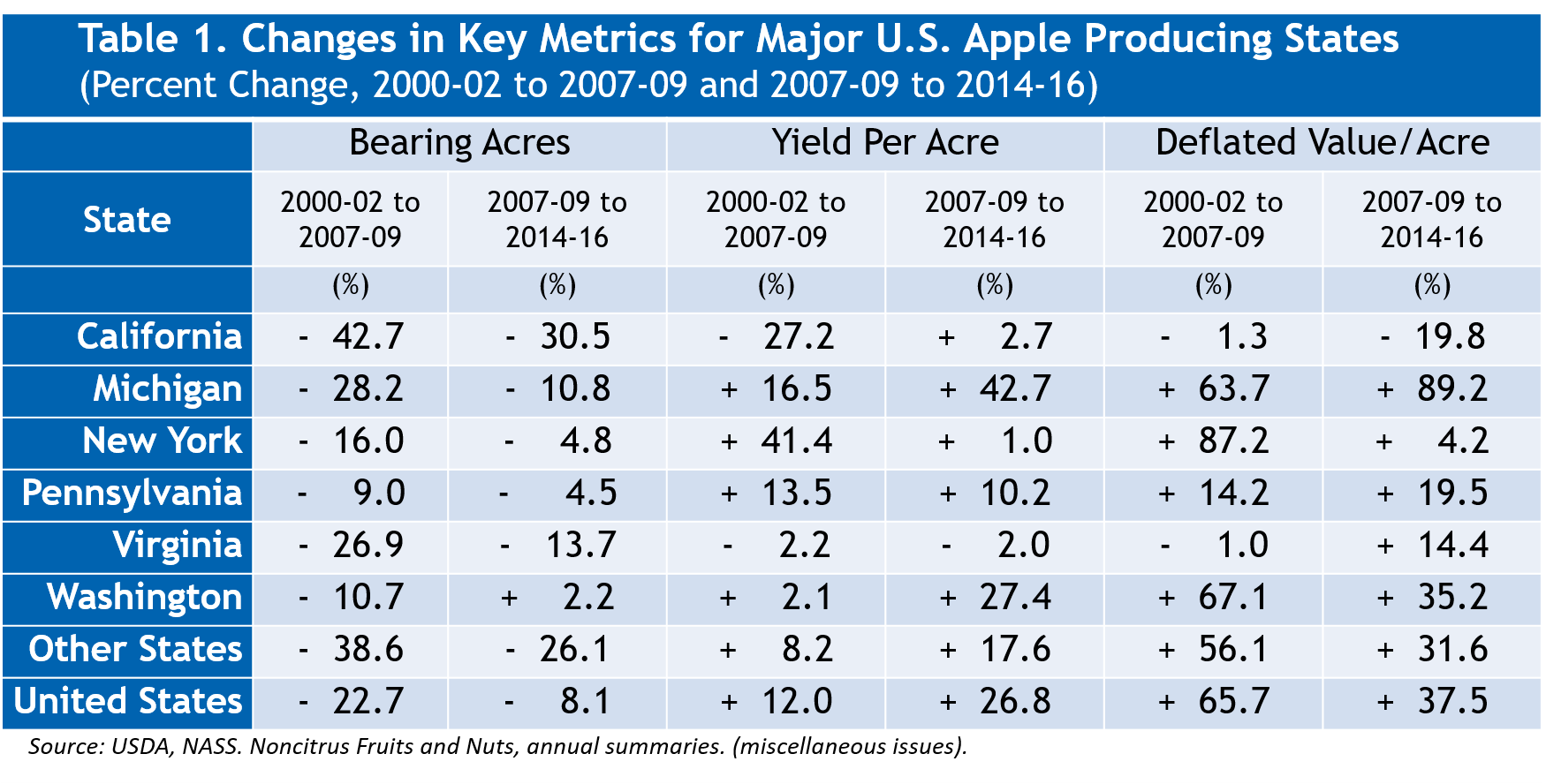 Yields in Michigan and New York grew even faster than the national average. Average grower prices rose in real terms over the entire period by almost 60 percent. The average real value of production per acre more than doubled between 2000-02 and 2014-16, with California the only laggard. However, the rate of growth slowed markedly in the most recent period.
Various factors contributed to the increase in real grower prices, shown in Figure 1. These included the increasing share of the apple crop sold fresh, the growing popularity in the domestic market of newer varieties such as the higher-priced Honeycrisp, increased sales of organic apples, reduced apple crop due to weather in 2012, and the halting expansion of exports. The success of the U.S. apple industry has not gone unnoticed. Domestic pension funds and foundations, and foreign corporations, such as Baywa (Germany), Greenyard (Holland), Univeg (Belgium) and Total Produce (Ireland), have made, or are exploring, major investments in the industry.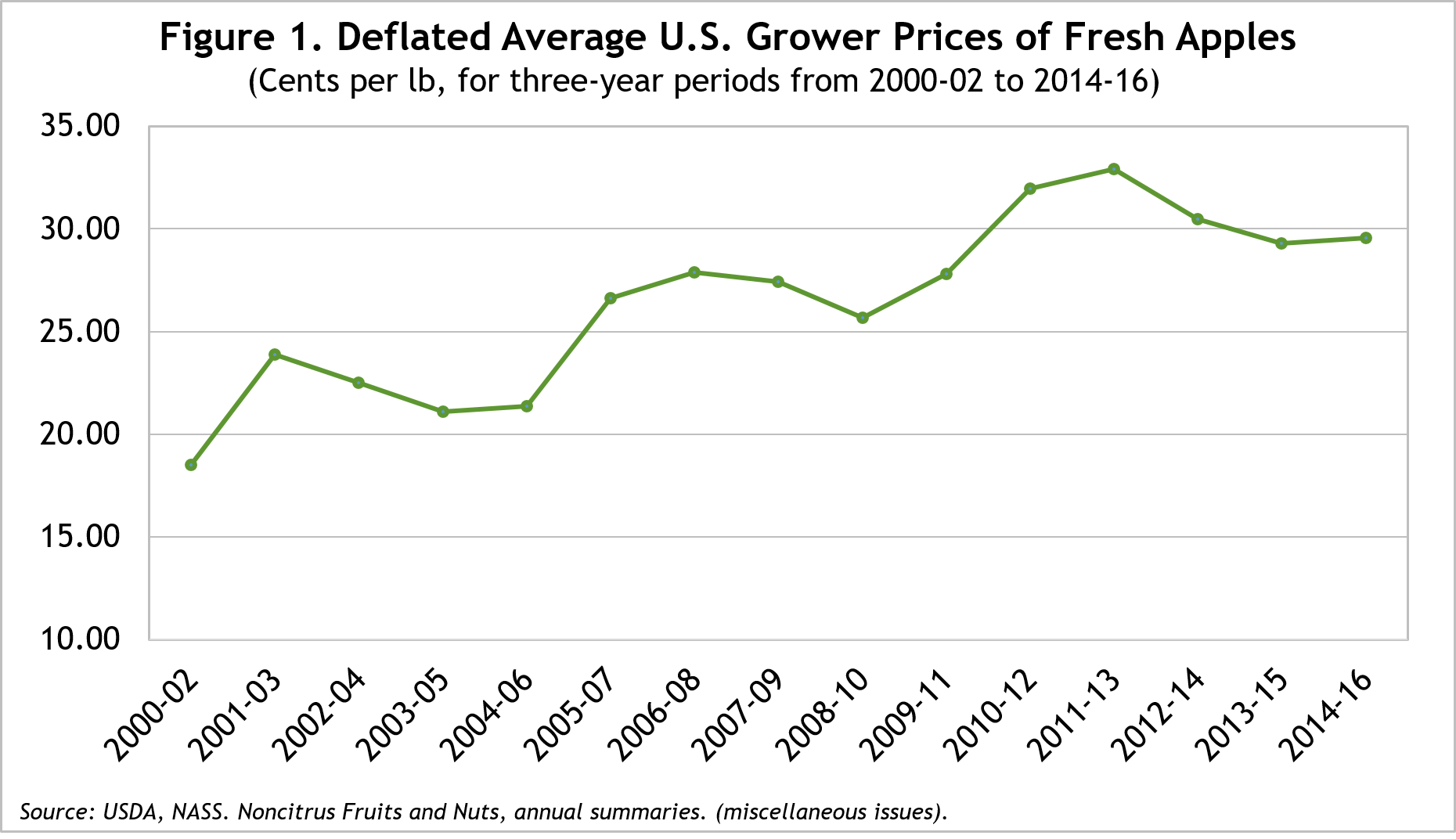 Anxiety about the Future
However, many industry leaders worry that recent favorable conditions cannot be assumed to continue indefinitely. Productivity increases are needed to remain competitive, but require large amounts of capital, that can lead to swelling production and depressed prices. Other challenges include rising competition in export markets, diminishing domestic demand for many existing varieties and the danger of over-production of organic apples.
The larger integrated grower-packer-marketers believe that the key to riding out the industry ups and downs will be to have stable varieties that can generate above-average returns. They continue to bid aggressively for the rights to produce, pack and market the most promising "club" varieties. These are varieties where the growers and production levels are restricted to prevent oversupply. Breeders all over the world now compete to develop appealing club varieties. And, numerous interstate and international consortia have been formed to market the contending varieties. Fearing they will be left behind, smaller growers have pressured state universities into developing new varieties that would be available exclusively in their states, such as SnapDragon in New York and Cosmic Crisp in Washington.
Undoubtedly, the supply of managed varieties will expand dramatically in the next five years, leaving many questions still unanswered. Which new managed varieties, and how many, will major U.S. retailers continue to welcome? How many premium varieties will U.S. consumers continue to buy? Less popular varieties are already being dislodged from produce shelves. Will current, mainstream varieties, like Gala, be vulnerable? Will foreign markets still demand lower-priced varieties that are less profitable to produce? Above all, will new varieties continue to justify the high cost of establishment, promotion and marketing?
Conclusion
The U.S. apple industry is moving towards a system dominated by large, integrated operations that have rising needs for capital in production, packing and marketing. Relative risk is likely to increase and to lead to further consolidation of the industry.
Marketers will hold the key to future success as they attempt to build portfolios of varieties that can maintain profitability. But, to execute their strategies effectively, they will need innovative technology and skilled personnel among their grower and packer partners and affiliates. Smaller growers may face challenges competing in this environment.