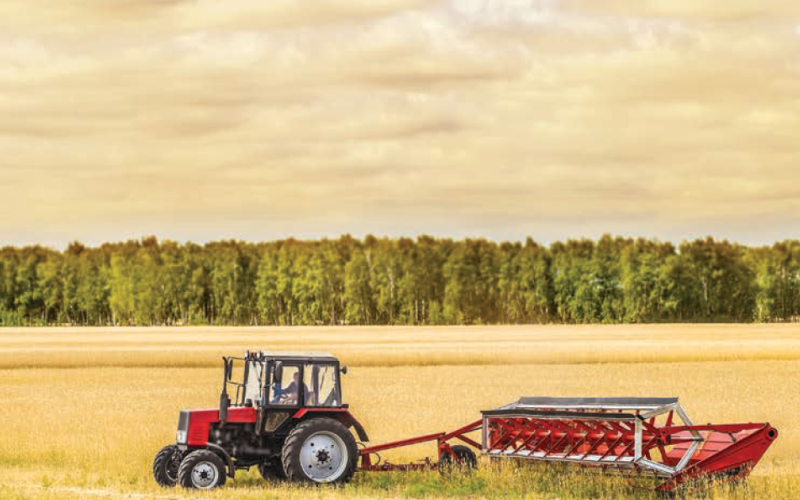 The big story in grain and oilseed markets is that large global supplies continue to weigh on prices. With stocks at or near record levels, it will take a significant reduction in production or an unexpected boost in demand to see a major price recovery.
World grain production in 2017 was down slightly from the record harvest of 2016, but stocks of four major crops are expected to remain quite large (Figure 1). When stocks are this large, there is little need for traders to bid up prices to obtain the supplies they need to satisfy demand for food, feed and fuel.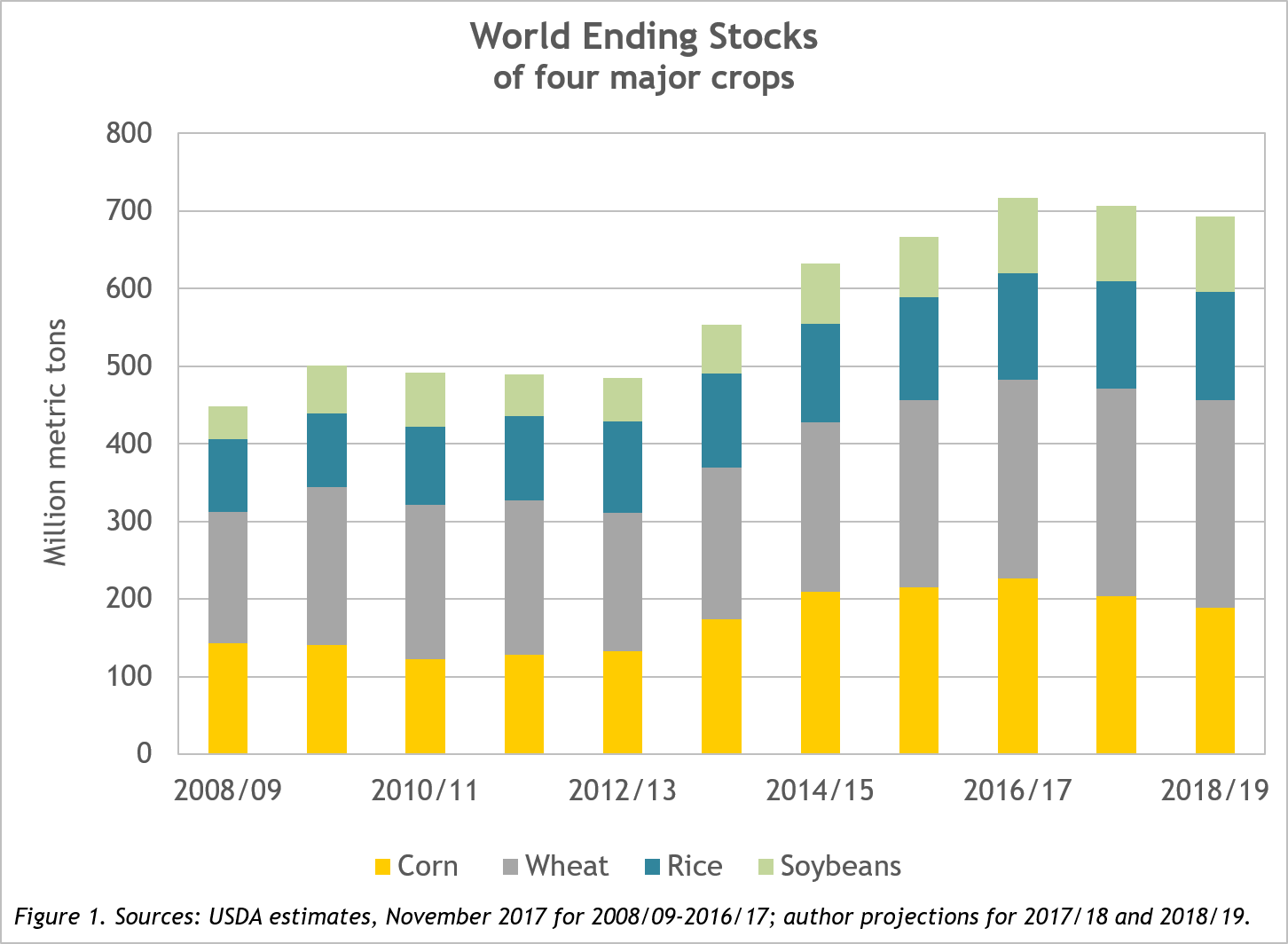 Demand for grains and oilseeds continues to grow. Rising populations and incomes mean people eat not just more bread and rice, but more meat and dairy products. That means more demand for corn and soybean meal to feed expanding livestock herds and poultry flocks. Biofuel production continues to expand, even if the pace is a lot slower than it was during the boom years.
The high crop prices of 2010-2013 encouraged farmers around the world to expand production, with acreage increasing in South America, the former Soviet Union and other countries. Recent lower prices have slowed area expansion, but have not reversed it. Meanwhile, yields have continued to increase, both because of investments the sector has made in technology and management techniques and because of a string of generally favorable weather after the severe drought of 2012.
Based on information available in November 2017, it appears likely that U.S. average corn prices will remain between $3.00 and $3.70 per bushel for the fourth straight year in the 2017/18 marketing year (Figure 2). Record U.S. corn yields and more competition from Brazil and other countries have kept domestic corn supplies large and made it hard to maintain the export pace of 2016/17.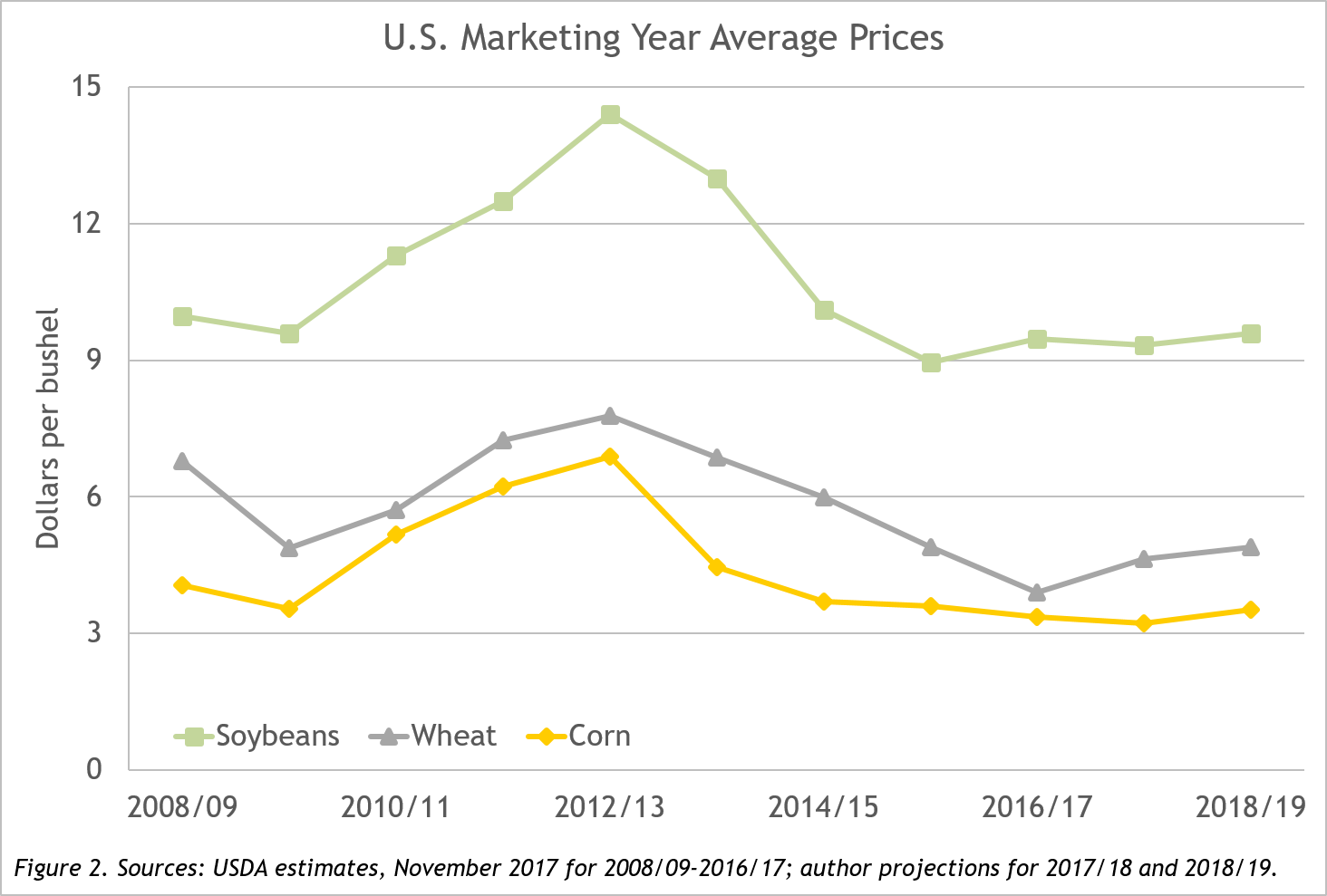 In the case of wheat, a much smaller U.S. wheat crop in 2017 has contributed to some recovery in domestic wheat prices, but large global supplies limit wheat export prospects, and U.S. carryout stocks remain large by historical standards.
Soybean prices have been unusually high relative to corn for the past couple of years, and one might have expected that planting 90 million acres of soybeans in 2017 would result in lower prices. However, continued strong soybean demand growth in China has provided support.
Looking ahead to the crops that farmers will plant in 2018, the most likely prospect is more of the same. No major U.S. acreage shifts are expected at this time. If crop yields here and around the world are near the long-term trend, it appears likely that global supplies will remain large, with little change in global grain and oilseed stocks. This middle-of-the-road outlook suggests just a slight uptick in corn, wheat and soybean prices for the 2018/19 marketing year.
As always, any projection of prices for a crop that has yet to be planted is uncertain. Consider a crude measure of price uncertainty: the average change (increase or reduction) in national marketing-year average prices from one year to the next (Figure 3). Over the last six years, the average annual change in prices was about $1.50 per bushel for soybeans, about $1.00 per bushel for wheat, and about $0.85 per bushel for corn. Splitting that period in half suggested little change in the year-to-year volatility of wheat and soybean prices, but reduced volatility for corn in recent years.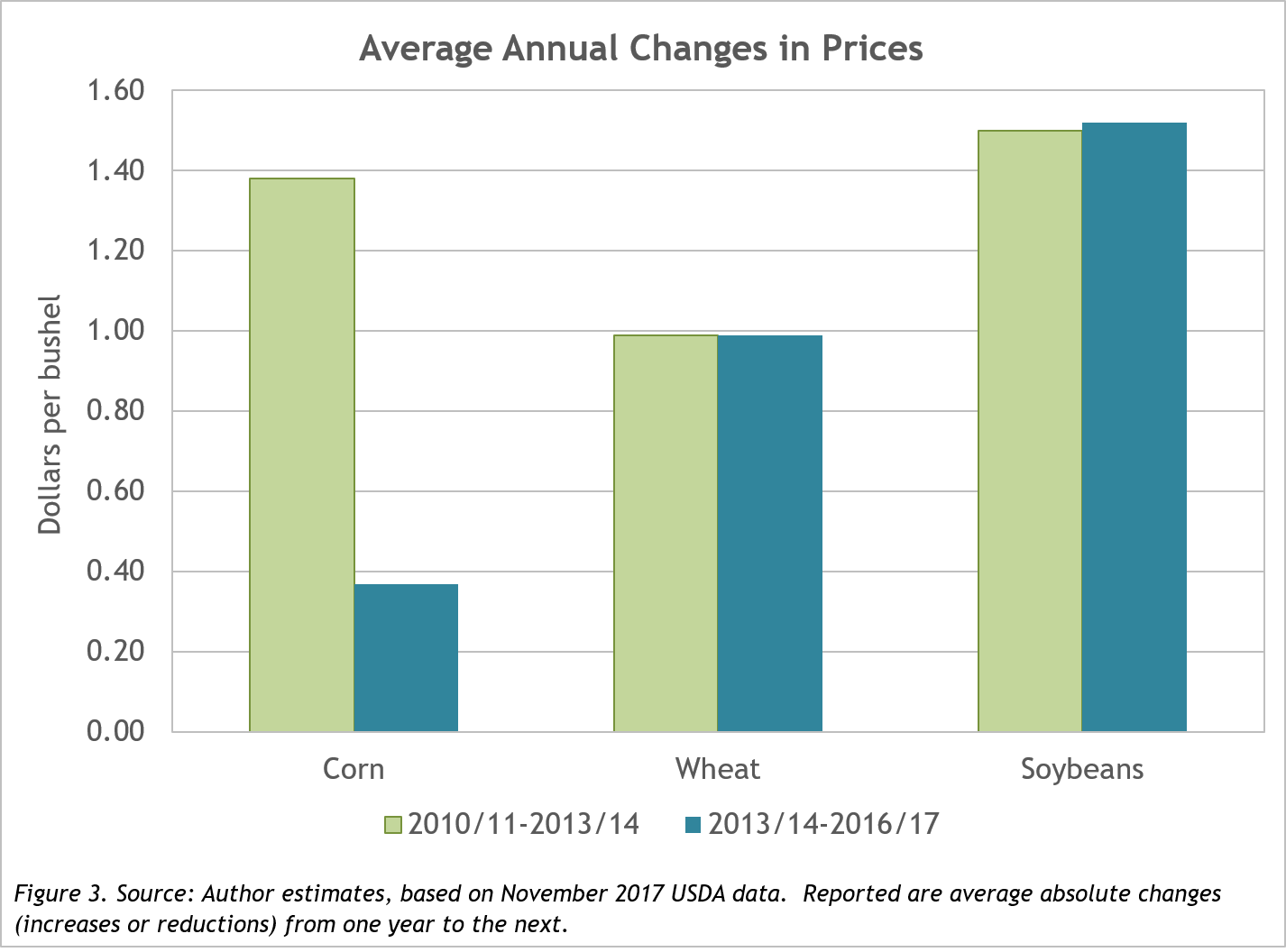 As producers make production decisions and marketing plans, it is important to remember that the world remains an uncertain place. Large global stocks may make a major price recovery difficult, but it is easy to imagine scenarios that result in higher or lower prices than futures markets or market analysts suggest.
The weather is probably the most important reason for price volatility in any given year. However, lots of other factors can also play a role. Consider all of the uncertainty that China causes in global agricultural markets. When that country changes its support policies, builds or reduces government-held stocks, or decides to promote biofuel production, it can have a huge impact on global markets.
U.S. farm programs, of course, are designed to offset a portion of the risk faced by producers. Debate on the next farm bill has begun, but the final outcome is unclear. Budget constraints mean it is likely that the next farm bill will not provide more support than the current bill.