2018 Northeast Vegetable Crops Outlook
Vegetable crops are an important component of the agricultural economy in the Northeast1. In the Northeast region, vegetable crops (not including potatoes) have been planted on approximately 90,000 acres with an annual total farm value of between $450 and $500 million. This translates to an average revenue of approximately $5,200 per acre across the states, with the highest per acre revenues of nearly $6,900 in New Jersey. Potatoes were grown on an additional 72,000 acres in the Northeast with a total value of nearly $200 million. We continue to see a wide range of vegetables produced in the region and marketed to consumers through various channels.
Figure 1 summarizes the highest revenue vegetable crops in the Northeast; each of these crops has exceeded $5 million in revenues in recent years.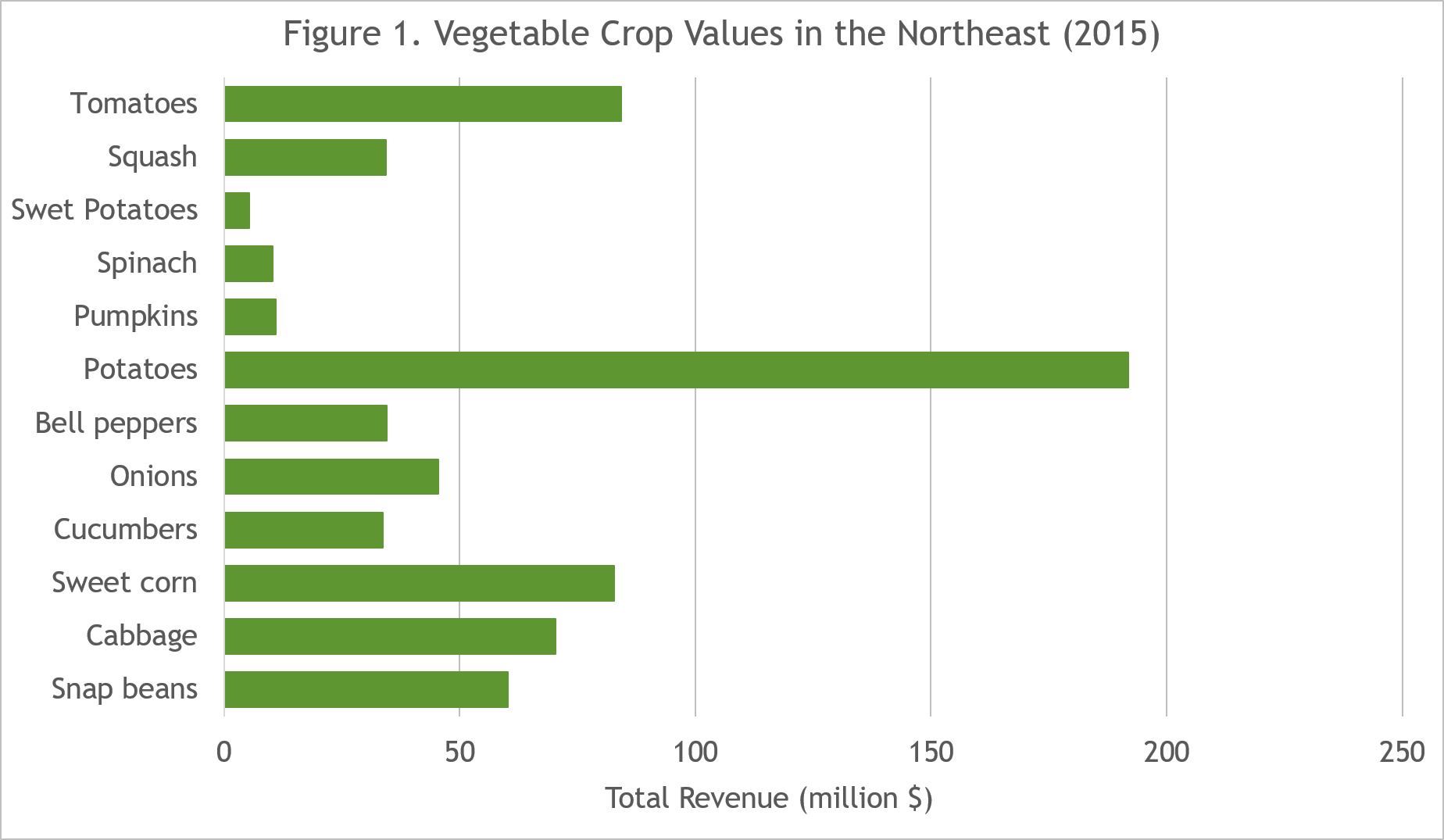 As shown in Figure 2, in recent years we have seen a slight decrease in vegetable crop acreage in the Northeast, which has been partially offset by an increase in per acre revenue. These trends suggest that there has been an adjustment towards higher-valued vegetables grown in the region.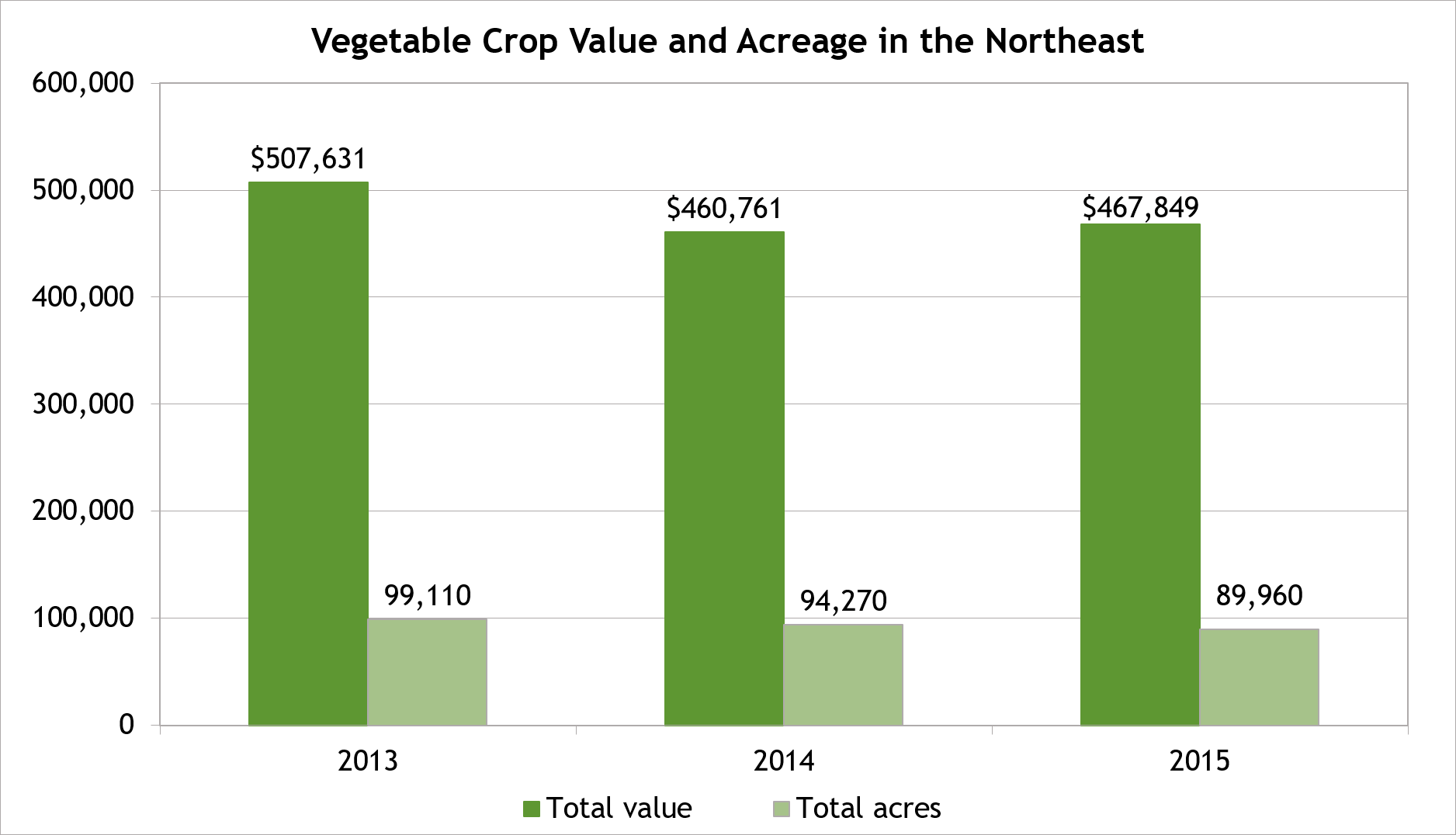 Policies Impacting Vegetable Production in 2018
In 2018 there will be three key policy issues that Northeast vegetable growers will want to follow. First are the ongoing negotiations about free trade agreements, most notably about the future of NAFTA (North American Free Trade Agreement). There is widespread recognition that NAFTA has increased producer returns for most vegetable crops in the United States, and overall, across all vegetable crops, it has provided net economic benefits to the U.S. vegetable industry. It has also been noted that the NAFTA has been correlated with a 14 percent increase in per capita vegetable consumption in the United States since 1993. Vegetable producers in the Northeast could benefit from adjustments to the NAFTA that harmonize regulations and protect intellectual property, but are unlikely to benefit from increases in tariffs with Canada and Mexico.
The second issue is the availability of farm workers and potential changes in the cost of farm labor. In late 2017 we saw the introduction of the Agricultural Guestworker Act that seeks to replace the H2-A program with a new H2-C program with a greater number of visas. That would allow farmers to hire workers for year-round employment.
The third issue centers on discussions about the next Farm Bill and the level of attention that will be given to vegetable crops. Two big topics will be the role the government takes in providing subsidized crop insurance for vegetable crops and the level of funding for scientific research devoted to vegetable crops. Figure 3 shows that vegetable producers use relatively little crop insurance compared to producers of field crops and fruit crops, and for many producers the availability of crop insurance is a critical factor in the planning horizon when deciding what crops to grow.
Market Trends and Vegetable Consumption in 2018
Consumer demand for fresh vegetables has shown modest but steady growth in recent years, and experts predict that U.S. per capita demand for fresh vegetables will continue to grow by between one and two percent per year over the next decade. As part of this increase in demand for fresh vegetables, we are witnessing a number of trends that will likely determine the magnitude of these changes in demand for vegetables in the Northeast. First, and perhaps most importantly, is the shift that is occurring towards on-line grocery shopping. Data show that consumers make healthier purchases when buying on-line, and this will help boost sales of fresh vegetables. Recent research suggests that 20 percent of groceries will be purchased on-line by 2025 and this will represent approximately $100 billion in food and beverage sales. The recent purchase of Whole Foods by Amazon in June 2017 for $13.7 billion provides some indication that on-line shopping for groceries could be a paramount change for the food industry.
In addition, there were several important changes in the food retail landscape in 2017 and more are expected in early 2018. The three most notable food retail trends all involve a greater share of food sales happening at discount food stores. In 2017 there were 1,000 new stores opened by Dollar General and another 650 stores opened by Dollar Tree, and both chains sell food, including fresh produce. There was also a significant redesign in many U.S. Aldi stores, and Aldi is planning to open 900 new stores in the United States by 2022 which would make it the third largest food retailer in the country. Lastly, another German discount food store, Lidl, has begun to open stores in the United States, and they plan to have 100 stores in the Eastern and Southern United States by mid-2018. Perhaps somewhat surprisingly, in these discount food retailers—and especially in Aldi's newer stores and in Lidl—there is a renewed focus on fresh produce, including organic vegetables.
Among other trends, consumer demand for local vegetables and for vegetables purchased through a CSA is expected to remain relatively constant in the Northeast during the period 2018 to 2020. However, there is an expanding interest in more plant-based diets among some socio-economic groups, and this may prove to be the most important driver of growth in per-capita demand for fresh vegetables in some of the key urban populations in the Northeast.
---
1 Northeast includes NY, NJ and New England
---