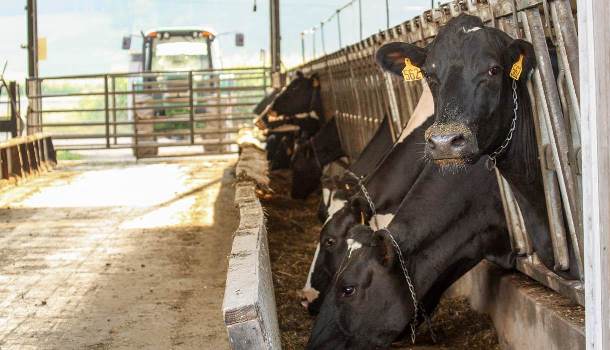 Farm Credit East recently hosted its 2019 Dairy Outlook webinar featuring Mark Stephenson of the University of Wisconsin – Madison. The recording of the webinar is available here.
Dr. Stephenson provided an interesting look at the overall economy, dairy supply and demand levels, changes in milk production across the United States, as well as information on international markets. Read on for an overview of his presentation.
Overall, the U.S. economy has been strong. Unemployment has been at historically low levels for the last several months and businesses have been having trouble finding sufficient workers to meet demand.
Consumer confidence remained high in 2018, however, future expectations are lower, which could indicate a pullback in spending in 2019. This is significant for the U.S. economy because 71 percent of our GDP is driven by consumption spending.
Mark discussed the importance of dairy product exports to the U.S. all-milk price. In periods when exports have fallen, domestic prices have often fallen significantly as well. That has been the case in much of the last two years, and exports have only recently recovered to past levels. When exports are off trend, we tend to build stocks of storable dairy products such as cheese, and this has certainly happened in the past year. Cheese stocks are currently at a five-year high.
As a result of some of these factors, since 2015, milk prices have been relatively "range-bound" in the $16-18.00 range, and haven't really been able to break out of that.
Due to several years of low prices, there has been a divergence in financial results for Northeast dairy farms. Approximately 20 percent have been cash flowing through this period, 30 percent have had to borrow more, 30 percent have had to restructure loans, and unfortunately, about 20 percent are in real trouble and may exit the industry. Wisconsin, for example, has lost 676 licensed dairy farms in the last year, roughly double the normal rate of attrition.
One point of good news in terms of better aligning supply and demand, is that national cow numbers have started to decline. However, due to per-cow productivity gains, overall milk production still increased slightly over the last year. Changes in milk production have not been uniform across the country however. In 2018, production in the Eastern half of the U.S. was generally flat to declining, while many Western states saw increases.
A trend that Dr. Stephenson noted, is that while fluid milk consumption is continuing to decline, per capita cheese consumption has increased, leading to greater dairy consumption overall, but lower fluid milk sales.
Trade tensions and disputes have been significant factors in 2018, and these continue into the new year. However, there is cause for some optimism given the low level of per capita dairy consumption in China, which is increasing, and the new USMCA agreement.
Overall, milk prices are expected to rise through 2019, and come in at approximately 2017 levels. However, we may not see real price recovery until exports represent about 17-18 percent of total U.S. milk production.
For more detail, view the webinar recording, which can be accessed here.