Forest Industry in the Northeast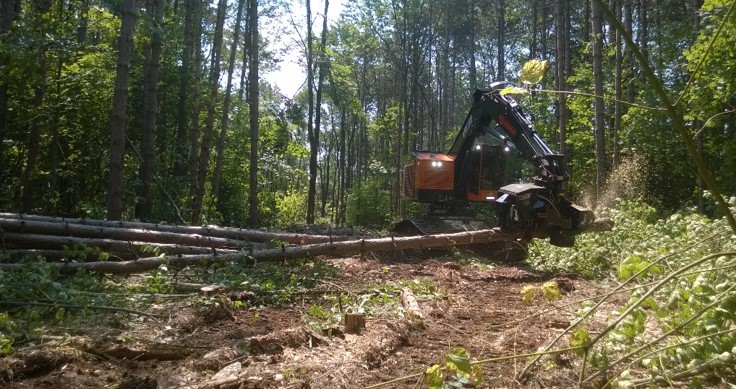 The Northeast forest industry is in the middle of a once-in-a-generation transformation. After a decade that was riddled with pulp mill closures and near constant market uncertainty, we appear to be entering a time of re-investment, consolidation and (hopefully) innovation.
For paper mills, the headlines and sentiment have turned. Since the turn of the 21st century, Maine, New Hampshire and New York have lost eleven paper mills as demand shifted and mills failed to reinvest. For the first time in a while, the outlook has shifted to positive. A pulp mill is being re-started in Old Town, Maine, after years of being idle; the Woodland mill in Baileyville, Maine, has started production on two new tissue machines; and a mill in Skowhegan, Maine, invested nearly a quarter billion dollars in a paper machine rebuild and a new wood yard. Across the Northeast, the mills that remain are re-investing in efficiency, diversifying product lines to meet consumer demands and positioning themselves for stability over the next decade.
Biomass electricity plants – large consumers of low-grade wood – continue to face some very real challenges. As an abundance of natural gas has driven wholesale electricity prices down in New England and New York, biomass plants have had a hard time competing. Alone among renewables, biomass plants need to continually buy fuel to generate electricity. That's great (and necessary) for the loggers, mills and landowners that supply the plants, and accounts for almost all of the significant economic benefit these plants provide. It also makes it tough to compete on a dollar per megawatt hour basis, and is at the core of the biomass industry's challenges.
We have seen Maine and New Hampshire take steps to support the biomass industry. Maine's support, now expiring, supported operations at four of the state's biomass plants. One of those plants is now mothballed, and two operate only sporadically due to a support system (the plant designed) that didn't fit market conditions. In New Hampshire, one plant just received what looks like a multi-year extension on its power purchase agreement, and six more plants are scheduled to receive state-mandated support through contracts with electric utilities.
This public support has been controversial, as lawmakers weigh the very real economic and forestry benefits these plants provide against the impact to businesses and residents of higher electricity costs. It's probably time for the forest industry to do some hard thinking about the appropriate size, geographic distribution and funding mechanisms that make sense for biomass going forward.
One bright spot in wood energy is heating, and combined heat and power. I am seeing more and more community institutions – schools, hospitals, universities, factories – move away from oil and install either chip or pellet heating systems. Wood fuel is consistently cheaper than oil, and both the market and public policy are starting to recognize that fact. I'm involved in two projects that seek to heat large regional universities with wood, and I expect this trend to continue.
Solid wood – where landowners make most of their money – appears headed for another strong year. While 2018 saw lumber prices skyrocket and then fall, demand has seen relatively steady growth. With some monthly dips, housing starts have been on an upward climb since 2009, and there is lots of room for this to grow. This is important not only for structural lumber markets (in this region that means spruce-fir), but also for anyone that sells into the growing housing markets – hardwood for flooring and furniture, oriented strand board (OSB) panels and more. We are seeing some mill consolidation and can expect more of this as the industry is mature and fragmented, as well as some expansion activity.
In the woods, we're starting to see a real concern about workforce. The (observed) average age of a logger is nearing what we often think of as retirement age, and while there are new entrants to the industry, there aren't enough to make up for what we're sure to lose in the next five years. In addition, new firms often have trouble financing the high cost of new logging equipment; innovations in equipment has made logging more efficient and safer, but it's had the side effect of serving as a barrier to entry for many aspiring loggers. New training programs in New York and Maine are having some success in developing the next logging workforce, but it's time for the industry – regionally and nationally – to get creative on how it is going to make sure the logging infrastructure – human, intellectual and equipment – is in place to serve the future industry.
Finally, we're starting to see new products enter the mix, providing expanded opportunities for those that grow and harvest wood. Mass timber products – like cross-laminated timber –promise to make wood viable in mid-rise construction. I have heard there are credible pitches from wood-based insulation companies – a market with significant growth opportunities as we improve the region's aging housing stock. There is also a growing number of proposals that will convert wood into liquid energy products, such as bio-oil, ethanol and jet fuel. It is still not clear if these technologies are ready to move to full commercial scale – and there are some policy incentives working against us in the Northeast – but it is promising to see how much progress has been made in the lab over the past decade. These innovations may hold promise for our forests and the people and communities that rely upon them.
Operating in the forest industry is not easy and will probably never be. However, it is ripe with opportunities. As markets change, the region's forests continue to grow. We are well positioned to build upon our existing industries and seize emerging markets. In doing so, we can assure that forests and the forest industry remain a cornerstone of the Northeast's rural economy going forward.