A Recap of Farm Credit East's 2019 Customer Appreciation Meetings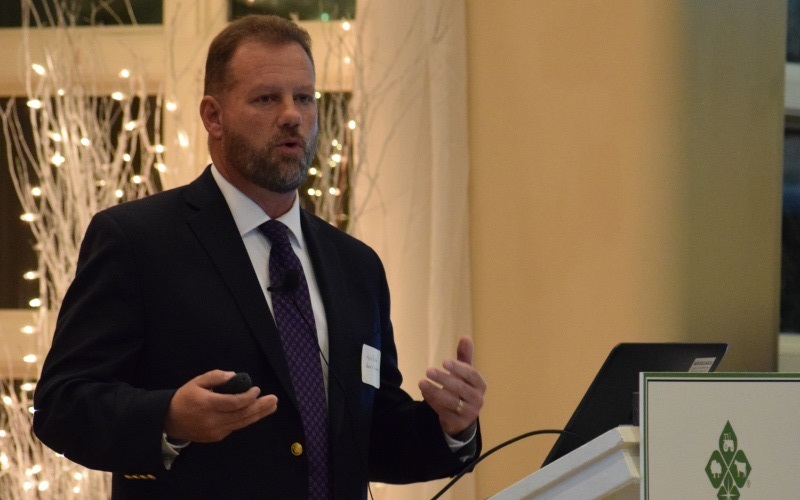 Since its founding, Farm Credit East has been committed to building an organization with the financial capacity to meet the needs of growing, capital-intensive businesses in the Northeast agriculture, commercial fishing and forest products industries while also delivering high-value financial services. This mission has been underscored by Farm Credit's commitment to work with customers during economic cycles as a proactive, patient capital provider.
Farm Credit East CEO Bill Lipinski has focused on this mission for the past 25 years, and during this year's customer appreciation meetings, he took the opportunity to reflect on his tenure and thank those who helped deliver on this vision.
During this year's meetings, customers also had the opportunity to meet Farm Credit East Chief Business Officer Mike Reynolds, who will become CEO on January 1, 2020. Mike provided his vision for the cooperative going forward and updated members on current financial results. He stressed that Farm Credit East's commitment to providing customers with credit and high-value financial services will remain unchanged.
Attendees also heard the board of directors' report given by Board Chair Matt Beaton or Vice Chair Laurie Griffen discussing the role of the board of directors and the importance of strong cooperative governance.
If you were not able to attend this year, here are a review of the highlights.
Realizing Farm Credit East's Vision
CEO Lipinski kicked off the meeting reflecting on his tenure as the chief executive for the past 25 years. He highlighted the company's customer-focused mission to serve all aspects of the marketplace — big, small, organic, conventional, wholesale and retail. He touched on Farm Credit East's culture to attract and retain talented employees, and invest in their training to effectively serve all segments of the marketplace. He also highlighted the importance of consistent financial results, influence in the Farm Credit System, relationships with policymakers, stewardship efforts and programs like knowledge exchange that provide customers the business insights and expertise they need to be successful.
One of the biggest takeaways from CEO Lipinski's presentation was his belief in collaboration. The cooperative's success has been the result of a shared vision of a talented team. This included staff members' focus on customer value, mergers that have strengthened the team, the support of key partners, and the leadership of the board of directors throughout the years. He concluded by expressing his appreciation to the Farm Credit East board, team and customers for placing their confidence in him to lead the organization for the past 25 years.
Board Leadership Report
Customers also heard from either Farm Credit East Board Chair Matt Beaton or Vice Chair Laurie Griffen to provide the board leadership presentation.
Following a brief overview of the cooperative's strong financial position, the board members provided insight into a few of the board's key responsibilities. They discussed the importance of governance and how it is incorporated into all segments of their board duties. Board members ask challenging questions, make forward-thinking actions and embrace smart, well-thought-out strategies with Farm Credit East's senior management team to make the best decisions for the cooperative.
They described the CEO succession plan, which was a multi-year process. Beaton and Griffen explained how the board worked to identify talented internal candidates and ensure those individuals received appropriate training and development opportunities. As a result of this process, it became clear that the next CEO was an internal candidate. They highlighted the board's strong belief in maintaining Farm Credit East's culture and leadership with the selection of Mike Reynolds as the cooperative's next CEO.
They explained how the board makes the cooperative's safety and soundness a key priority, and also highlighted the cooperative's financial discipline as the foundation of Farm Credit East's ability to provide capital, patronage and invest in many stewardship initiatives to support Northeast producers.
In the latter half of the presentation, Beaton and Griffen discussed the importance of the organization's alignment and how it starts with membership. Customer Service Councils, made up of Farm Credit East customers from each branch office, are an important way for Farm Credit East hear customers' perspectives. The councils report on local issues impacting each branch's industries, Farm Credit East's service in the marketplace, competition and more.
The board presentation concluded with a look at the upcoming 2020 Director Elections, where there will be three seats up for election.
Management Report
Chair Beaton and Vice Chair Griffen gave a warm welcome to Chief Business Officer Mike Reynolds, who kicked off his presentation with a brief introduction into his background. Growing up in Cooperstown, NY, Mike attended Hartwick College and upon graduation, started his career with Farm Credit in 1990. He was a loan officer in New England and New York before moving to a branch manager role in New Jersey where spent the majority of his career until 2018 when he began his role as Chief Business Officer.
Following his introduction, Reynolds conveyed that he was fortunate to be elected as CEO Lipinski's successor. With a great team in place, supportive board of directors, strong financial results and state-of-the-art technology, he feels ready to hit the ground running. He highlighted his vision for continued growth, attracting and retaining talent, and capitalizing on the opportunities the Northeast region provides.
Reynolds went on to highlight a snapshot of the Association's strong earnings and capital base to allow for future growth and to withstand credit challenges. This was reflected in the 2019 financial results update, which indicated 2019's year-end forecast of nearly 96% acceptable loan volume and 2.50% forecast of return on assets. These forecasted numbers exemplify strong credit quality and profitability, which allowed Farm Credit East to pay a special $25 million patronage payment in October based on financial results through June 2019. This is in addition to $65 million in patronage dividends that was paid earlier in the year based on 2018 earnings, for a total 2019 patronage paid of $90 million.
Reynolds also highlighted a few other significant events that highlight Farm Credit East's commitment to customer value. With 2018's effective interest rate of 4.00%, the special patronage payment equated to 28 basis points, resulting in an effective interest rate of 3.72%; one of the lowest rates when compared to the top associations across the country. He also highlighted the recent interest rate reduction of 0.75% with the board approving a 0.25% decrease in addition to Farm Credit East lowering rates following the two recent Federal Reserve rate decreases.
Reynolds concluded by highlighting the critical role of technology in Farm Credit East's strategy. He explained that in addition to security and compliance requirements, technology is enabling the association to improve staff efficiency and enhance service to customers delivering what they need, when they need it and how they want it. CBO Reynolds affirmed that as takes on the role of CEO, he is committed to continuing the association's customer focused culture.
Salute to customer innovation
It is because of our customers' innovation and commitment to Northeast agriculture, commercial fishing and forest products that Farm Credit East can continue to do our part to help the region's operators be successful. In recognition of our customers' innovation, at this year's meetings we showcased five businesses and the unique practices they've undertaken to innovate their operations. Click below to watch the 10-minute video.
Farm Credit East is committed to our own innovation as well. We continue to evolve our practices to meet the needs of current and future Northeast producers, while retaining our culture and commitment to customer success. As always, thank you for choosing to partner with us.