Adding some spice to the Pioneer Valley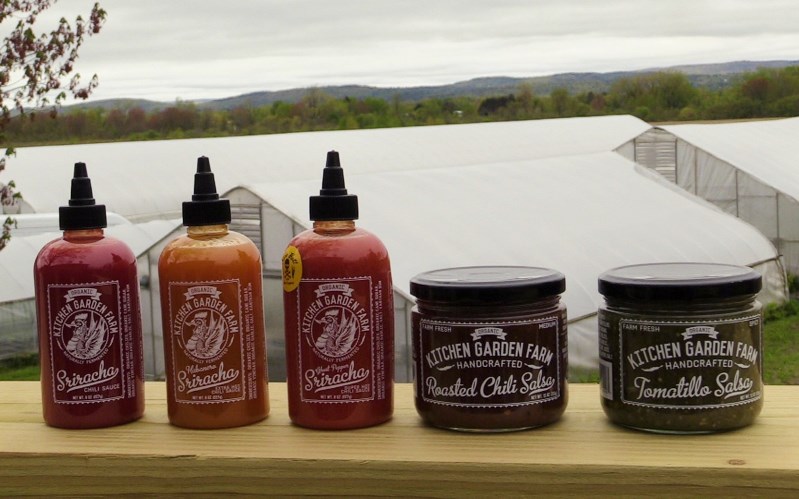 The third story in our innovation series comes from a certified organic vegetable farm in Sunderland, Mass. Kitchen Garden Farm is a 50-acre farm owned and operated by Caroline Pam and her husband Tim Wilcox.
Kitchen Garden Farm started out with Community Supported Agriculture (CSA) shares for passionate cooks. As their business has grown, Caroline and Tim have been able to serve more than just a few customers. "Our farm is at the scale now where we can provide a lot of vegetables not only for our customers, but for our community," said Caroline.
Today, the farm grows hundreds of varieties of vegetables, including 10 different types of heirloom tomatoes, fava beans, fennel and radicchio. However, what they are most known for is their variety of more than 100 kinds of hot peppers.
"We started making sriracha from peppers we grow on the farm as a fun thing to offer at our hot pepper festival, Chili Fest," said Caroline. The farm now produces three kinds of sriracha – chili sauce, habanero and ghost pepper. Roasted chili and tomatillo salsa are two more value-added products produced from Kitchen Garden Farm. Each of these products can be ordered online or found in select stores across the U.S.
Kitchen Garden Farm products have also been highlighted in many publications, including Bon Appetit Magazine and the Boston Globe, and their sriracha was a winner at the New York City Hot Sauce Expo.
On to their next venture, Caroline and Tim are excited to be building a kitchen on their farm. "We've been making our sriracha and salsa at a shared kitchen for the past five years, so it's going to be an awesome opportunity to transform a higher proportion of what we grow into products that we make here on the farm," said Caroline.
Hear their full story below.
This is the third post in our series highlighting innovation in Northeast agriculture. Click below to read other posts in the series.