Apple Industry Outlook - 2019 and Beyond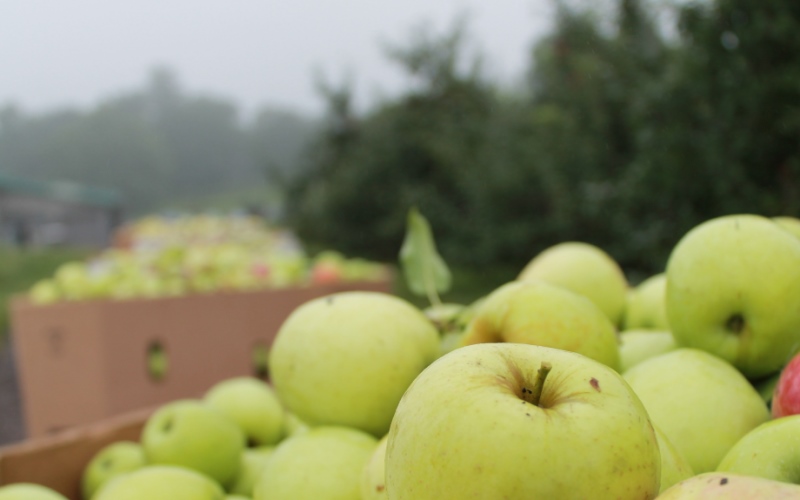 The apple industry in the United States has engineered a remarkable transformation over the last two decades that has greatly increased its productivity and its profitability. This transformation has sped up in the last decade (See Table 1.) The industry has positioned itself for continued success in the future. However, it will need to continue to adapt as national and international conditions change.
Changing External Environment
Export markets for fresh apples have been an important safety valve for the U.S. industry for many years. While most of these exports originate in Washington State, all other states are affected when Washington exports are diverted to their markets.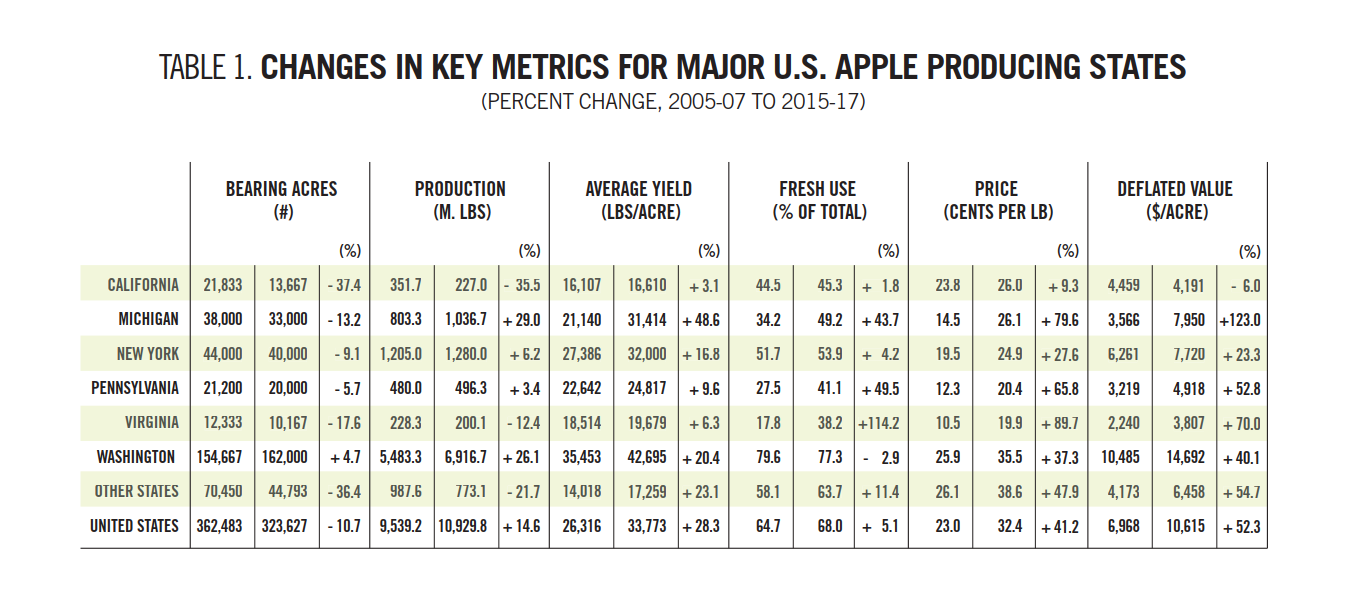 During the worldwide recession of 2008-2010, many major importing countries erected temporary barriers to fresh fruit imports. Countries like China, Taiwan, Indonesia and Brazil blocked U.S. exports for several seasons. More recently, the EU's low minimum residue level (MRL) mandate hit Eastern exports of the Empire variety hard. A weakened World Trade Organization (WTO) has been unable to resolve these disputes quickly. In August 2014, Russia, once the world's largest fresh apple importer, imposed an embargo on fruit from the European Union, North America and Australia. That embargo is entering its fifth year, with no end in sight.
In the U.S., the current administration has acted aggressively against many countries and trading blocks that it deems to have been competing unfairly. In response to U.S. tariffs and other trade restrictions, many of these countries have threatened retaliation, often against fresh apples. At the same time, many U.S. competitors are entering new trade agreements, such as the Canada-EU Trade Agreement (CETA) and the Comprehensive and Progressive Agreement for Trans-Pacific Partnership (CPTPP). These will give competitors like Canada, Chile, Australia and New Zealand preferential access to numerous Asian markets, and further disadvantage Eastern apple exporters relative to Canada in EU markets.
Changing U.S. Food Retailing
The apple industry's main access route to U.S. consumers is through giant food retailers. The retail food system has been in turmoil since the 1980s after the entry of club warehouses like Costco, mass marketers like Walmart, limited assortment stores like Aldi, specialty stores like Trader Joe's, and, most recently, online giant Amazon through its acquisition of Whole Foods. Many large, traditional retail chains have merged or gone out of business. Spot market sales have declined as many marketers have switched to program selling with major retailers. To entice retailers, marketers offer new varieties, branded products like Kiku® Fuji or organic offerings that retailers can use to differentiate their produce sections and bring excitement to their stores. Breeders around the world have responded by developing new apple varieties that they hope will win the hearts of retailers and consumers. Innovation has been particularly notable in breeding programs in New York, Minnesota and the Midwest Apple Improvement Association.
Changing Apple Industry Structure
In response to these new demands, the U.S. apple industry has come to be dominated by integrated grower-packer-marketers. These, in turn, have been getting larger through mergers and acquisitions. Many also belong to national or international networks that can provide supplies of the most desirable varieties to domestic and foreign customers twelve months a year. They are becoming increasingly involved in consumer packaging, branding, promotion, store demos and social media that will "add value" to the normally boring apple category. These trends are proving to be challenging for traditional, independent, smaller apple growers.
Performance of Major Apple Producing States
Table 1 summarizes some of the changes that have taken place in major apple producing states as they seek to prosper under changing conditions. Bearing acreage has continued to decline (except in Washington) as older, smaller orchards exit the industry. Average yields have risen in every state, leading to increased apple production in Michigan, New York, Pennsylvania and Washington. Most major producing states have increased the share of their production going to the fresh market. They have been rewarded with substantially higher average prices and increased real returns per acre, most notably in Virginia, Pennsylvania and Michigan, providing them with the capital to modernize their orchard and packing facilities and strengthen their marketing programs.
Conclusion
Apple marketers, and their grower and packer suppliers, are entering a new world where their ability to add value for their retail customers will determine which companies survive, and which disappear. More established apple varieties will fade away, and many new varieties will compete to replace them. Growing, packing and marketing fresh apples will become more complex, and more expensive, and will involve increased risk. Only the firms that are best at identifying emerging opportunities and adapt their organizations accordingly will continue to prosper.