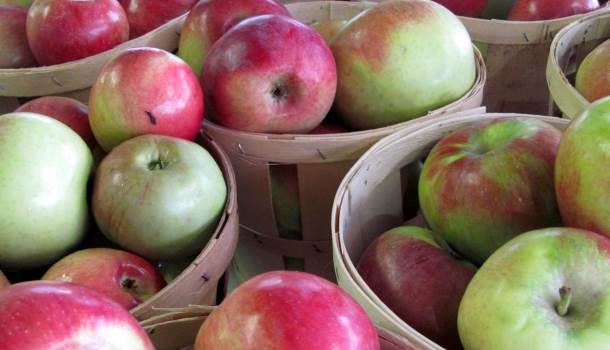 It's been a good year for apples in the Northeast!
New York's 2017 apple harvest should bring in 28 million bushels, which is 1.1 billion pounds better than last year. Fruit size and finish are expected to be good.1 Despite some severe weather and pockets of crop damage, New York's Hudson Valley and some other regions are expecting a large crop.
The total U.S. apple crop is expected to be down by eight percent, partly due to a sharp reduction in Michigan's crop caused by a late-spring freeze.2 The Pacific Northwest region is also expecting a slightly smaller crop.
The fresh market for apples is becoming more bifurcated; newer varieties command premiums, while older types have become commodities. New varieties, such as Cornell University's patented varieties — RubyFrost and SnapDragon, continue to be in high demand and are reportedly performing well in the marketplace. On the other side of the spectrum, hard cider producers have expressed interest in older varieties that have good characteristics for cider-making.
Labor remains a major concern for orchard growers. An improving general economy has benefitted ag retail businesses, but made finding and keeping good employees more difficult. Increases in the minimum wage in several states has raised costs and increased the pay expectations of employees.
Average prices received have been good so far this year, above 2016 levels. Strong domestic and international demand has led to clearing of the 2016 stored crop before this year's harvest and good early-season prices. Forecasts are that pricing will remain favorable for growers through the remainder of this crop marketing year.
---
1 New York Apple Association, NYAA Announces 2017 Crop Forecast, Promotion Plans. September 11, 2017.
2 Northwest Farm Credit Services Apple Market Snapshot, September 30, 2017